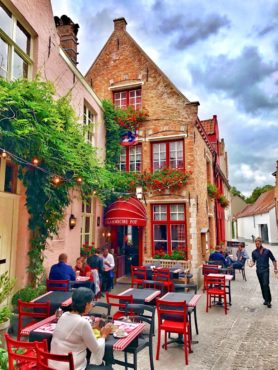 The medieval village of Brugge, Belgium, is a major tourist destination in Europe. But it only feels that way between the hours of 10 a.m. and 4 p.m. That's when the Market Square is bustling with day visitors, via bus from Brussels and off the cruise ships in Zeebrugge. Still others breezing through on a whirlwind car tour of the region, stopping for a few brief hours in the hidden gem of Europe.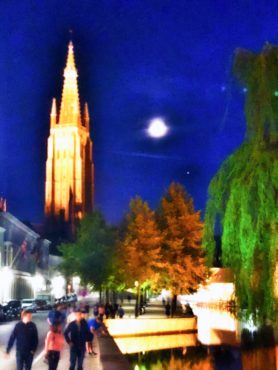 Linger longer and you will be enchanted. Take a stroll in the early morning light, through the deserted Market Square or along the quiet canals. Sip a coffee and enjoy the solitude the quiet morning provides.
Be present and enjoy fabulous Flemish specialties such as Flemish Beef Stew at the renowned De Vlaamsche Pot. Sit on the open patio as dusk falls, the hanging lights twinkling overhead. Watch the shadows fall across one of Brugge's many plazas as the sun dips in the sky, or stroll hand in hand along the canals as the evening lights of the quiet city sparkle on the water.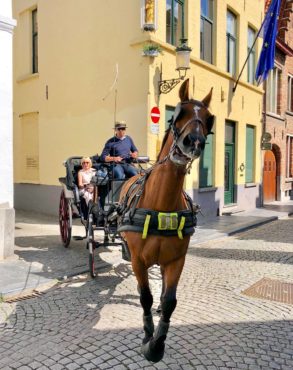 This is the beautiful Brugge you need to see. It's in these peaceful hours where you can imagine the history; the fortified city in the medieval times; the Flemish trades and center of commerce and culture in the 13th century; the tapestry, lace- and beer-making traditions that began here a thousand years ago.
Luckily for visitors, Brugge sustained little damage during the onslaught of World War II and the majority of its medieval architecture remains intact today. It is the best-preserved medieval town in Europe and was named a UNESCO World Heritage Site in 2000.
Wandering through the old town is like a walk through a Grimm fairytale book, complete with cobblestones, spires and winding streets and alleyways you can get lost in for hours.
Two of Brugge's most remarkable buildings include the 13th century Belfry on the Market Square, where visitors can walk the 366 steps up for a panorama view of the village. Not up to the climb? Enjoy one of the regular free carillon concerts the city offers each week.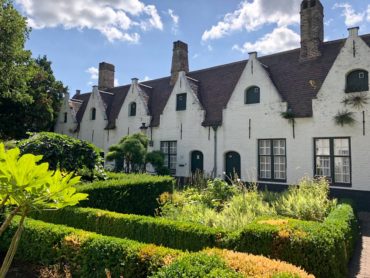 Another remarkable Brugge antiquity is the Church of Our Lady, whose brick spire reaches 122.3 meters (401.25 feet), making it one of the world's highest brick towers. Michelangelo's sculpture, Madonna and Child, can be seen in the church, and is believed to be the only sculpture of his to have left Italy within his lifetime.
Dozens of guided walking tours are available in Brugge. Usually lasting two to three hours, the tours provide the visitor a unique perspective on the village as well as recommendations for dining, shopping and relaxing. Try "With Locals" for a great tour guide experience.
Horse-drawn carriage rides and bicycle rentals are also popular. Cycling to nearby Damme makes a fabulous daytrip.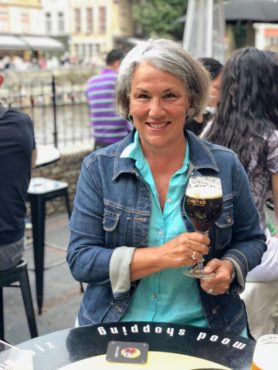 Often called the Venice of the North, but feeling much more like a miniature Amsterdam, Brugge is a city of canals. A flat and safe path circles the old town along the outer canal and provides a shady and beautiful way to stroll or cycle. Canals wander through the interior of the village as well, and small, guided canal boats offer a different perspective of the town and its unique history.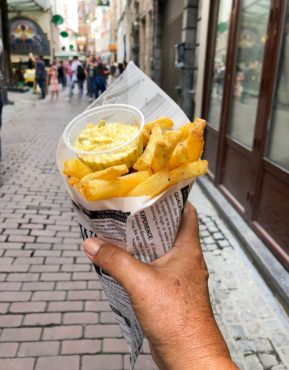 Spending a few days in Brugge gives you a wide-open opportunity to feast on Flemish specialties and partake in Belgian beer. Both are found in abundance in Brugge.
You can make an entire vacation about beer in Belgium, with Brugge requiring several days. There are so many beers to try and places to drink beer in Brugge, you hardly know where to begin. A good place to start would be at one of the three breweries located right in the old town: Bourgogne des Flanders, De Halve Maan and Fort Lapin. De Halve Maan is unique in that it has an underground pipeline from its in-town brewery to the out-of-town distribution center. The beer literally flows beneath Brugge.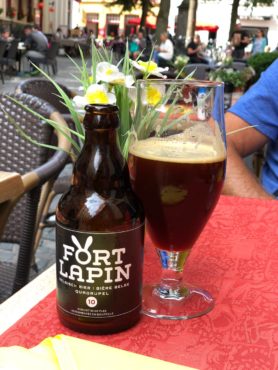 Many favorite Belgian dishes are available in Brugge, including mussels, frites and waffles. All delicious. But with a bit longer in beautiful Brugge, you can expand your culinary experiences and delve into some of the more local eats, including Belgium gray shrimps, scallops with bacon and Flemish beef stew.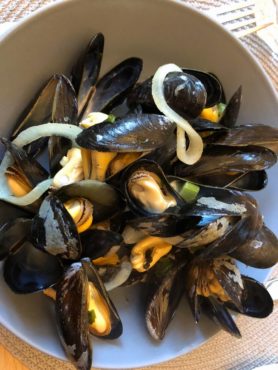 Beef is very popular in other ways too, including steak and frites, steak tartare and steak (and other meats) grilled over an open flame. Locally sourced ingredients in this farm and sea-rich region make for a delectable meal every time.
Consider booking a "Dinner with Locals." Enjoy an evening with English-speaking Belgians, who love their country, its cuisine and beer and the city of Brugge. You'll eat like a king and pay like a pauper. Book this experience through the website or app "With Locals."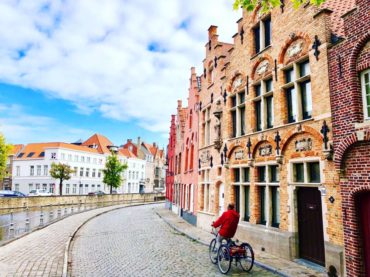 And then there is the chocolate. Not just specific to Brugge but you certainly can't visit Belgium without indulging in the world's finest chocolate. Brugge has many stores to tempt you. Step out of the main square to some of the smaller chocolatiers who are not catering so much to the tourists and you will find melt-in-your-mouth little nuggets of superb quality and unforgettable taste.
A proper visit to Brugge requires at least two days and nights, and four would be even better. So, start planning now to visit this hidden European gem, where you will go back in time and forget your 21st century troubles.
Linger longer — enchanting Brugge.