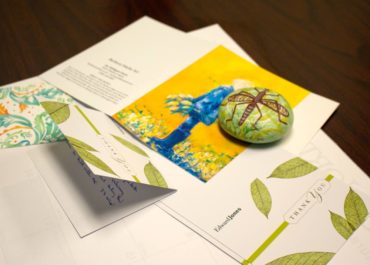 Digital dudes and divas everywhere may understand the importance of a thank-you email but may underestimate the power of a handwritten "thank you" or "just because."
"Letters are magical. It's like giving someone a hug and saying, 'I care about you,'" said Dee Fergusson, an avid letter-writer and a title clerk at Pacific Northwest Title in Silverdale.
Emails have a time and place, but according to Fergusson, they are too impersonal.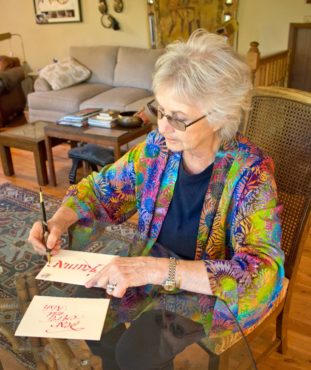 "It is just the data that usually appears along with the junk mail, quickly read and then deleted," she said. "But ah, a letter arriving in the mailbox gives an unexpected lift… It can be read, and reread and kept in a shoe-box for years."
In some cases, a thoughtful letter can save a life.
Judy Gates, owner of Joe Gates Construction with her husband, has a noteworthy history that would inspire anyone. For a decade, Gates handwrote and mailed three letters a week to her grandmother as well as her husband's.
"I would update them weekly about everything that was going on in the house. Even seemingly stupid details, like the dog fighting with the cat. They loved it and it was a way to show them they were loved," Gates said.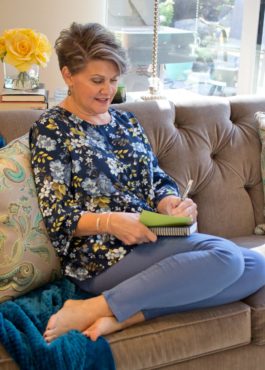 "I also couldn't ever get my grandma off the phone, so it was a better way to reach out," she said with a laugh.
Gates recalled a life-changing correspondence that took place with her brother many years ago.
"My baby brother is 21 years younger than me, and at 17 years old, he entered rehab," Gates said. "He was there for 45 days and I couldn't talk to him. So instead, I wrote and sent him a letter every day for those 45 days, telling him I loved and supported him."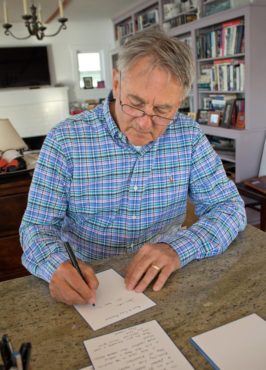 When Gates' brother got out of rehab, he told her that the incredible amount of support that was communicated from those hand-written letters changed his life.
"He said he didn't know he was loved that much. He has been sober ever since," Gates said. "That experience really taught me the power of a simple note."
Commissioner of Port of Bremerton, Cary Bozeman echoed this sentiment. He writes and sends a letter that includes a custom, hand-painted envelope (designed by his wife) daily.
"I write a thank-you note every day because inevitably, I have someone in my life that needs to be thanked every day and I think that's a pretty good way to live," he said.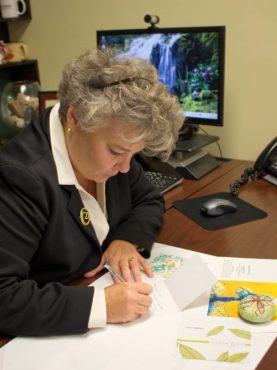 Bozeman (now in his 70s) has spent most of his life in public service. He served as the executive director of Boys & Girls Club of King County for 25 years and is a former three-time mayor of Bellevue and two-time mayor of Bremerton.
"Almost everything I have ever done was dependent on me building a relationship with someone. You can have a plan or a goal but if you don't have support, you have nothing. And that support comes from trust, and trust comes from getting to know each other," Bozeman said.
"How do you get anything significant done in life without building relationships? How do you build trust through the internet? I don't know," he continued.
Bozeman still uses an old flip phone that even he admits needs to be replaced. He refuses to upgrade, however — he said he doesn't want the distraction nor the detached communication of a smart phone.
"I don't want to be captive by a machine. Verbal communication and note-writing shows emotion and vulnerability and that's important to the human race," Bozeman said.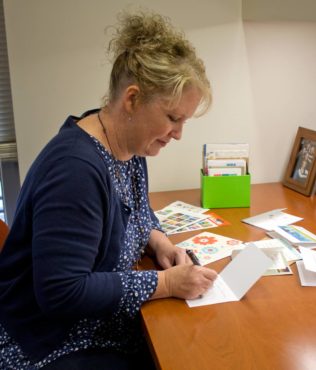 Angela Sell, an associate at Edward Jones and past Silverdale Chamber president, writes two to three thank-you letters a day for work and personal relationships.
According to Sell, presentation is just as important as the message. She prefers to "keep things simple and clean" with a cream linen pad that includes a custom stamp and her signature happy face.
"A whole lot of your personality goes into a letter, from the choice of card to envelope to the custom stamp to the ink you use," Sell said. "Presentation is important."
She serves on the board of Meals on Wheels Kitsap, volunteers at StandUp for Kids and the Kitsap Humane Society, and coaches basketball.
"Basically, you name it; I've done it. One person can make a difference — just got to try and keep trying," she said.
Katie Walters, the executive director of Leadership Kitsap, is also an epic note writer. As the head of a volunteer-driven organization, she pens five to 25 thank-you letters in a week.
"It doesn't really take that long to write them; really it's just a few free moments a day," Walters said. "We live in a fast-paced world and so, when you can actually show someone that you slowed down for them, to appreciate them, it means so much more."