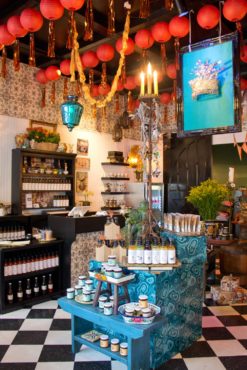 From its clever, seasonal storefront window displays (a local newspaper Readers' Choice winner) to its vibrant wallpapered walls and curated shelves, the Manette building's stark, white-and-black exterior belies the retail artistry and "party in a bottle" happening inside.
"It has a nostalgic, speakeasy vibe with modern touches." That's how owner Jim Higgins described the interior design of his store, Elixir Fixer.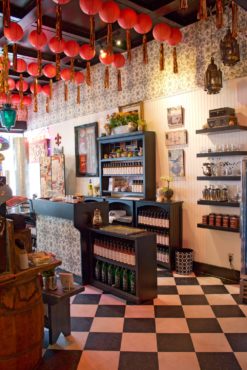 As purveyors of artisan cocktail and mocktail syrups that also happen to add unexpected flavor to barbecued ribs, cheesecakes and alfredo sauce, Higgins and his wife, Athena, have staked out a unique concept store in the east Bremerton neighborhood.
Higgins is a former chef turned caterer, then florist, then candlemaker and now cocktail/cooking syrup entrepreneur. He views his career history as the healthy lifestyle re-creation of a 50-year-old who was born artistic.
"I was the kid who looked forward to that one hour of art in school every week," he said.
Though he began college in pursuit of a business degree, he eventually dropped out to attend culinary school.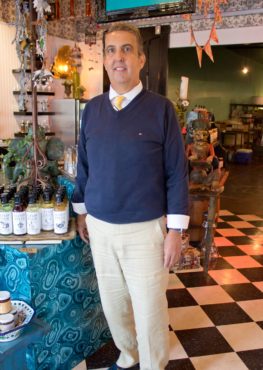 "I loved cooking, so I opened a catering business," he said. "You learn a lot about the elements of a business operation when running a catering company in California."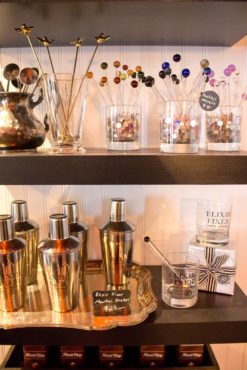 The couple's move from California to Bremerton 22 years ago was driven by their search for a community resembling 1970s Seattle: an affordable town without traffic where they could build a family. Higgins became a stay-at-home dad for the couple's two sons while turning his talents to making and selling candles at Seattle's Fremont Sunday Market.
"It was a way to get out of the house and have adult conversations," he said with a laugh.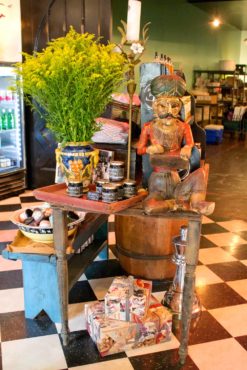 Friends made during his 15 years as a Fremont market vendor have become part of Elixir Fixer's community. One is the third partner in the business. Others produce food products sold on the store's shelves.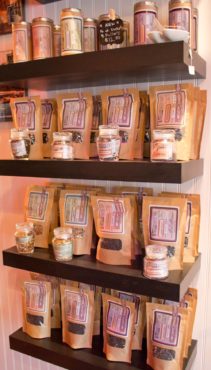 Community is a word that comes up frequently when talking to Higgins. The idea for cocktail and cooking syrups happened in 2014 at one of the couple's popular, themed holiday parties. Needing a signature cocktail to match the TV show "Downton Abbey" theme, Higgins concocted a syrup from fresh and candied ginger and vanilla beans, calling the drink the Downton Fizz — and the entrepreneur in him realized it had retail potential.
It was Athena who first saw the for-lease sign in the window of the storefront next to the Manette Saloon. The quirky neighborhood reputation of Manette appealed to them both. Higgins posted a cryptic photo on Facebook to spike interest among his friends and began a dream board about the store's visual appeal.
It took three months to convert the empty space whose past lives included dance and karate studios and a second-hand store. The colors, the wallpapers and the lighting fixtures were planned in detail.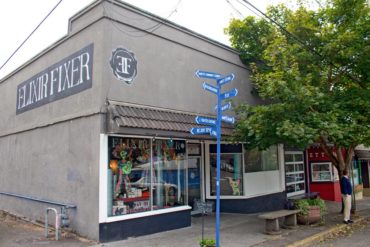 "Though my wife was very unhappy about the expense of that," Higgins said with a smile, pointing to a wall screen divider covered with vintage wallpaper of a baroque opera scene.
Since opening the doors in 2016, the couple has been practicing a business model they refer to as kind capitalism.
"We have personal relationships with makers of all of the products we sell," Higgins said.
As the business has grown, they've been interviewing food brokers who have compatible, like-minded philosophies. And they've worked to create community among their business neighbors — sponsoring a holiday party, participating in Manette's Winterfest celebration and planning for a Black Friday Open House in December.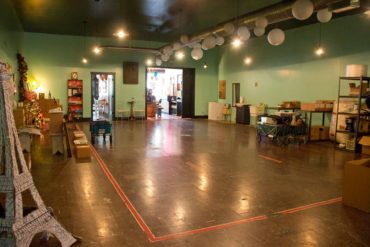 They've been growing their business "slow and steady" to remain a fixture in the evolving neighborhood. Even the making of Elixir Fixer's 10 cocktail/cooking syrups has a personalized touch. A Tacoma company bottles and labels the final product, but each week, the Higginses make the drive south to mix and stir the ingredients for quality control.
The plan has always been to offer social events in the large warehouse space behind the retail operation, lined with Parisian, Day of the Dead and Valentines memorabilia from the rotating storefront window displays handmade by Higgins. The first official event since their open house was planned for the end of October.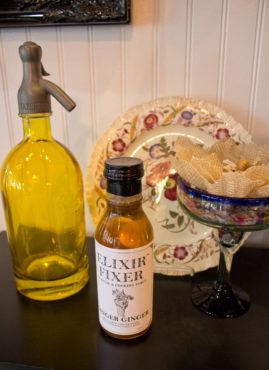 "I'm thinking of a sort of speed-dating model," Higgins said, "where people move between tables with food and drink pairings, but the focus is as much about the social interaction as it is about the food and drink."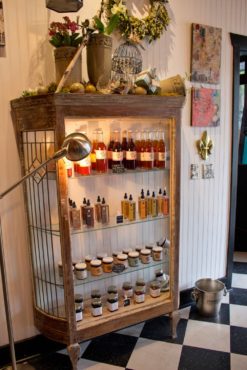 Selling a specialized product that relies on retail is only the first step in their go-slow business plan. But it's a balancing act to keep the business personalized and build community while at the same time moving to the next step — cracking the national distribution market. Higgins' plans for an entertainment book and an Elixir Fixer soda have been put on hold while the couple shifts from their own direct marketing to local outlets to finding the perfect brokers who can represent their product.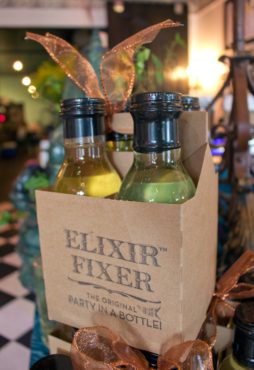 It takes a unique touch to promote syrups that go by monikers like Baby Maker, Fast Thymes and Mother Pucker. And Higgins wants marketing that emphasizes the locally sourced fruits, herbs and whole spices that go into his product.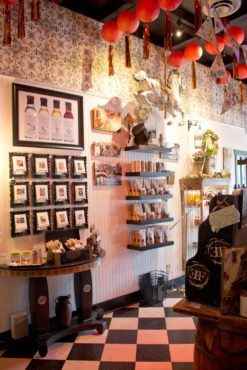 The holiday season is one of Higgins' favorite times; it was then that Elixir Fixer was first conceived. Customers can drop by the store during Manette's Winterfest scheduled for the first weekend in December, take stock of the store's newest holiday window display (Higgins promises hot pink, joy, peace and love), and pick up a bottle of Liquid Frost, the only syrup sold seasonally. Made from crushed candy canes, cayenne pepper and Madagascar vanilla beans, it makes a flavorful addition to hot chocolate, martinis and brownies. Higgins will gladly hand you recipe cards for that syrup and the nine other Elixir Fixers in stock.
While there, make sure you study the wallpaper in the bathrooms, the red Japanese lanterns and that exuberant wall screen. They all have a story behind them. And then celebrate with your own community by following one of the store's popular recipes, Elixir Fixer Five-Minute Party:
Invite your friends over and have everyone bring a dish.
Have two of them bring dessert.
In a pitcher, add one cup of your favorite Elixir Fixer, one cup spirits (or not) and two cans of soda water over ice.
Stir and enjoy the evening. Superfun; no stress.