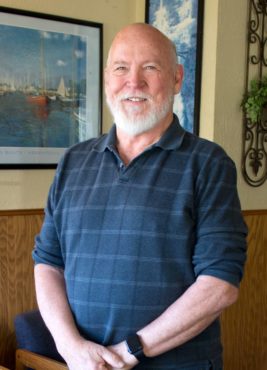 The Kitsap Building Association wanted to expand its charitable activities in the local community about 18 years ago and members looked for recipients to provide a better Christmas experience. A couple of years later, they settled on the ALIVE Shelter, a YWCA of Kitsap County shelter and housing program for domestic violence victims and their children.
Being a building-trade association, the KBA adopted the name of Build a Better Christmas for this annual project, which is funded by a grant from the Kitsap Home Builders Foundation. Committee members divide the list, provided by the shelter, and go Christmas shopping for about two dozen shelter residents. In addition to six to eight shoppers, other volunteers help with the operation, which includes a wrapping party at the KBA office in December.
Biegenwald got involved when KBA leaders launched the committee and someone volunteered him for it at a board meeting. The project's chairs rotated for the first few years.
When it was my turn (as chair), they decided not to rotate it anymore so here I am. I intend on doing it as long as they will let me," he says.
Why it's Important
Often, the occupants of the shelter, and this includes women and children, arrive there with nothing more than the clothes they are wearing. The YWCA and other organizations provide basic necessities but we felt that helping give them a decent experience at Christmas was important.
Best Part
For me, the best part is the evening after the wrapping party when I, along with another member, get to do the Santa Clause thing and deliver the presents to the shelter. I already have a white beard and belly so all I need to add is the hat.