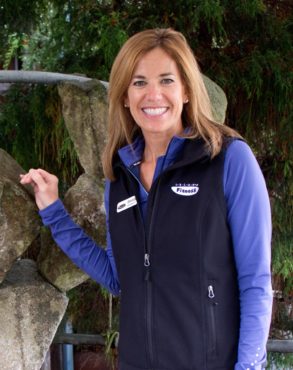 The Turkey Trot is a 5k and 1-mile fun run on Thanksgiving morning that benefits Helpline House on Bainbridge Island. The run has raised more than $130,000 for Helpline House since its inception in 2010.
Islanders Ann Browning and Jenny Campbell started the event nine years ago and passed the baton two years ago to Island Fitness owners Michael and Alexa Rosenthal. Prickett, a trainer at Island Fitness, took the reigns last year, together with Dominique Atherley, to help out the business. This year, Prickett — who had previously run in the trot — has recruited more volunteers to continue the event.
It takes more than 100 volunteers, sponsors and community supporters to make the run happen.
"From the Bainbridge Island Parks and Recreation, local EMTs and business sponsors, to BI police — all have been supportive in this community event," Prickett says. "We have dedicated volunteers who happily come back every year. The Turkey Trot wouldn't happen without the support of the whole community."
Why it's Important
The Turkey Trot has become more popular and familiar to our community and they are excited to join their friends and family on Thanksgiving morning in all types of weather to participate in this fun run to benefit Helpline House. You can also be a virtual runner or make a donation at www.biturkeytrot.org.
Biggest Challenge
One of the biggest challenges is something we can't control — the weather! Last year, we set up registration in a building that flooded the morning of the race and had to move everything outside in the early morning of the run. But the volunteers made it happen as the rain came down and the winds blew sideways. Luckily, the weather calmed down a bit before the race started.
Best Part
Even though a lot of work is required to put on this event, it's all worth it when you see how many people help to make this a success and come together for this fun event to benefit such a worthwhile organization.