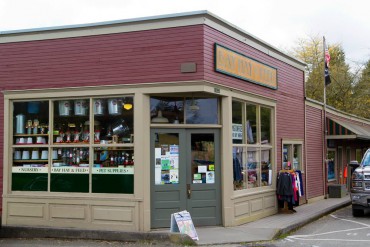 Stroll around the grounds of Bay Hay & Feed on Bainbridge Island and you get the sense of walking back in time.
It's like visiting an old-fashioned country store, with a modern twist. There's a nursery and greenhouse, filled with about every plant and tree imaginable. There's live stock and pet supplies, dog and cat food, gifts, pet gear, clothing, kids toys and much more.
Looking for a pair of rubber boots for gardening or steel-toed work shoes? No problem.
Want a chick or two for your hen house, a fun gift, cutting tools, wire and fencing? They've got it.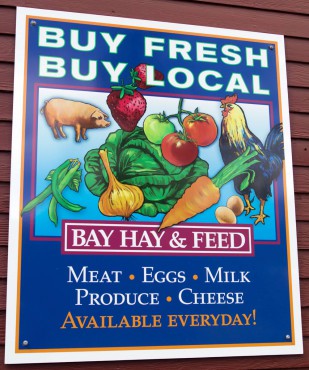 Walk out back and you might run into a friend having a canister refilled at the store's propane pump, or hear the sound of a forklift stacking bails of hay in a nearby storage loft.
"We focus on the unusual," says Howard Block, who started Bay Hay & Feed nearly 40 years ago with his wife, Ce Ann Parker. "We (still) sell quality hay, and sell a lot of it."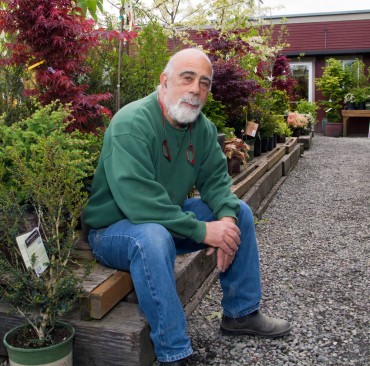 Bay Hay is one of a handful of independent feed and implement stores still operating on the Kitsap Peninsula. Others include Viking Feed in Poulsbo, Farmland Pets & Feed Store in Silverdale and Redneck Feeds in Belfair.
These unique outlets are surviving, if not thriving, in the face of growing competition from Amazon; big-box stores like Home Depot, Lowe's and Costco; and regional chains such as Tractor Supply Co., Cenex, Wilco and Bi-Mart.
"Before it was store against store, now it's store against the world," says Block, half joking but also acknowledging the changing retail landscape around him.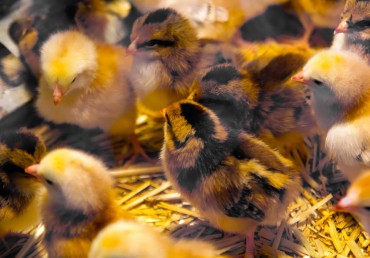 Competition, though, isn't stifling 43-year-old Farmland Pets & Feed.
"The fact we're a feed store (on Silverdale Way) attracts people," says Shannon Randall, the store's manager and daughter of longtime owner Jack Munro. "We have everything (customers want), and we know what we're talking about."
Jay Carlson, manager of Viking Feed, agrees. The store, which has been on the Kitsap Peninsula for just over three years, specializes in serving small farmers, hobbyists and homesteaders — niche markets the larger outfits tend to ignore or overlook, he says.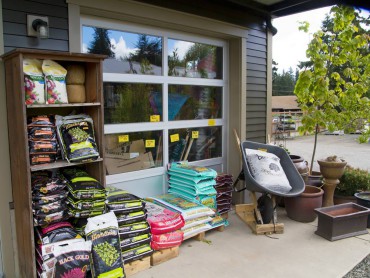 "We prioritize our service and try and create a friendly atmosphere with our team," Carlson says. "You have to look at that all the time."
Bay Hay has managed to separate itself from mass merchandisers by offering almost handholding customer service and pushing the advantage of local buying.
"It's where locals shop locally," Block says of his store. "The owners are in the business. That makes a difference… I care about our community, and our employees have a relationship with our customers. We have repeat customers going back to 1979. Kids that were kids way back when are now bringing their kids in."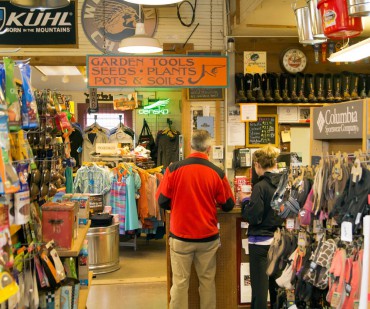 Indeed, of the first six shoppers Block dealt with on his first day in business nearly four decades ago, four are still regular patrons. And he can recite each of their names.
"Customer service is what people like and that's what we can give them," says Els Heyne, Bay Hay's manager director. "It's what sets us apart (from the competition)."
The store's 34 full- and part-time employees, many of whom have been with Bay Hay for 25 years or more, are the reason behind its customer-orientation magic.
"We retain our employees," adds Block, noting the company's health care, profit-sharing, sick leave and paid vacations plans, plus decent wages. Someone who is at least 18 years old starting out at Bay Hay will earn $14 an hour.
"Our staff is the continuum," Parker says. "It's nice when you go to the store and know the people who work there… You can see how much employees care about their job. It really shows."
Block doesn't lay off his workers, as other retailers tend to do; instead, he cross-trains them to do other tasks as the seasons shift.
Like lots of businesses, Bay Hay has evolved over the years. Block bought the bones of a rundown feed store that he intended to upgrade. Parker had a degree in horticulture and wanted to do something with it.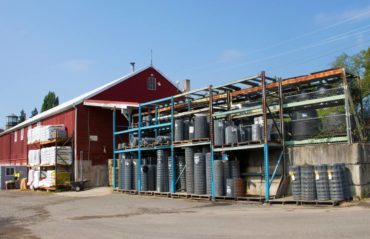 Three years into their ownership, the store added a nursery, then started stocking work wear for farmers, boots and clothing accessories, including their now famous sweatshirt.
The original design of the sweatshirt — literally seen around the world — was taken from a feed sack distributed by a store supplier. Block asked if he could modify the design. He got permission to do so, and a local artist updated it to the style customers have become accustomed to for nearly 40 years: a long- or short-sleeve shirt or sweatshirt with several rows of the same farm animal across the chest.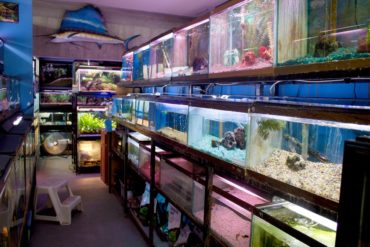 Bay Hay started with sheep on the front, but shirts now include horses, roosters, ducks, pigs, dogs, rabbits and other farm critters; one features tractors.
After the store stared selling the shirts in the early 1980s, the Seattle Post-Intelligencer published a story on the unique brand, and sales "really took off," Block recalls.
Customers are so enamored with the shirts that they wear them everywhere. Bay Hay has photos of people posing with their apparel in front of the Trevi Fountain in Italy, at the Pyramids in Egypt, on the Great Wall of China and at any other famous place you can think of.
"It happens all the time," Heyne says. "People send them (photos) to us. People love it. They identify themselves" with that shirt.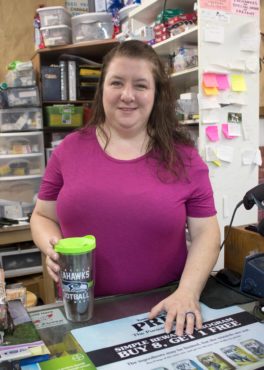 Block won't say how much the sweatshirt business nets the store each year, only noting that it's part of what he calls "responding to what people ask for." Even so, the shirts helped launch a larger clothing line for Bay Hay that includes women's wear, boots, hats, scarfs, jackets, socks and more.
Bay Hay's evolution also includes selling and merchandising locally grown food. Heyne, who has a master's degree in economic sustainability from the Bainbridge Graduate Institute, began working with local farmers about six years ago.
Most farmers on Bainbridge and throughout West Sound are able to sell their produce at local farmers markets, but most don't have a significant reach beyond that audience.
Bay Hay saw an opportunity to expand markets for local farmers. "What they were doing was seasonal; it wasn't enough," Heyne says. "We wanted to see what we could do."
Bay Hay struck a deal with farmers, not only from Bainbridge and Kitsap County but also from Seattle and other parts of Washington, to sell organic, value-added food and beverages year-round.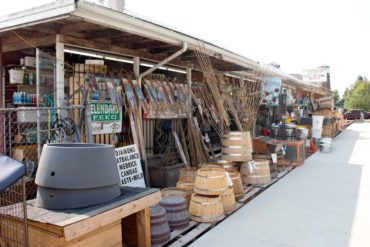 At the store's expanded food market — now around 600 square feet — customers can buy fresh produce, fruit, milk, eggs, cheese, pork, beef, chicken, salmon and bread on a daily basis, along with other delights such as jam, honey, salt, vinegar, soaps and, of course, local wine from vineyards like Rolling Bay Winery or Bainbridge Vineyards.
"People are grocery-shopping now, which is pretty cool," Block says. "It's become pretty large for us."
As the economy was still shaking off the effects of the Great Recession in 2012, Block took a gamble and built a 3,000-square-foot building on the store's 2.5-acre site to house the nursery and its wide array of gardening products, as well as adding upstairs offices.
"We had to do it," he says.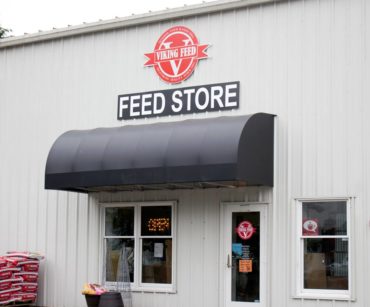 The move allowed room in the older sections of the compound to take on Heyne's local food venture and expand the gift and kids' areas.
Never one to stand still, Block is planning yet another expansion. This time, he will tear down part of the original feed barn and create a display retail warehouse where customers can get an up-close and personal look at certain products that are now out of sight.
"There's a lot of stuff in the barn that you just can't get to," Heyne says.
Bay Hay is unique in other ways. It has a full-service nursery that will deliver plants, trees, fencing and other gardening items to customers' homes. It has a frequent-purchase program that offers discounts to those who want to shop locally.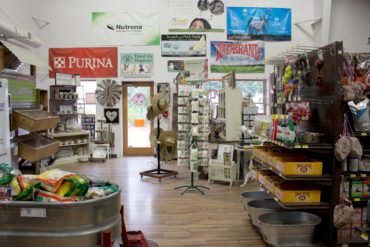 The company also sponsors signature community events like the Harvest Fair and Bainbridge in Bloom, or lends its equipment to groups involved in local activities. If you attend the island's annual Fourth of July Parade, chances are you'll see Little Leaguers, a jazz band or representatives of a nonprofit standing on the back of one of Bay Hay's trucks.
The store's famous community involvement also leans toward reuse and repurposing. Twice a year, Block takes a truckload of Styrofoam — collected on the island — to a recycler in Seattle, for free.
At Christmas, Bay Hay refurbishes tree stands left over from the annual Rotary auction and sells them to customers, handing the proceeds off to Helpline House, an island charity.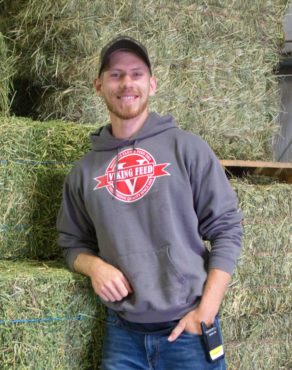 "One advantage we have — because we're owner-occupied — is we can turn on a dime," says the 69-year-old Block, who has no immediate plans to retire. "I'm healthy. I enjoy coming (to work) every day and the employees have really made my life easier."
Trio of Other Indie Feed Surviving on Peninsula
While Bay Hay & Feed on Bainbridge Island may be considered the quintessential farm store in all of West Sound, a handful of other outlets have carved out their own niches and followings.
Farmland Pets & Feed Store in Silverdale, Viking Feed in Kingston and Redneck Feeds in Belfair are owner-operated, independent stores offering a wide array of products for farmers, hobbyists and general consumers.
You can purchase hay, animal feed, chicks, rabbits and other farm critters at these unique outfits, as well as get sound advice on how to raise poultry or what is the best pet food for your growing Great Dane puppy.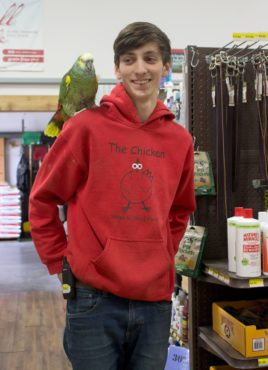 At Viking Feed, you might find yourself being serenaded by the store's 47-year-old female pet parrot, Sky. The blue-fronted Amazon breed sings and tells stories.
"It came from the old store," says manager Jay Carlson. "She's got quite a following."
Barry Bryant, a Kitsap County resident, owns Viking Feed. He started the store in Monroe 20 years ago but decided to move it across the water to Poulsbo three and a half years ago.
Carlson, who's been with Viking for eight years, says the move to West Sound has been a shot in the arm for the business. Established farmers in the Monroe area, he recalls, were less enthusiastic about learning new techniques.
Folks on this side of the pond are less experienced and more open to being educated, he says.
"We're enjoying working with the community here," he notes. "It's fun (teaching) new farming, on a smaller scale, with limited space. We're having a lot of fun."
Viking has discovered that a lot of its new customers are "homesteaders," mostly younger people who buy a few acres of land and are "trying to figure out how to maximize it" by raising their own meat and produce, Carlson says.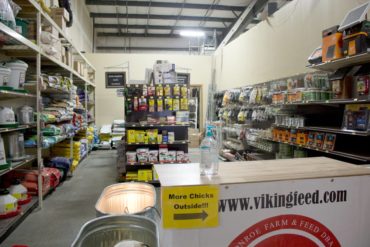 The store helps through its "Broiler Club," which offers advice on poultry production, flock management (chickens, goats, sheep), discounted prices on brood chickens and feed, and educational classes.
Customers can hire a Viking team member to help with processing and equipment, with a goal of teaching them "how to turn a chicken into a meal."
Viking has seven to 10 full-time employees, including Bryant, who usually handles deliveries.
Farmland has been a feed store in one form or another in its present location on Silverdale Way (under different ownerships) since the 1940s, says second-generation owner Shannon Randall.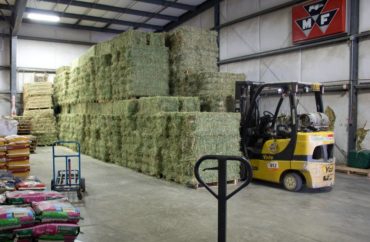 Munro purchased the store in 1977.
"My parents had a hatchery," Randall recalls. "Dad used to (deliver) chickens up and down the peninsula. Then he got it in his head to do a feed store."
Farmland sells chickens eight months of the year and gets them delivered through the postal service, special-ordered from a farm in New Mexico, of all places.
The cozy little store, stuffed with merchandise, has eight full-time employees, including Randall's parents, who are beginning to take a less active role in the business.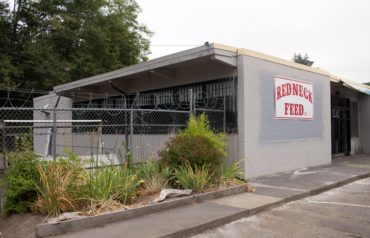 "There's never a boring day here," Randall says, recounting the time someone brought in an injured fawn, wondering what to do with it. Or the many times pigs have accompanied their owners onto the property.
Farmland sells everything from feed to fish and has a very loyal customer base, some of whom are unusual fish and chicken "enthusiasts," Randall says. Still, just like Bay Hay and others, Farmland has to react quickly to changing market trends in order to maintain its edge.
"We have to add new wrinkles all the time to compete with Wilco or PetSmart," she says. "We have to keep moving."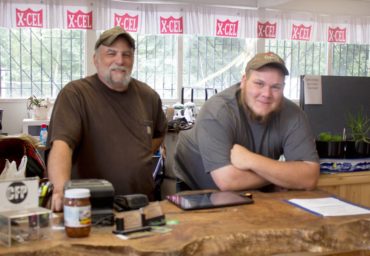 Redneck Feeds might have the best name of the bunch. The store on Route 3 in Belfair opened its present location last year after eight years operating on Old Belfair Highway.
Current owner Rick Mielke worked for the previous owner before purchasing the business four years ago.
Redneck sells feed, chicks in season, livestock feed and horse tack. It also dabbles in antiques. The 3,000-square-foot store is practically a one-man show, with Mielke bearing the brunt of the work and family friend, Sam Smitodithc, working backup.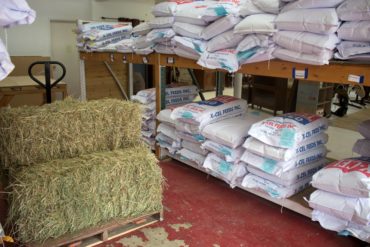 "The biggest thing (for Redneck) is we're family-run and operated," says Smitodithc, who's of Polish origin. "As Rick says, we treat you like family, only better."
Smitodithc says the store gets lots of livestock questions and inquiries about "non-GMO this or non-that, which are pretty challenging." It also provides consultation for customers on animal nutrition.
In the middle of this past July's heat wave, Smitodithc said business was a little slow, but overall, he says the store is "pretty successful." A sentiment, it seems, that could be shared by all the independent feed stores in West Sound.