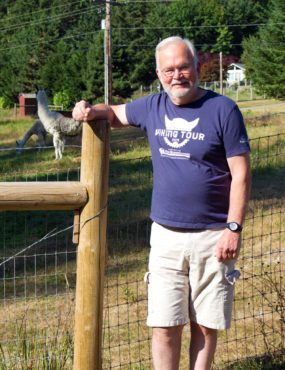 Jim Sund may be a familiar name or face to many around West Sound, but especially in North Kitsap.
The retired owner of North Kitsap Auto Rebuild in Poulsbo, Sund is a longtime community volunteer who's been serving on the boards of several local nonprofits. They include the West Sound Technical Skills Center Foundation, Jewel Box Theatre and Olympic College Foundation. He's also a longtime Rotarian and, for the past couple of years, a SCORE business mentor.
He began volunteering about two decades ago, as a mentor to North Kitsap High students with other Rotarians. Occasionally, he runs into mentees who recognize him and, he says, it's "fun to see how they've turned out."
"I like to think that I may have made a small difference in their successes," he says.
His involvement with the West Sound Technical Skills Center in Bremerton dates back many years, first as a member of the advisory board. The West Sound Technical Skills Center Foundation, formed in 2007, raises funds for scholarships through fundraising events.
The foundation awards as many as 10 scholarships per year, with a total of $80,000 to date, according to Sund, who was board president until 2017 and continues to serve on the board.
"What's particularly gratifying about helping these students is that they have, almost without exception, thrived in the West Sound Tech hands-on, job-oriented training environment. They typically have very limited, if any, financial means to pay for more advanced education," he says. "The ones we interview for scholarships are exceptionally bright and given the opportunity, would thrive with more education."
The foundation also awards "career equipment" scholarships for West Sound Tech students who are ready to enter the workforce and apply their skills learned at the skills center. The scholarships cover tools and equipment students need for obtaining employment and working in the trade.
"We've had many successes in both the academic scholarship and the career equipment scholarship programs. I'm gratified when one of our award winners will recognize and thank me for the opportunity the West Sound Tech Foundation gave them," he says.
A past supporter and donor, Sund joined the board in 2013. As the president for the past two years, he has been part of shepherding significant growth at the foundation. He notes that the last Donor and Scholars dinner event brought in the highest-ever amount in student scholarships.
Sund became involved with the Jewel Box Theatre in 2009 without having any background in community theater. He says he's been amazed how much can be achieved with unpaid volunteers. More than 100 volunteers are instrumental in the six main-stage shows the nonprofit group produces every season. Sund himself contributes with things such as maintenance, fundraising and even bar-tending at events.
Sund's career has included 25 years with the Navy, where he advanced from an enlisted sailor to the rank of lieutenant commander. He had a couple of jobs before he purchased North Kitsap Auto not long after moving to the Northwest with his wife, Anne, who was an active-duty Army nurse at the time.
Now that he's retired after 20 years of running his business, he finds that volunteering as a Kitsap SCORE mentor is a way to share his experience.
"Looking back at my own foray into small business, I wish that I would have sought the advice of a SCORE mentor who had 'been there' so to speak," he says.
The Poulsbo Chamber of Commerce awarded Sund the 2016 Volunteer of the Year Award, for which he was nominated by the Rotary Club of Poulsbo North-Kitsap.
"Whether serving on a nonprofit board or working on a hands-on community project, volunteers make a huge difference in the lives of everyone," he says. "There's always a lot of work that needs to be done that is not government provided or privately paid for. Parks, community theaters, youth mentoring, community orchestras, student scholarships, nonprofit boards and many other worthwhile things depend on committed community volunteers. The feeling and experience of contributing, even in a small way, makes community service rewarding and worth it."
Why Get Involved
We all have talents, have developed skills and acquired experience during our careers. We shouldn't waste this. It's rewarding to apply these to community causes and make a difference.
Best Part of the 'Job'
Seeing the results. These can be a student success that was made possible by a scholarship awarded, serving on the board of a thriving impactful organization, or seeing victims of domestic violence or homelessness safely housed in a place that was remodeled by volunteers.
Biggest Challenge
Inspiring others to serve. Not everyone is generous with their time or inclined to volunteer. Most-impactful community service roles require lots of both. People who would like to serve on nonprofit boards should be prepared to roll their sleeves up.
Best Compliment 'On the Job'
Being recognized and personally thanked at a local restaurant for a scholarship earned by a former student at West Sound Tech. That scholarship made the difference in getting the start in his education that would not have been possible otherwise.
Things I Can't Live Without
Family, home and my classic cars.
Best Way to Relax
RV camping and reading — history and current events.
Hobbies Outside of Volunteer Work
I tinker with and occasionally drive my '64 Chevrolet Corvair Spyder Convertible and my '51 Ford Victoria. Other than that, I stay fairly busy maintaining our small, 8-acre farm on Big Valley Road in Poulsbo.