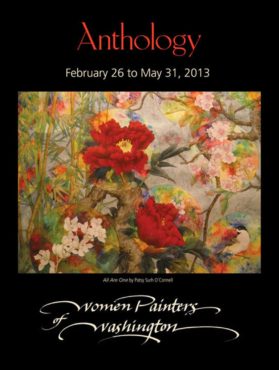 Patsy Surh O'Connell's life is filled with art. She has studied, taught and created art since she was a child, and has won so many awards for her artwork that she has lost count.
As a 4-year-old in Korea, she started "scratching and drawing" on her father's typing paper. In high school, she studied charcoal portraiture and began to explore other mediums.
"The teacher at the art studio trusted me and understood how much I loved what I was learning," O'Connell recalled. "So she gave me a key to the art department so I could go in and do any kind of art I wanted to try."
She experimented with sculpture and other art forms and dabbled in oil, pottery and "lots of different mediums." Her work was shown at prestigious Korean galleries with which the school was connected.
But she also knew the horrors of war.
She was just 7 when the Korean War broke out in 1950 and North Korean troops invaded the south. They took over the Surhs' home and Patsy and her family were forced to find somewhere else to live. Her father went into hiding and soon the family fled to a city in southeast South Korea for safety. They moved back to Seoul in 1953 when the war ended.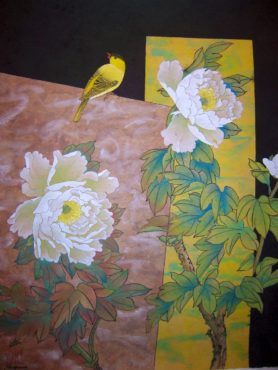 "For a child, the war was all beyond comprehension," she said.
But even those awful experiences didn't dim her optimism and her eye for beauty. After all, her Korean name, Surh In Suk, means "kindhearted person who does good things for others."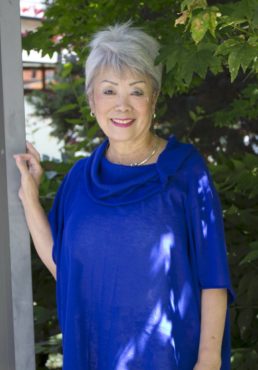 At her father's insistence, O'Connell came to the United States in 1963 at age 23 to go to college. She lived with an aunt in San Francisco's Chinatown and earned a degree in interior design from Rudolfph Schaeffer School of Design that has given her a unique perspective on visual art.
"When I paint, I visualize how the painting will hang in a space," she said.
In 1965, she married Capt. Wallace J. O'Connell, an Army dentist who had been stationed in Korea. Patsy and Wally recently celebrated their 53rd wedding anniversary.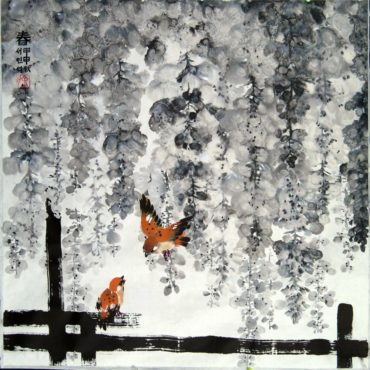 Her husband's military career took them to Japan, Texas, New Jersey, Okinawa, Indiana and Korea before his final assignment at Fort Lewis. In 1990, they retired in Gig Harbor.
Along the way, their family grew with the birth of two sons and adoption of a Korean daughter.
All the while, O'Connell continued to paint and study about other Asian cultures. She developed a special fondness for watercolor, and about a decade ago, she decided to focus on painting with ink.
"Now ink is the major part of my work. It's very Asian; it goes back to my origins," she said.
She specializes in the realistic Chinese "gongbi" style of painting using various colors of ink. (The word means "tidy" — as in meticulous brush craftsmanship.)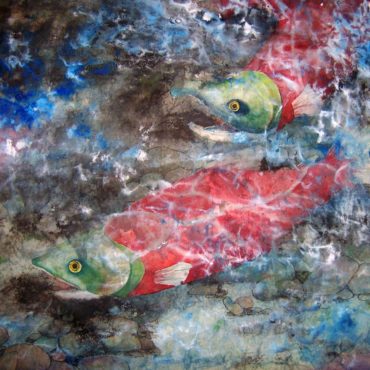 In addition to making her own paintings, she has taught art classes, been featured in dozens of art shows, served on Tacoma Art Museum's board of directors, served two terms on the Washington State Arts Commission and curated and juried art exhibits throughout the United States and Asia. She has been very active in the state's Korean American Artists Association for many years, including as president, and has curated many of its shows.
Daniel Smith Artist Materials, an internationally known and respected Seattle manufacturer of watercolor and oil paints and supplier of artist tools to artists the world over, created a Patsy Surh O'Connell palette of "paint dots" based on colors she often uses in her paintings. The dots allow painters to experiment with the company's high-quality watercolor paints favored by well-known artists.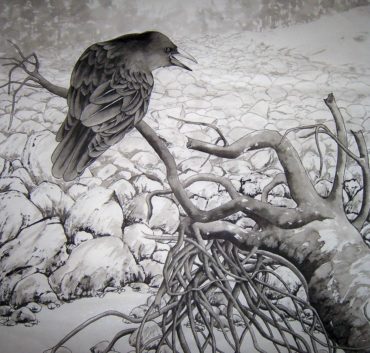 Her passion for art and her achievements as an artist lead to her being named a lifetime, signature member of the Northwest Watercolor Society in 2007. O'Connell has also been honored by numerous other arts organizations as she has continued to show her work in exhibitions throughout the Pacific Northwest and beyond.
This past summer alone, her paintings were exhibited in three shows — Southwest Washington Juried Exhibition at South Puget Sound Community College, Korean American Artists Association of Washington's show at the Washington State Convention Center in Seattle and the Washington Overseas Chinese Artists Association show at Tacoma Community College, where one of her paintings was used to promote the show.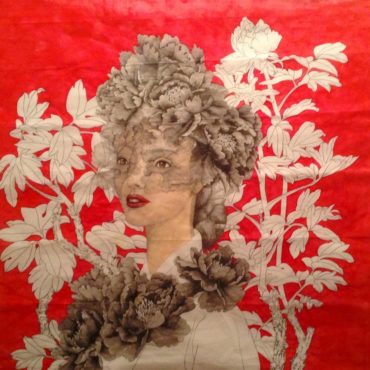 In 2015, O'Connell received the Visionaries Award by the Northwest Asian Weekly Foundation of Seattle. The following year, she was selected by Secretary of State Kim Wyman's office as part of the statewide "Who Are We?" project highlighting Washington's kaleidoscope of cultures and traditions. The project spotlighted Washingtonians who have overcome obstacles to leave positive marks on our state.
In 2017, O'Connell chaired the state-sponsored Legacy Washington exhibit "Korea 65: The Forgotten War Remembered." She has also been the keynote speaker at Pierce County's annual naturalization ceremony.
Asia Pacific Cultural Center
For O'Connell, her many artistic achievements take a back seat compared to her founding of the Asia Pacific Cultural Center in 1996. Currently headquartered in Tacoma, APCC has the mission to connect communities and generations through art, culture, education and business. It serves as a center for cultural exchange and provides programs and services that promote greater understanding and appreciation of the cultures of Asia and the Pacific Islands.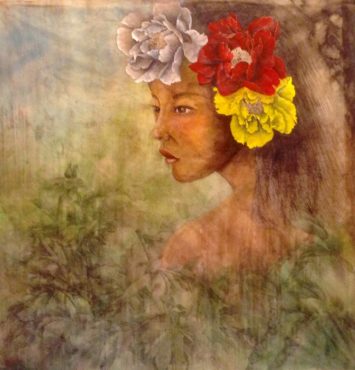 The seeds for APCC began to sprout during O'Connell's tenure as president of the state's Korean American Artists Association.
"I heard so many stories from immigrant artists who couldn't find time to paint because they had to make a living," she recalled. "When they smelled turpentine, it brought tears to their eyes. Their work was very beautiful but they didn't have a way to show it."
She reached out to other Asia Pacific communities in Pierce County and discovered a remarkable cultural diversity from nearly 50 Pacific Rim countries.
Now, more than 20 years later, APCC represents 47 Asia Pacific countries and each country has opportunities to show off its culture and traditions in public performances and events. APCC's youth programs help at-risk Asian and Pacific Islander youth overcome barriers to success so they can graduate from high school.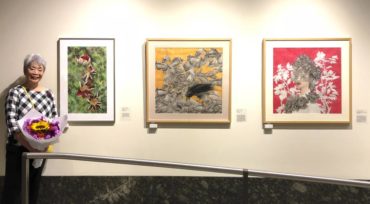 One program, the Cultural Treasure Trunks Project, uses artifacts and hands-on lessons to teach about Asia Pacific cultures. Events such as the yearly Polynesian Luau and Samoan Cultural Day, monthly Asia Pacific Tea Experience classes, Taste of Asia cooking classes, a Korean paper fashion show and the Annual Asia Pacific New Year Celebration further the awareness of those cultures.
O'Connell is currently focused on promoting Asia Pacific artists at APCC events.
"I've already promoted more than 30 artists in group and individual shows," she said. "I vary all the countries being represented in the shows."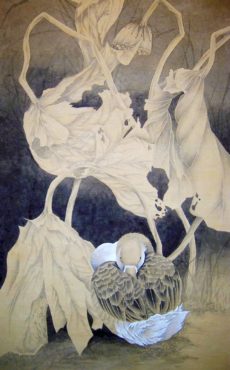 She's also promoting American artists and photographers who've studied or been influenced by Asia Pacific cultures.
In 2016, APCC received the prestigious Heritage Organization Award from Gov. Jay Inslee, paying tribute "to their outstanding work, leadership and legacy."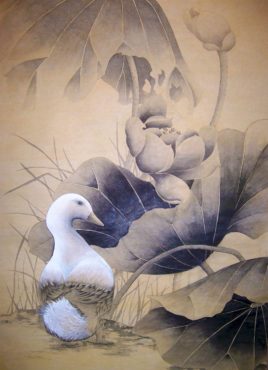 "I'm so happy that we have APCC," O'Connell said. "We give cultural experiences to more than 150,000 people a year. We have six or seven events every month to shine the spotlight on our groups."
Knowing about different cultures enriches everyone, she added.
"When people learn about other cultures, we learn about each other and we can get along better. It's a nonthreatening way we can get to know each other," she said. "I think that cultural exchange creates respect."
That kind of cross-cultural connection also leads to cross-pollination among artists because "they can see what other artists are doing and can learn from each other and share ideas," she said.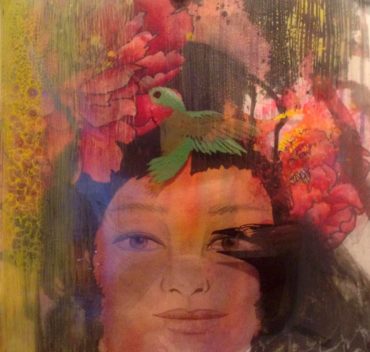 O'Connell's latest personal artistic project is to create 100 peony paintings in honor of her mother, who died in 1997.
"She loved peonies and I love peonies. The peony is very Asian so I have many peonies in my yard. I love springtime, when they are all in bloom. So far, I have about 50 paintings completed. I think it's important to follow through with something, not just say it," O'Connell said with a smile.
Painting is like a meditation, she added.
Not long ago, a fortuneteller told O'Connell she would live to be 83 years old.
"I think as you get older, you have to do what you love. Painting and helping others is what I want to do," she said. "I don't doodle on what's gone by — it's already passed and it's not a helpful thing. It's best to just leave it and move on.
"You have to make your own joy and happiness and you have the right to enjoy your life. So do what you love and enjoy it."