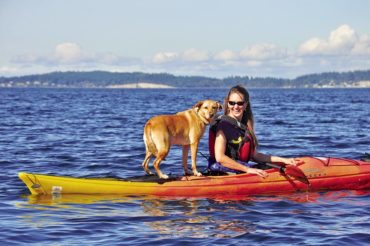 It's true. Most people born in and around the greater Puget Sound area are wimps when it comes to really hot weather. As the thermometer soars and the dog days of summer linger on and on, locals whimper and wilt and scurry indoors to find air-conditioned relief (or a cold shower). Any Midwesterner will tell you, however, that these little heat waves are mild compared to the intense humidity and summer-long heat waves in places like Michigan and Indiana.
Summers in the Pacific Northwest are short, so it's hard to spend even one sunny, blue-sky day inside. If you feel the same, here are some ideas on how you, your family and your out-of-town visitors can stay cool on the Kitsap Peninsula.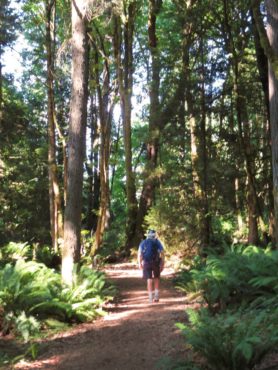 Take a Walk in the Woods
The forest is a great place to find respite from the heat, especially midday heat, which is often the hottest. Towering trees filter the harsh sunlight through thousands of acres of preserved and restored forests and miles of multi-use trails.
Lucky for locals and tourists, the Kitsap Peninsula is blessed with dozens of beautiful and shady heritage sites and city and county parks that offer respite from the searing summer sun. All are open to the public; many are family-, wheelchair- and dog-friendly. In addition to trails for walking, biking and equestrian use, many also offer shelters, picnic areas, birding, wetlands and wildlife viewing.
In South Kitsap, a popular destination is the 636-acre Banner Forest Heritage Park located near the charming, one-stop town of Olalla and Al's Market. A perfect after-walk stop to enjoy the scenic views of south Puget Sound and quench your thirst with an ice-cold beverage or local brew. Just down the road is the lovely Olalla Vineyard & Winery, with a shady outdoor patio where you can sip some locally made wines.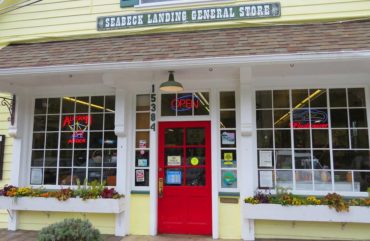 In Bremerton, the 570-acre Illahee Forest Preserve offers 5 miles of shady, forested trails; 55 species of wildlife and a salmon-bearing stream. In Silverdale, head to the 1,082-acre Newberry Hill Heritage Park and the nearby 66-acre Anderson Landing Preserve on Anderson Hill Road.
In the north, great cooling-off stops include the 799-acre North Kitsap Heritage Park, the new 3,493-acre Port Gamble Heritage Park and the beautiful 245-acre Hansville Greenway located next to Buck Lake, a longtime local favorite swimming hole. Bring a cooler and spread a soft blanket on the cool, grassy lawn under a big shade tree and celebrate the dog days of summer with a classic outdoor picnic.
You can stop in advance in Hansville at the Hansgrill Grocery & Provisions Co. to stock up with supplies, or grab an authentic, wood-fired pizza-to-go at Peninsula Pies.
In Gig Harbor, shelter from the heat and sun at the McCormick Forest Park, a lovely 122-acre natural area with towering old-growth trees, wildlife and nearly 4 miles of walking trails.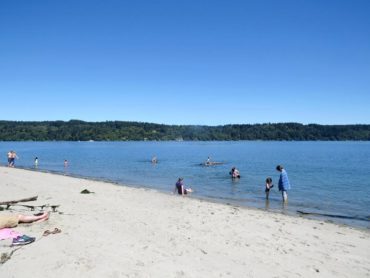 Explore Beach Breezes and Water Trails
Another option to keep cool during the dog days of summer is to head to the beach for a refreshing dip in the not-so-warm waters of Puget Sound. Or hop aboard your favorite human-powered watercraft for a leisurely paddle along the shores of the 371-mile Kitsap Peninsula National Water Trails.
Among popular beaches for wading, swimming or even for sitting in is the 66-acre Anderson Point Park (near Banner Park and Olalla), a hidden treasure with stunning sandy-white beaches and expansive views of Colvos Passage and Vashon Island. There is a fairly steep 0.75-mile trail down to the beach and a heart-healthy hike back to the parking lot but it's definitely worth the effort.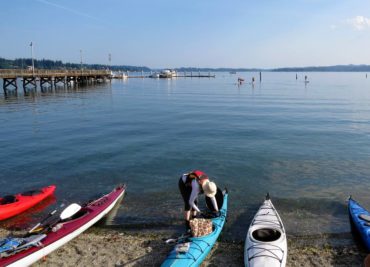 Much less strenuous and wheelchair-accessible is the Silverdale Waterfront Park located in Old Town Silverdale and in the heart of the region's retail center. The beach is a little less sandy but at low tide, it offers the opportunity to turn over rocks and discover abundant sea life.
There are lots of family-friendly amenities, too: public restrooms, playground area, shelters, docks and boat launch. During the summer, Olympic Outdoor Center rents single and double kayaks and SUPs (stand-up paddle boards) for water trail tours around Dyes Inlet.
Another local favorite is Lions Park, located in Bremerton along Lebo Avenue. The park features a walkable beach perfect for wading, plus a shelter, playground area, public restrooms, shade trees and expansive grassy areas to take a midday snooze. To the east is the town of Seabeck, where you can just pull off the road to sit on the beach or launch your kayak. The historic Seabeck General Store is stocked with cold beverages and homemade sandwiches, courtesy of Barbie, owner of the beloved but now closed Barbie's Café.
Head to The Great Outdoor Decks
Sometimes it's just easier to head to your favorite watering spot and sit under a big, bright umbrella on an outdoor deck overlooking the water. There's usually a nice, cool breeze and glasses of ice-filled summertime drinks topped with little umbrellas and mint leaves. But locals will likely want to wrap their hands and heads around a frothy, ice-cold one from their favorite Kitsap Peninsula crafter brewer like Silver City, Sound, Hood Canal, Seven Seas or Slippery Pig, to mention a few — ah, that's the ticket.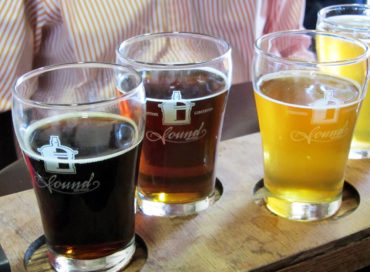 A few dog-day decks are the Yacht Club Broiler in Silverdale, just feet from the cool water of Dyes Inlet. The Boat Shed in Manette literally sits on top of the water under the Manette Bridge overlooking Sinclair Inlet. The Loft in Poulsbo offers views of the busy Port of Poulsbo Marina and Liberty Bay, and the deck on the back of the Kingston Ale House overlooks the Port of Kingston.
The historic Harbour Public House on Bainbridge Island overlooks Eagle Harbor with views of downtown Seattle. And in Bremerton, you can watch the iconic state ferries arrive and depart at the outdoor deck at Anthony's Sinclair Inlet. The Scratch Kitchen in Port Gamble offers views of the Salish Sea and the mountains beyond and has 24 brews on tap. In Port Orchard, the hot spot to cool off is Amy's On The Bay, and in Gig Harbor, it's the historic Tides Tavern. Wander any of these downtowns and you'll find many other places to keep cool.

For something a little more formal, check out the bar at the original hotel at the Clearwater Casino Resort, which has a gorgeous outdoor sitting area that overlooks Agate Passage. The cool breezes make this a lovely place to take out-of-town guests to share a cocktail and conversation — and enjoy the fleeting days of summer on the Kitsap Peninsula.
For more places to cool off when the temperatures soar, visit the VKP website at www.VisitKitsap.com.