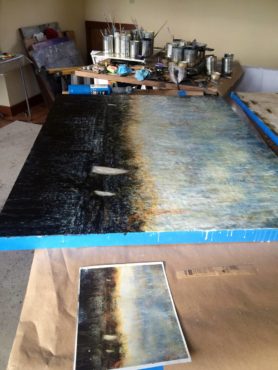 Theresa Stirling's studio is a quiet sanctuary in a loft above her garage, a place between the earth and sky where serendipity joins inspiration. She takes mind-clearing breaks by walking in her yard, paddle boarding along Hood Canal or perhaps chatting with her chickens. Her art is spiritual, ethereal and subtle, whether she creates a landscape, a seascape or portrait of a wolf.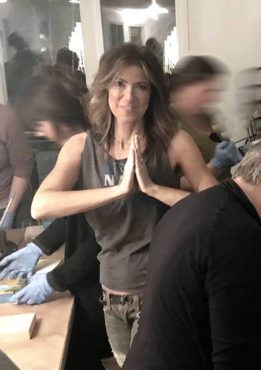 For 10 years, she was a biotech marketer. She learned how to build relationships, stay organized and run a business before her heart called her to a profession that would make her feel more "alive and motivated." She was "ready to do things for all the right feelings instead of all the right reasons."
Stirling compares creating her pieces to singers or musicians as they close their eyes, entranced with what they are sharing, or to writers as they leave the world behind and go deep into their work.
"Time stands still, ideas float in and out, and there's a fluidity to the creative process," she says.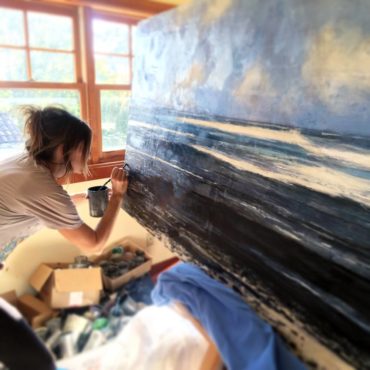 Encaustic painting is an old art. The ancient Greeks and Romans used the technique, as did painters from many other cultures through the centuries. A picture or design is painted on a board or canvas then covered with many thin layers of colored or clear beeswax, each one individually fused with fire.
Another method is to use pigmented hot wax to paint the picture or design. With either technique, metal tools can be used to shape the paint before it cools, and objects can be collaged onto the surface. Modern tools, like blowtorches and hot plates, have simplified heating and sealing the wax, but it is still a laborious and difficult medium to work with.
Working with rigid birch boards, sweet beeswax, pure pigments and fire — all natural and primal — Stirling creates "something deeply meaningful, requiring physical movement and meditation at the same time." She often uses an image glued to the wood then applies 15-20 thin layers of wax, shaping, moving, scraping and firing each layer until the image is translucent, creating a luminous, dimensional effect.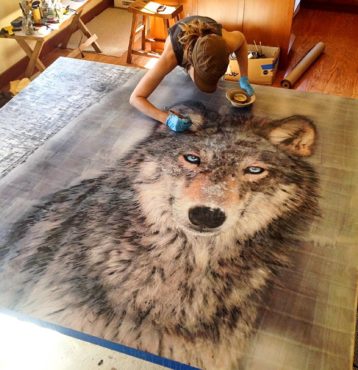 It takes strength and agility to produce large-scale works like the one she recently delivered to Yellowstone Club in Montana. Looking up at her 187.5-square-foot encaustic painting suspended on the ceiling of a custom home theatre, one can imagine being underwater, observing the surface above where in one corner, an eagle is about to pluck a salmon out of the river.
Her favorite paintings are loose, atmospheric landscapes because "they have soul."
"You know there is a horizon line, but the sky may dip down, or the reflections have an imperfection about them," she says. "Drips of paint in the clouds are fun and deliberate, reminding you that it is a painting, made lovingly by hand."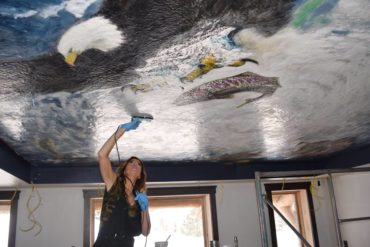 Stirling's work is nuanced, intentionally imperfect and an inspired product of a mind that trusts the creative process. Using not only what she sees but also how she feels about it from the depths of her soul, she creates art embodying harmony, calm energy, enchantment and magnetic charm in her own self-taught, signature style, which she describes as "loose, ethereal and mesmerizing."
When creating seascapes, Stirling is drawn in by the flow of the water.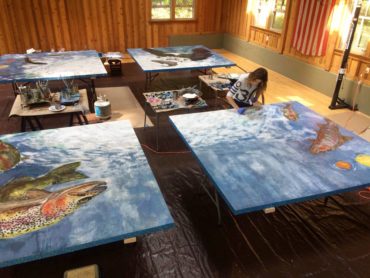 "The energy that comes from the sea is so soothing, fortifying and mystical," she says. "(It's) fun to capture in luminous beeswax layers. The fire tends to push things its own way, and that can be fun with froth and waves."
She did a seascape for a client in Hawaii using real sand, culled and dried from her own beach then incorporated into black beeswax for texture. Inspiration drove the use of the medium.
"Nature is so often the muse for me," Stirling says.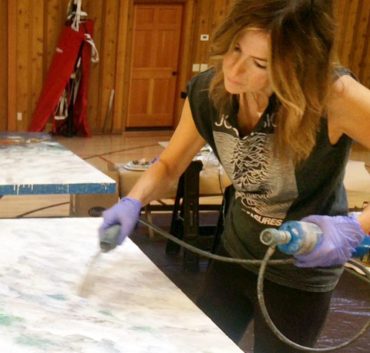 Her sense of connection to nature inspires many of her pieces, even when she's working with the clients' concept and their imagery, colors and lifestyle. Often, she is commissioned by an interior designer or works with her own designer to incorporate the client's wishes and situation into the art. Each piece varies but is always in Stirling's own remarkable style.
She's currently working on several horse images for a collector and says, "I will include my signature marks: loose streaks, lots of wax, layering and textured surfaces, bringing the element of visual and touch together to make it unique. It is a pure, unalloyed pleasure to plunge in and make it theirs, but with my voice and heart."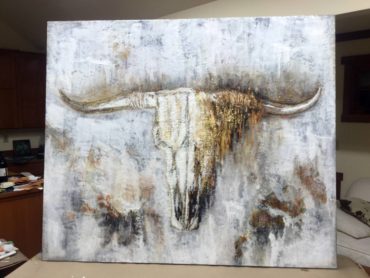 She was commissioned by Swedish Hospital to create pieces around "flow and water" for the new Organ Transplant and Liver Wing in Seattle. When cracks developed in spots where she used gold paint, she saw it as a natural occurrence that fit the circumstances. After all, poet and singer-songwriter Leonard Cohen said, "There's a crack in everything. That's where the light gets in."
She has also painted many small pieces for grieving family members, incorporating their loved ones' ashes. "I cry when I deliver those," she admits.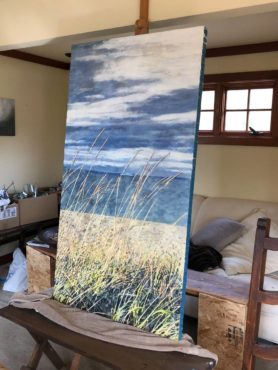 With the heart Stirling puts into her art, she might naturally find it difficult to walk away when the work is finished and the painting is turned over to the fortunate owner — but no.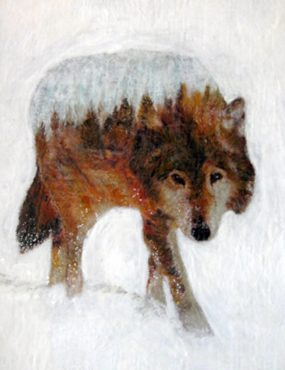 "I am generally overjoyed with installations and am usually wired and tired from working intensely on the piece right up until that time," she says. "I am so genuinely honored to be chosen, to be commissioned, that I am smiling widely as my baby takes flight and carries so much of my energy with it. That, interestingly, gives way to more energy for me to begin the next juicy piece. I am thrilled to be doing this work intentionally. It sounds funny, but it rings true. This work, for me, is very 'high-vibration.' I'm operating and living my best life, creating pieces I love for a living."
Despite the time and effort it takes to keep up with her work as an artist while she balances parenting and chores, she values giving back. Stirling volunteers to help teens and supports animal shelters by adopting and by donating several of her paintings for fundraisers. She also donates 20 percent of all proceeds from her work to animal shelters, education and the arts.