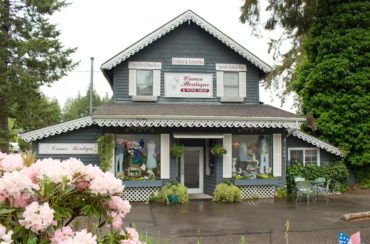 If you've driven along the Hood Canal between Union and Hoodsport, you've probably noticed the cute, bluish-gray building with white trim and a white picket fence on the water side of the highway, just a short distance west of Alderbrook Resort and the historic Dalby waterwheel. On weekends, there's a sign out-front announcing a wine tasting.
That's Cameo Boutique & Wine Shop, an eclectic shop filled with ladies' clothing, home décor items, gourmet treats, candles, special things for kiddos — and wine.
Cameo is the brainchild of Pam Hanson and her husband, Gary, and has been a go-to stop for locals and tourists alike for more than three decades.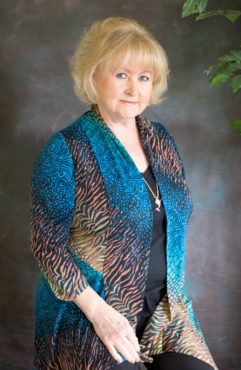 The idea of owning her own business percolated for many years while she was working in the financial industry, Pam Hanson recalled.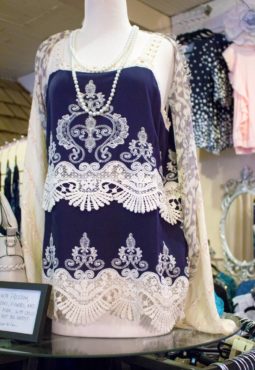 "One of my job responsibilities was to make sure that we gave nice gifts to our board members to mark their birthdays or anniversaries," she said. "So I had an opportunity to learn where the best gift items could be found. Even then I wanted to do something that depicts what I'm doing at Cameo."
The Hansons were living near Twanoh State Park at that time, and every day on her way to and from work in Shelton, Hanson passed by the building that was to become Cameo. Back then, it was a second-hand store, she said, but it has an interesting history. It was constructed in 1922 and is one of the oldest buildings in Union.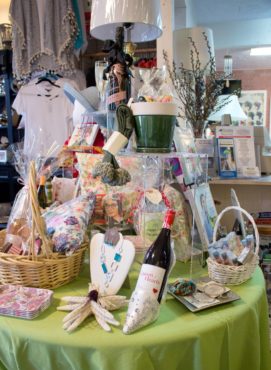 "One day, I noticed it was vacant so I tracked down the owner and everything just sort of came together," she said.
In 1981, she quit her job. In 1982, she got the keys to the building. "We were in sort of an economic downturn at that time and people thought I was crazy to quit my job and try to start my own business," she said. "But I decided that even in an economic downturn, you just have to do what you love."
Cameo opened on April 2,1983 in the section of the building that's now the children's nook. It was mainly a café for a dozen or so years.
In 1999, the highway that runs in front of Cameo was moved, and many businesses struggled or closed. Hanson "tried to retire" then. She continued to do home parties and buy items for individual clients and she and her husband spent time in California's Napa Valley visiting wineries,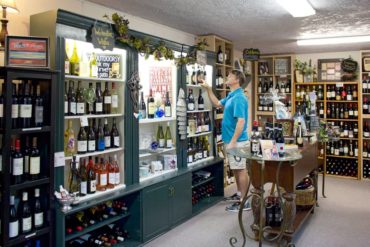 "That's when I thought, 'We shouldn't have a café. Let's do wine!'" she said.
In 2005, the wine shop opened, replacing Cameo's Garden Court Café.
Now — as the oldest wine shop in Mason County — Cameo carries an impressive selection of wines, including many local vintages like Mosquito Fleet from Belfair, Sunlit Canyon (the only estate wine in Mason County), wines from Bainbridge Island and many other Northwest wineries, as well as wines from other countries.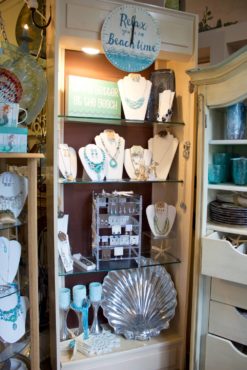 Hanson has tasted just about every wine she sells. Every Wednesday, the distributors she works with stop by and introduce her to new wines, "and we get a lot of good new ideas from our customers," she added.
In addition to discovering new wines through her distributors, Hanson and her husband also enjoy visiting West Coast wineries to find more new favorites.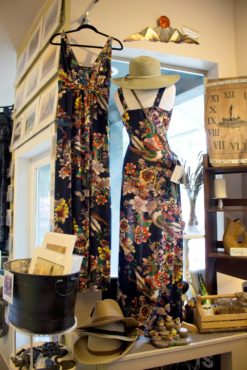 "I just buy the things I like," she said with a smile.
The same goes for the clothing she sells at Cameo. She travels to the markets in Las Vegas, Los Angeles, Seattle and Portland to find just the right styles, always being "very mindful that we're a resort town and many of our customers are tourists — so most of the clothing is resort-type and casual wear." There are also scarves, handbags, jewelry and other accessories and "logo shirts."
"We're very diversified in what we carry," she said.
The shop also sells books by local authors, photographs and cards from local artists and a variety of home décor items, many of which are very "beachy and nautical."
Shoppers will also find an assortment of jams, dips and dip mixes, appetizer goodies, pastas and party napkins.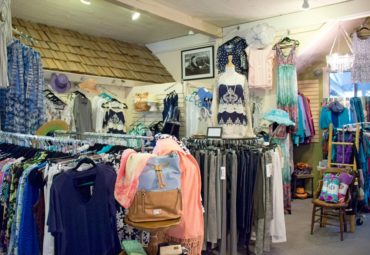 The little children's nook has frilly dresses, soft plush toys and other kid-friendly items.
While many of her customers are tourists, her local following has earned her a long list of awards, including Best of Western Washington Women's Boutique from KING-TV's "Evening Magazine" in 2008 and several North Mason Chamber of Commerce awards. In addition, Hanson was one of three women to receive an American Businesswoman of the Year award from Mason General Hospital. Cameo has also been voted "best boutique" three years in a row by WestSound Magazine readers, and in 2018 received the "best wine shop" award.
She's very active in her community and serves on the boards of Harmony Hill Retreat Center and the Shelton-Mason County and North Mason chambers of commerce.
Hanson is quick to credit her "amazing" team of helpers who make it possible for her to "not have to be at the shop every day."
"I've been blessed with having a very dedicated team, both past and present," she said. "They're like family."
Her husband, a retired forester who has a real estate license, helps her with wine selection, and her brother, Ed Walker, works in customer service and also does most of the maintenance and repairs. "The ladies love him," she said with a laugh.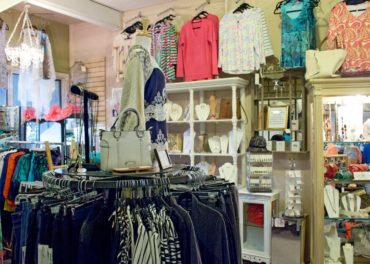 Her staff also helps with the fashion shows that Hanson stages at local venues.
In addition to the boutique, the Hansons own two vacation rentals next door to the shop "on beautiful Hood Canal." Rental information is available on the Cameo website.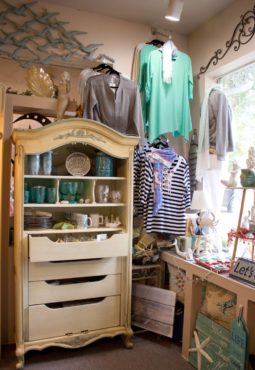 When she's not on a wine-buying adventure or greeting customers at the boutique, Hanson likes to hang out at her new home on the canal. She designed the home herself and made sure to include a studio space where she can work on oil and watercolor paintings — "mostly of landscapes" — "and a pantry the size of most people's kitchens."
"The pantry has open shelving and 10-foot ceilings and a gazillion cookbooks, because I love to cook, especially Italian food. I read cookbooks like other people read novels," she said.
The two biggest annual events are Cameo's anniversary open house in April and the holiday open house that takes place Oct. 26-28 this fall.
"That's when we transform the shop with lots of fall-themed gift and decorating ideas," Hanson said. "Up until Thanksgiving, we have everything decorated for fall, and then after Thanksgiving, everything is Christmas."
Hanson's original theme for Cameo still holds true — it's "an experience to inspire."