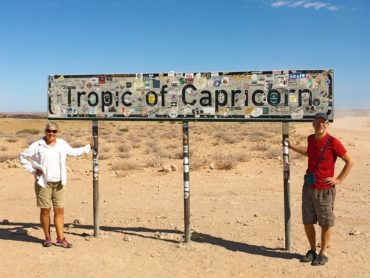 Namibia. Where, you say? You're not alone.
Few American tourists have heard of it, let alone ventured here. But this vast and undiscovered country in southwest Africa is the new safari destination for Africa, as well as so very much more. The scenery is beautiful and remote, the geology diverse and fascinating, and the wildlife — well, unbelievable.
Namibia is safe and inexpensive and everyone there speaks English. So why are you still hesitating? To help get you started, here are 18 reasons Namibia should be on your travel bucket list for 2018.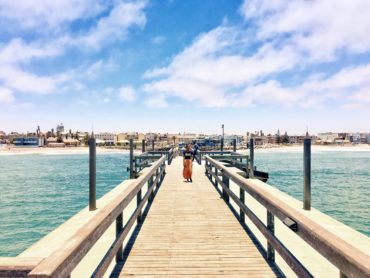 1. Sossusvlei and the Namib Desert Dunes: Located in the southern third of the country, these are a must-visit. The dunes are considered to be the oldest in the world, with the highest one at about 1,100 feet. These dunes are formed by the east winds and the area is often more than 85 degrees Fahrenheit. The Namib Desert and the Dead Veil area mark the western side of the dunes and the start of the dry, hot and flat stretch to the Atlantic.
2. Swakopmund: Namibia's most beautiful city on the Atlantic, Swakopmund is a great place to relax for a few days and breathe in the cool, fresh air of the ocean. Enjoy the beach, shop at a variety of great stores, take a walking tour and learn the history of this town settled by German colonists in 1892. The town has lovely parks and several museums, including the Snake Museum. From Swakopmund, you can also find activities such as hot-air ballooning, sand-quad bikes, jet skiing and sand boarding.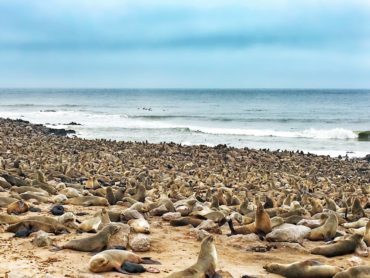 3. Local seafood: Seafood in the desert? You bet. In fact, the delicious, Atlantic-coast kingclip and kabeljou, as well as many other delicious choices, are available every day in Swakopmund, and often in other parts of Namibia as well. You will love both of these delicious and firm white fish.
4. Cape Cross and the Fur Seal Colony: This remote, rocky outcrop indicates the site reached by Portuguese explorer Diogo Cao in 1486, marking the farthest south any European had sailed. This exploration opened the door for Bartholomew Diaz to first round the Cape of Good Hope in 1488. Today, the cape is home to thousands and thousands of fur seals — a sight to see (and smell).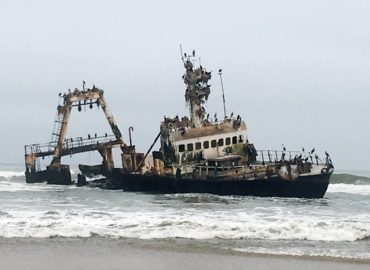 5. Skeleton Coast: Portuguese sailors referred to this area as "the gates of hell" and even with modern sea navigation, the area is difficult and dangerous due to high wind and nearly constant fog. The result is numerous shipwrecks over the centuries, including the wreck of Dunedin Star, the topic of John Henry Marsh's 1944 book titled "The Skeleton Coast." The name stuck.
6. "Moon Landscape": An easy visit from Swakopmund, the "Moon Landscape" is the result of millions and millions of years of erosion by wind and water on what once was a tall mountain range. Today, the eerily quiet and desolate area, seemingly without any life form, is a favorite for movie producers.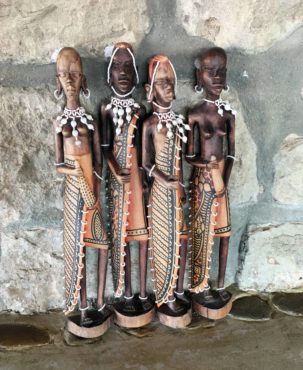 7. The Welwitschia plant: Named by the Austrian botanist Frederic Welwitsch but known by natives as n'tumbo, the plant is a fascinating species of adaptation. Growing to an immense size and living to be possibly more than 2000 years old, this desert plant has no known plant relatives, needs almost no water, has both male and female species and looks, well, exactly like Audrey II in the "Little Shop of Horrors."
8. Dolerite Dike: When Africa and South America began to drift apart, molten magma pushed its way into stress cracks and then solidified. The rock around the magma eroded over the millions of years, leaving a burnt-by-the-sun black backbone that runs all throughout the region near the Moon Landscape.
9. Brandburg Mountain: At 8,445 feet, Brandburg is Namibia's tallest peak and can be seen for miles. Volcanic activity about 130 million years ago built the dome and eventually a collapse resulted in the caldera.
10. The White Lady of Brandburg: Throughout the Brandburg Mountains, there are over 45,000 rock paintings in caves and outcroppings. The White Lady is one of the few that are very accessible, although you will need to hike with a guide about 2 miles in the hot sun. But it's worth it to see this 6,000-year-old painting of a shaman, mistakenly identified a century ago as a white Egyptian woman. The painting, though faint, survived thousands of years untouched, but when "discovered" in 1917, it suffered from visitors touching it until it became a Namibian national heritage site. It is managed and protected today.
11. The Damara Living Museum: Located near the area known as Twyfelfontein, the museum is the first effort of the Damara people to re-create a traditional Damara cultural experience. The Damara is one of the oldest nations of Namibia and the living museum does a wonderful job teaching history, social structure and art to visitors, as well as helping to preserve this unique Namibian way of life.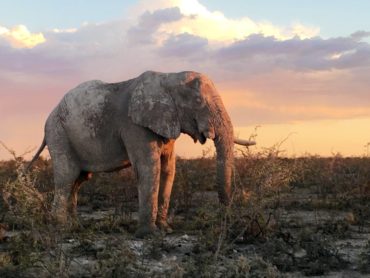 12. Flamingoes and other fantastic feathery friends: Namibia is a bird watchers' dream and many bird-watching tours are available. There's everything from pink and gray flamingoes in Walvis Bay, to wild ostriches seemingly everywhere, to the incredible condo-building sociable weavers both found throughout the desert. Birds alone are worthy of an entire article.
13. Tropic of Capricorn: This is the location on Earth where the sun reaches directly overhead at the solstice. Even if you aren't in Namibia on the solstice, it's worth stopping for a photo.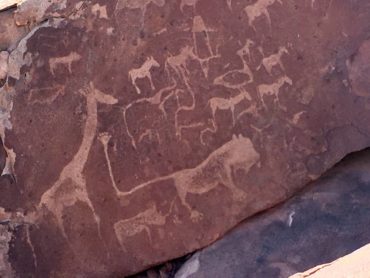 14. Twyfelfontein etchings: The amazing collection of prehistoric rock etchings served as a message board for Bushmen thousands of years ago. The area is a UNESCO heritage site and thus has a very nice guided tour, with stairs and platforms for visitors to view and take photos of hundreds of these well-preserved etchings.
15. The Himba people: One of the most fascinating of the many fascinating tribal peoples of Namibia, the Himba are known for the red color of their skin, derived from a mixture of ochre and butter they use as a cleanser and bug repellent. They have lived and dressed in a very specific and artful way for centuries, and a visit to a Himba village is not to be missed if you are interested in culture, survival and African history. There are a handful of villages that accept visitors for a donation to help the tribe.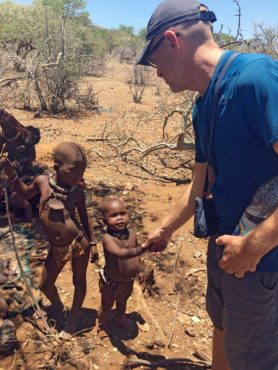 16. African art: Some of the most amazing art in the world is made in Africa. Throughout Namibia, you will have many options to admire and purchase jewelry, masks, wood, stone and ostrich egg carvings, beadwork and much more.
17. Tasting wild game: Hunting in Namibia is illegal except on private property. Private game-hunting lodges are available for the hunter but game farming is also practiced and finding game on a menu is very common. Such African game as oryx, springbok, ostrich, impala and warthog are enjoyed by locals and visitors alike.
18. Etosha Wildlife Safari: This national park deserves an entire article to itself. It is remote, rugged, dry, hot and absolutely astonishing for the amount of wild game you can view every day from your own vehicle or with a guide. It is highly recommended to have a guide, whose "Africa eyes" can find camouflaged leopards, tiny foxes, gorgeous spoonbill birds as well as lions, giraffe, elephants, rhinoceros and so very much more. Most guests only spend one or two days in Etosha but it's worth to stay there longer if you can. Early morning, afternoon and night time all provide a very different view of the animal world and you must take the time to explore the vast park, which is the No. 1 tourist destination in Namibia.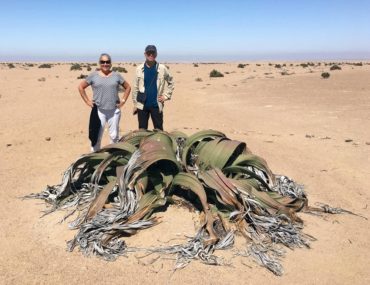 And there is more — in fact, so much more in this country that only gained its independence in 1990. So start planning now. Many reputable tour operators are available or you can rent a buggy and explore on your own. The roads are, for the most part, very good but please, note that distances between sights can be very far in this rugged terrain and traffic accidents are frequent.
It's time to step away from the tourist destinations that "everyone" is going to and find something new, fresh, ancient, wild and exciting. It's time to discover Namibia.