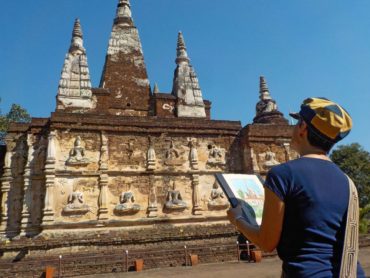 Bainbridge artist Amy Williams D'Apice is a self-described gypsy. A pixie whirlwind of Jersey accent (she was born in Gloucester City, the eighth in a family of nine children), peripatetic in where she calls home and in her work as an artist and art teacher.
Currently living part time in northern Thailand's city of Chiang Mai and part time on Bainbridge Island, where she's resided for 32 years, D'Apice easily traverses international boundaries and cultures, art mediums and subject matter in her quest to regularly challenge her artist sensibilities.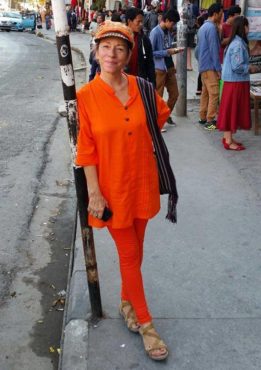 "I am extremely fortunate in that I always knew I wanted to be an artist," D'Apice explained. "My father painted as a hobby and although he died when I was only 3 years old, his presence remained, along with some of his paintings."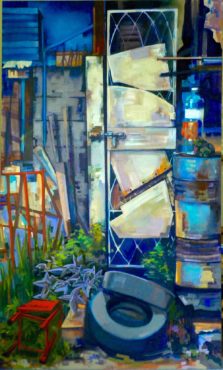 Her mother encouraged D'Apice and her siblings to be involved in all the arts — painting, drawing, music, dance and performance.
"We had a theater in our cellar and put on plays for the neighborhood," D'Apice said. "As a young child, I sold my drawings door to door in my neighborhood. I can't remember anyone turning me down, so it emboldened me."
D'Apice's first teaching job was at the Northwest College of Art in Poulsbo, followed by a stint at the University of Washington, where she studied for her master of fine art degree and worked as a teacher's assistant. After graduation, she landed a job at the Art Institute of Seattle, developing a following of students and fellow artists by teaching classes at the community level whenever possible.
She's an encouraging art teacher who takes the mystery out of technique by unabashedly encouraging her students to use mixed media, white correction fluid and ballpoint pens; exhorting them to take bold risks and make mistakes. Exhibitions of her own art can highlight raw edges of sketch notebooks, hotel stationery and lined notebook paper, as well as feature her award-winning and commissioned oil paintings.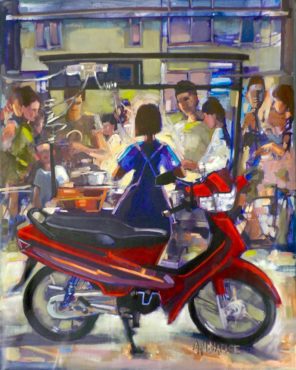 "Sharing what I've learned — and what I'm learning — has always been part of how I define myself as an artist," she said. "I find most people either want to have a hand in making art or want to better understand the process. I say, 'Everybody in,' either as creator or as a witness."
The Chiang Mai chapter in her wanderlust life is only five years old. D'Apice first visited the city while on honeymoon. She returned during a sabbatical from teaching at the Art Institute of Seattle, while she was writing a textbook for a class she taught. D'Apice discovered other expats who had successfully made a life for themselves in Chiang Mai.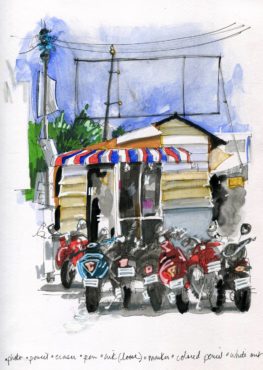 "It had never occurred to me that I could live abroad. But the opportunity was right there," she said. "There is quite a lively art scene in Chiang Mai. I find many of the expats living there are in the process of reinventing themselves, and that makes for colorful characters and colorful art."
There's something happening almost every night of the week for those who want to be active. "I struggle at times with the balance of experiencing the city versus staying in the studio and getting something done," she said.
From her base in Thailand, D'Apice has traveled elsewhere, including Myanmar, where her plan was to create 27 location sketches — one for each day of her tourist visa. She ended up with 56, sketching everywhere including temples, markets and guesthouses.
"Street sketching is a way to connect to place, people and create memories. Drawing requires me to be still long enough to experience the world," she said. "Each piece becomes a powerful record, not only of the visual, but also what it smelled like that day, what it sounded like, what I was feeling."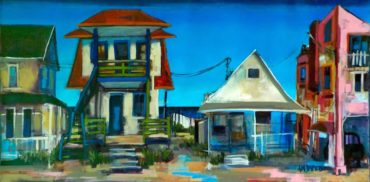 The result of that experience was a collected series she titled "The Burma Project," which was exhibited at the Bainbridge Island Museum of Art when she returned to Bainbridge.
The contrast between Thailand, the Pacific Northwest and New Jersey, where she returns annually to visit family, provides inspiration.
"In my adopted country where it is warm year round, a vibrant street life is present everywhere, and that's a primary source of subject matter," D'Apice said. "Also, there is much more color in Asia. Back in Seattle, most things happen behind closed doors. For nine months out of the year, art is more in the studio than out."
That's why her annual return to Bainbridge Island occurs in summer. She uses island locations to teach her popular "Sketching on Location" class as well as a variety of painting and drawing courses that use local settings.
"Coming home to the Pacific Northwest provides me with a different sort of inspiration. After a long time away, it's new again and I walk the streets as a tourist, see it anew," she said. "I have a small army of students, friends and family supporting me when I return. All the exotic tips and tricks I've picked up along the way, I share with the community."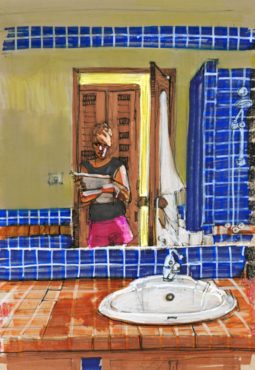 This summer, she's also road-tripping while back in the states: a six-week drive across the country starting in Tampa and ending in Seattle, via New Orleans, Texas, Santa Fe and California.
"I'll be sketching, writing and blogging the whole way. It's going to be my way of reconnecting with America," she said.
Her wanderlust has forced some adaptations in her work.
"Oil was my first true love. Now that I'm an avid traveler, I've had to modify my practice quite a bit to include much more drawing and mixed media," she said. "Oil painting is fairly equipment heavy and not easily taken on the road."
Fans and students of D'Apice are familiar with her series of collected works. "Gloucester City History" is homage to her hometown, a mixed-media project focused on unique buildings. "In the Mirror" is a series of self-portrait mirror reflections in hotel rooms, cafes and even a beauty shop.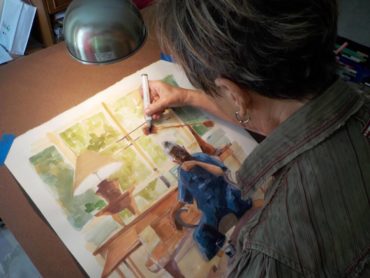 "I've done series on dresses, salsa dancing and women looking at themselves in the mirror while putting on makeup," D'Apice said. "I find working in a series requires me to narrow down the options and work within them. I call it 'freedom within a harness.' Having too many choices can be overwhelming. Plus, sticking within a preset framework of subject or material results in a faster pace, taking one breakthrough and using it in the next piece. Paintings start talking to one another."
D'Apice will spend the summer on Bainbridge Island teaching a full schedule of classes offered through Bainbridge Arts and Crafts and the Winslow Art Center. A gallery of her paintings and sketches can be found on her website, aptly named Art Conspiracy, where she's also posted nine lessons laced with her unique advice about how to sketch on location, a small sampling of what promises to be a Pacific Northwest summer of showing students her newest bag of exotic tips and tricks.