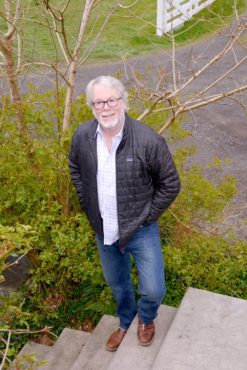 Poulsbo photographer Paul Dudley has been a devoted volunteer for several organizations focused on children. His primary involvement is with Camp Goodtimes, a pediatric oncology camp for patients and siblings on Vashon Island. He has been a volunteer there since 1984, contributing 44 weeks to date.
Dudley says he was hooked after the first year.
"Meeting and getting to know those kids whose lives had been so severely impacted by cancer made me want to try to do whatever I could to bring a little more fun and joy to their summers," he says.
He is known unofficially as "the director of fun" and encourages as much fun as he can. "Duties" include emceeing, leading welcoming activities on the first day of camp, taking photos and videos all week for a slideshow the final night of camp, and helping facilitate a "Memory Circle" celebration that honors campers who lost their lives to cancer. He also captains a donated Argosy cruise boat for an all-day trip, works with kids on leadership topics, and much more.
"I became involved with this kind of work because I had the great honor of meeting some very special kids, and their families too, who needed a friend during a very difficult fight, and I was there at the right time with the ability to help," he says.
Through Camp Goodtimes, he has met many kids from around West Sound, as well as their families. Many of these kids and their siblings have been attending the camp for several years, and Dudley got to know them well.
To campers, he's known as "Mooselips."
"Every staff person at camp has an official 'camp name,'" he explains, adding that Mooselips was the funniest thing he could come up with back in 1979 — and the name stuck.
"Kids smile when they hear or say my silly name and that's why I've kept it all these years," he says.
In addition to Camp Goodtimes, Dudley has long been involved with the Camp Fire Boys & Girls camp, Camp Sealth, also on Vashon Island, where he is the captain of the Argosy vessel Goodtime II that takes kids to and from camp. He's been doing it for 40 years. In the early '90s, Dudley also began volunteering to lead the photography program and did that for 20 years until recently.
Dudley is a member of the board for the Candlelighters Childhood Cancer Foundation of Western Washington and volunteers for numerous events every year that support children fighting life-threatening illnesses. He's also volunteered for various other camps as well as events benefitting Seattle Children's Hospital.
Locally, he has donated photography packages at auctions that have benefitted North Kitsap High School's Choir Boosters, Vinland Elementary School, Poulsbo Elementary School and the Poulsbo Lions Club, and volunteered to mentor kids from the Suquamish Tribe in a unique photography program.
For his volunteer work, he was honored by the Seattle Rotary with the "Service above Self" award and has been presented with the "Sword of Hope" by the American Cancer Society, its highest individual award.
Dudley operates Paul Dudley Photography on Big Valley Road in Poulsbo, and besides specializing in weddings and portraits, he has done event work all over the country and abroad. He has photographed numerous well-known individuals including Bill and Melinda Gates, Oprah, Elton John, President Barack Obama and first lady Michelle Obama. He's also a professional auctioneer who helps schools with auctions and has helped raise millions of dollars for nonprofits in the Pacific Northwest, including numerous gala events for Seattle Children's Hospital guilds, Strong Against Cancer and Camp Goodtimes.
Why Be Involved:
Because cancer sucks and the toll that it takes on a child and their family is simply devastating. Cancer takes away a childhood, and I believe that programs like Camp Goodtimes help give some of that childhood back. Every child deserves to enjoy those carefree days of summer, and I am honored to help encourage and facilitate that.
Best Part of the 'Job'
Being at the epicenter of joy as it is just beginning, and being there for kids and families when they need it most. I strive to be a positive force in the lives of every child and family I meet. I don't shy away from any situation, no matter how delicate it might be. Especially when children have a terminal diagnosis, they need as much support as it is humanly possible to give. And they deserve that love so very much.
Biggest Challenge
Having my heart broken when losing friends to cancer. But the honor of knowing them and witnessing the joy that they contributed to the world is what keeps me going. The memory of them is what heals my heart. After the death of a child, that child's family needs comforting right away — and forever. I'm still in touch with a Bremerton family who lost their dear daughter to cancer in 1991.
Best Compliment
In the mid-'80s, I was dropping off 300 kids from Camp Sealth at Shilshole Bay after they spent a week at camp. As the kids were walking up the ramp, 12-year-old Jason Osterer stopped, turned around and yelled up at me for the whole world to hear, "Mooselips, I want to be just like you one day when I don't grow up!" I was quite honored. That young man is in his mid-40s now and sends his kids to Camp Sealth with me every summer.
Things I Can't Live Without
Time moves too fast so in order to capture a moment, I always have to have a camera of some type at hand. Or even a pad of paper and a pen to jot down random thoughts or insights. More generally, I would have to say I can't live without my optimism — I wake up each day believing that something good can happen.
Best Way to Relax?
In the fall, winter and spring, I hike about 100 miles a month with my energetic dog, usually on the Port Gamble trails; it's absolutely beautiful up there.
Hobbies Outside of Work
Volunteer work is one of my big priorities. I also really like to work in my yard and garden to help make it as inviting as possible. The more beautiful the area around my home looks, the more I can enjoy it with my family, and it also enhances the appeal of my photography studio, allowing me to work even more at home.