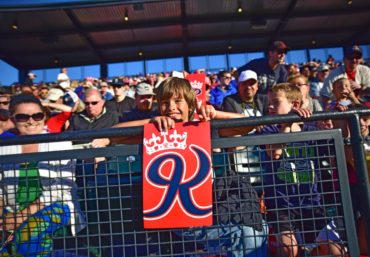 Two slices of pizza, a large beer, a large Sprite and a bag of peanuts, for a total of $37.50. That doesn't count the $24.15 ferry fare each way and the minimum $20 to park, depending on how far you're willing to walk. You've spent over a hundred bucks before the first pitch has even been thrown, so you and your kid can see a game at Safeco Field.
That doesn't, of course, count the cost of the tickets — a minimum of $55 each for the cheap seats and as much as $600 each to be up close and personal — if you can even get them. And let's not forget whatever you gave the panhandlers and street musicians outside the stadium. Plus, if you take the entire family — well, you do the math.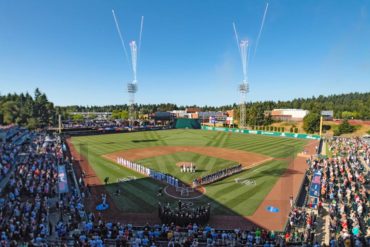 But there's a fun, family-friendly, no-hassle, much less expensive alternative that doesn't require dealing with the ferry system — meaning having to leave in the bottom of of the eighth so you won't have to wait an hour and a half for the next boat in order to get home before midnight. An alternative that won't empty your bank account either. The Tacoma Rainiers.
The Rainiers play in the Pacific Coast League and are the Seattle Mariners' AAA farm club. This is where up-and-coming Mariners play before going to The Show, and where they do rehab before rejoining the big club after injuries.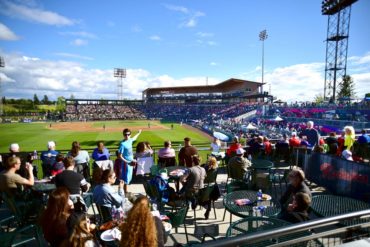 On the day we visited, both Ben Gamel and Mike Zunino were working out with the rest of team while on the 10-day disabled list. Meanwhile, utility man Taylor Motter had been called up from Tacoma to fill Gamel's spot.
If you love baseball, going to a Rainiers game is just plain fun for the whole family, and it won't force you to max out your plastic. Getting to Cheney Stadium is easy — it's only five minutes from the Tacoma Narrows Bridge. Parking is almost free, close and definitely plentiful — and there's no panhandlers or other street people to hassle you.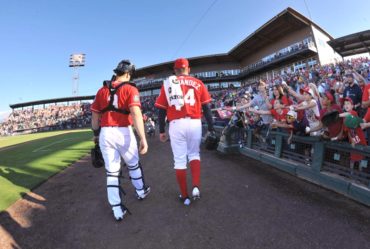 Food and drink are a lot less expensive as well, and there's a wide variety of it. Because of the size of the stadium, seating is intimate — even the cheap seats all have great views of the action.
Rainier ticket prices are reasonable, starting at $7 and going to $11 for most of the stadium. The premium seats right behind home plate and the dugouts are all spoken for by season ticket-holders. But there really isn't a bad seat in Cheney Stadium, because it's small enough to see everything just fine without binoculars.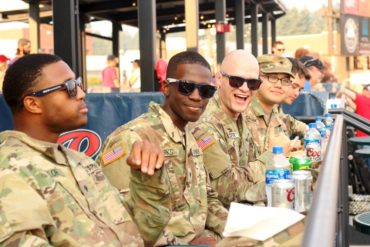 There are special tickets available for group events, so you can take Little League teams and others to a game — something we've done a number of times.
The stadium also has party venues. Last summer, we attended a party one of our clients put on. It included sitting at tables in a patio setting, with a great view of the field — and free food.
What you'll see in Tacoma is an excellent brand of baseball being played by young men living their biggest dream — guys like left-fielder Ian Miller, the M's hottest prospect; and pitcher Max Povse. They're honing their skills on the last stop before hopefully making it to the major leagues. These are guys playing for the love of the game, not the money. They receive a very modest stipend from the team — an average of $12,000 for six months (the season).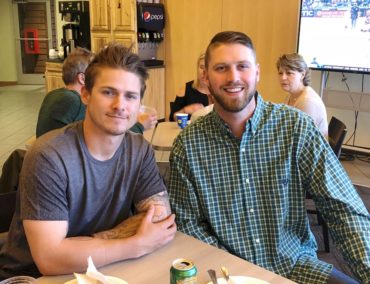 On our visit, the Rainiers hosted a very nice dinner buffet. The players were also invited after their workout, and almost all of them showed up. One blogger, Kate Preusser, who follows the team closely, told us it wasn't the opportunity to interact with the press but the free food that attracted them. After all, $12,000 doesn't go very far these days.
We talked briefly with Miller and Povse, who were sitting with their girlfriends at the table next to ours. Both were courteous and gracious — and somewhat shy in a charming way, unjaded by the trappings of big-league baseball.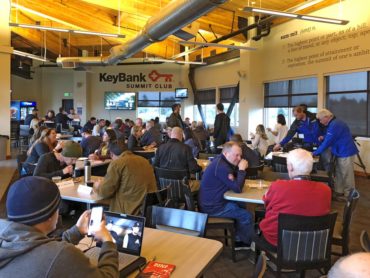 However, when we watched them on the field beforehand, they were both all business — and having fun at the same time. Both were there to play their hearts out at the game they love.
Baseball isn't a means to an end. The game itself is the end to these guys — a refreshing change from what we've come to accept from prima donna professional athletes.
So if you're looking for something fun to do with the family this summer that won't break the bank, check out a Tacoma Rainiers game. You'll get good seats and good food, and you'll see great baseball being played by guys working hard to live their ultimate dream — a great example for kids. What more could you ask for?