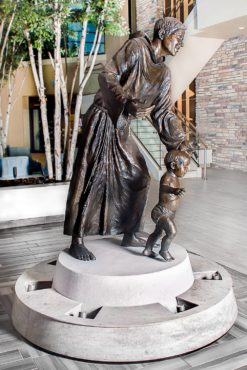 Enter the brightly lit studio of Gig Harbor artist Mardie Rees and you might find her working on a larger-than-life sculpture honoring the founder of a Canadian school, a World War II memorial to U. S. Marine Raiders or some other high-profile commission.
Or she may be creating a sculptural portrait of a young woman or a heart-warming piece depicting a little girl pulling her younger brother in a wagon. She might even be teaching a group of elementary school students how to draw, paint or work with clay.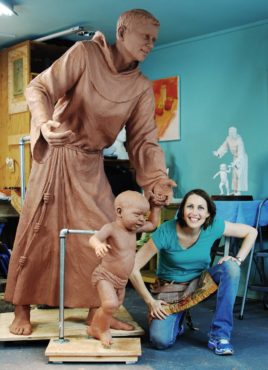 At first glance, you might not realize that the petit, 37-year-old Rees is an internationally acclaimed artist who's won a plethora of awards and honors for her work.
She began "doing art" when she was 3 years old. Her first art award came in 1998, when she was a high school student in Quito, Ecuador, where her parents were doing community-development work.
That award was a pivotal point in her artistic development and when the family returned to the United States, Rees enrolled in the Laguna College of Art and Design in California. She graduated with a bachelor of fine arts degree in 2003.
One of her early artworks, created in 2006, is a medallion located in the pavilion at Gig Harbor's Skansie Park. The medallion depicts early Gig Harbor resident Andrew Skansie fishing on his purse seiner.
Another well-known local work is Rees' St. Anthony sculpture in the lobby at Gig Harbor's St. Anthony Hospital. That piece led to a commission from a hospital in Colorado to create a similar St. Anthony sculpture for a medical pavilion.
Her work can also be seen internationally. To commemorate the centennial of Shawnigan Lake School in Shawnigan Lake, British Columbia, the school's board of directors commissioned Rees to create a larger-than-life sculpture of the school's founder and headmaster, C. W. Lonsdale, and his dog.
The piece was four years in the making and was created using a combination of living models and old photographs. One of the models was a German shepherd dog named Finn.
"He was the sweetest, most well-behaved dog I ever had modeling for me," Rees recalled with a smile.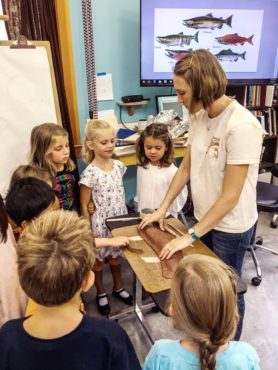 The Lonsdale monument graces the courtyard at the Shawnigan Lake campus.
Closer to home, Rees was commissioned in 2016 to create a school of bronze chum, chinook and coho salmon "swimming" in the sidewalk in front of a marine supply store on the Gig Harbor waterfront.
Recently, she has begun to explore a new sculpture medium — glass. In 2017, CHI Franciscan Health commissioned her to do a large glass relief for the Clinical Operations and Virtual Heart Monitoring Center in Tacoma.
The blue, kiln-cast glass artwork depicts Raphael the Archangel, known historically as The Guardian Angel and as the patron saint of travelers, the blind, nurses, physicians and other medical workers.
Rees' Raphael holds an orb with emanating beams of light, "to remind the viewer of the soul within," she said. The wings of the giant condor inspired the archangel's wings, she added. A foundry in Iowa did the casting of the piece, and Rees' husband, Jeremy Broderick, designed and built the wall on which The Guardian Angel is mounted.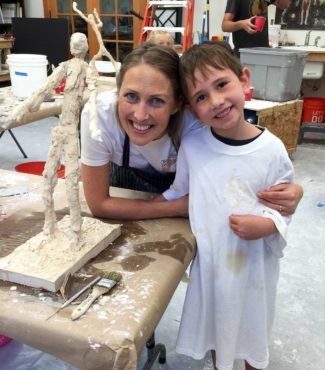 Awards
In 2010, at age 29, Rees was recognized by the prestigious Portrait Society of America (PSA) as one of the best portrait artists in the country for a bronze bust of a young woman, titled "Truth Beloved." Rees was the only sculptor to be honored from more than 1,300 entries that year — and one of the youngest ever to be selected. Soon thereafter, her winning artwork was featured in "International Artist" magazine.
She also won PSA awards in 2011, 2012, 2013 and 2014, and in 2017, she was granted signature status in PSA for her excellence in portraiture.
"That's a pretty big deal," she said. "It means I'm a distinguished artist in portraiture and that I'm endorsed by the Society."
Most PSA signature members are painters so for a sculptor to be recognized so prominently is unusual, she added. But nowadays, there are more options available for training in figurative sculpture.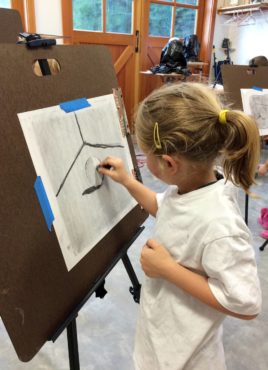 "But it's still harder for figurative sculptors to make it because of the cost of their material and so forth, and it seems that most sculptors who do pursue public art usually do more conceptual and abstract work rather than figurative work," Rees said.
In 2016, she received the Col. John W. Thomason, Jr. Award from the Marine Corps Heritage Foundation for her Marine Raiders memorial. Other accolades have come from the Art Renewal Center, Allied Artists of America, American Artists Professional League and the National Sculpture Society.
Apprentice Academy
About four years ago, Rees founded the Apprentice Academy to give children opportunities to learn about art.
"My mission is to teach kids a basic foundation in drawing, painting and sculpture. It's a way I can offer them something that wasn't available to me as a child," she said. "I had an incredible art teacher in high school in Ecuador and great art teachers in college. But kids really can learn about art so much earlier in their lives."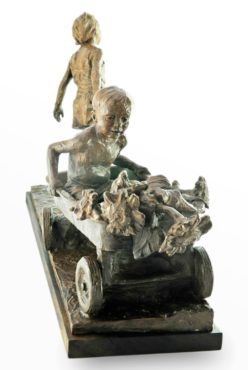 Most of her academy students range in age from 6 to 11. "These younger ones are less inhibited and more open to trying new artistic things," she said.
She starts with the basics — things like composition, value and perspective.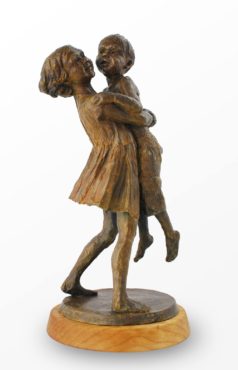 "Many of the kids have never held a tool before or worked with clay or wire," Rees said. "So they're not just learning about art; they're also developing hand mechanics and fine motor skills."
The classes also include videos that feature famous artists in history.
"I like for the kids to learn what the artist's life was like and what the artist was thinking when they created a specific type of work. It's really fun and we all learn a lot together," she said.
Rees' summer art camps have proved to be popular both with kids and their parents. In fact, some parents enroll their children in every class.
Jessica Kuluz's 8-year-old daughter, Carter, has taken almost every art academy offering from Rees.
"Carter has been coloring inside the lines since she was about 2 years old and she's been taking art classes since she was 3," Kuluz said.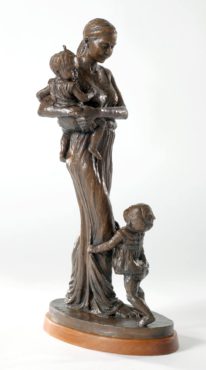 Kuluz was looking for new art classes for Carter when she learned about Rees' academy.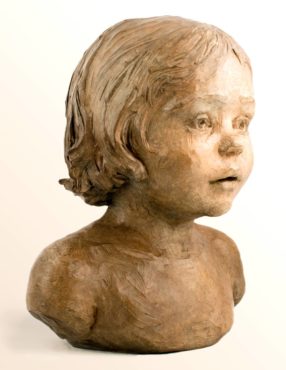 "I like that Mardie uses adult technology and she challenges the kids, but in a way that doesn't discourage them," she said. "She just kind of expects them to do their best, and she's very patient and calm and keeps them engaged. It's like she can just sense what they're capable of. I like that."
One of Carter's favorite Apprentice Academy classes was about shading and movement. She also loved the sculpture class, Kuluz said.
Carter's older brother, Charlie, has also attended several of Rees' art camps. "He likes it too, but he's not quite as passionate about art as Carter is," Kuluz said with a smile.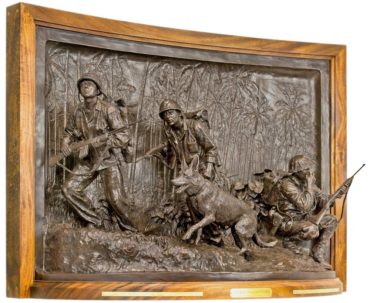 This school year, students throughout the Peninsula School District's elementary schools will study wire sculpture in a Peninsula Hands on Art class that Rees developed. The project focuses on the art of sculptor Alberto Giacometti, one of Rees' favorite artists. Students will learn about the artist's life and his work, the importance of gesture and transparent space, and techniques for manipulating wire.
Change in Pace
This winter, Rees was taking a break from teaching and commission work.
"This is my year for experimenting," she said. "My biggest passion, artistically, is creating my own work and developing my own skills, and there are lots of different materials and techniques to try."
There's one other reason for her decision.
"I've been doing so many commissions for so long and now that I have three kids, I just want to take a bit of a break," she said.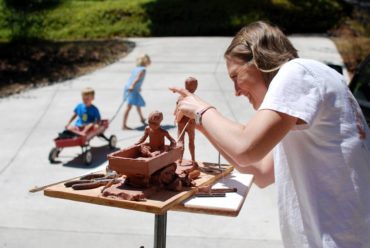 Since the "Guardian Angel" commission, she has been experimenting with kiln-cast glass and recently purchased her own kiln for firing both glass and terracotta pieces.
Currently, Rees is creating a series of small, mantle-size artworks based on everyday events in her life as a mother to three young children.
One piece, which she calls "A Few of My Favorite Things," is a little sculpture of her 8-year-old daughter, Jasmine, pulling little brother Adam in a wagon filled with flowers.
Another piece depicts Rees' grandmother teaching great-granddaughter Jasmine to sew. Yet another is a portrait in clay of a little girl holding a kitten.
"They're all pieces about our family life," Rees said. "They're about what I'm living now.