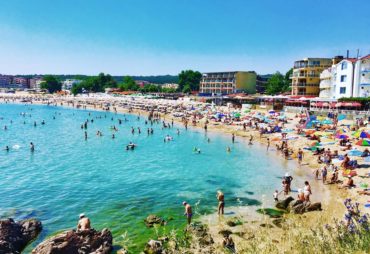 Are you dreaming of a European vacation with history and culture? Longing to explore ancient ruins, historic cathedrals and green mountains, and bathe in the azure blue seas? Looking for a holiday with spectacular wine and delicious cuisine?
Most people pine for this kind of travel experience, but often the costs make it unattainable. So here is a secret you might want to keep under your hat. Plan a trip now to the beautiful, historic, compact and diverse country of Bulgaria — before it becomes the next "thing." And it will.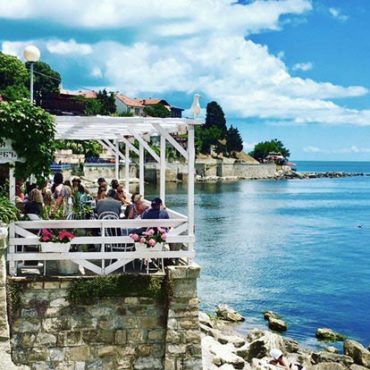 Bulgaria has everything you are looking for in a European vacation, at half the price. Americans have yet to discover this darling little country snuggled north of Greece and south of Romania, east of Serbia; its eastern border is the captivating Black Sea.
One of the fascinating aspects of Bulgaria is its history. Let go of any images you may have of a bleak and gray communist country. The reality is, communism was a blip on Bulgaria's radar — only 45 years of the 6,000-year known history of Bulgaria was dedicated to communism.
The region known as Bulgaria has a complicated history of invasions and independence. Bulgaria's earliest inhabitants were the Thracians (Spartacus) in the first century, followed by the Persians in 470 B.C., Romans and Slavs in the 500s, and the Bulgars in the 600s.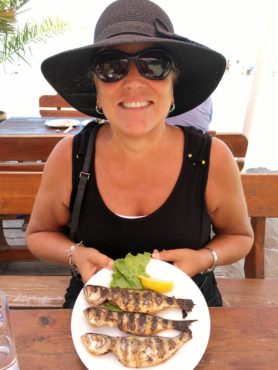 The Byzantine Empire had a brief control in the 11th century before the 1396 arrival of the Ottomans, who controlled the area for 500 years. In 1877, Bulgaria declared independence after the Russo-Turk war, but chose to side with Germany during World War II, giving the USSR an open door after the war to create a communist state.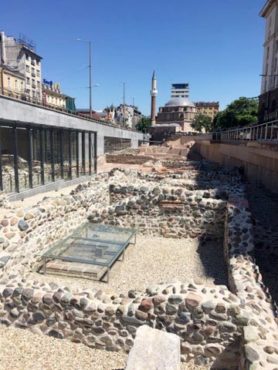 This lasted 45 years until the fall of the Berlin Wall. Today, the Republic of Bulgaria is still finding its way in its new state.
Bulgarians are proud and love their country. Many speak English very well. Most have a happy-go-lucky "it is what it is" candor with visitors. After thousands of years of foreign occupation and more recent totalitarian rule, Bulgarians are a bit cynical but have kept their humor.
Bulgarian, like other Slavic languages, uses the Cyrillic alphabet, which was developed in Bulgaria in the late ninth century. Don't make the mistake of calling this the Russian alphabet; Bulgarians fiercely and proudly maintain its origin in their country.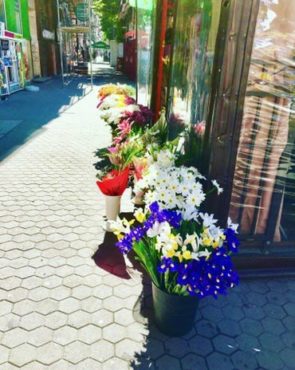 Driving yourself in a rental car is a good way to get around — roads are generally good and driving is relatively sane. Bulgaria is about the size of Virginia and can easily be driven border to border in one day. But don't.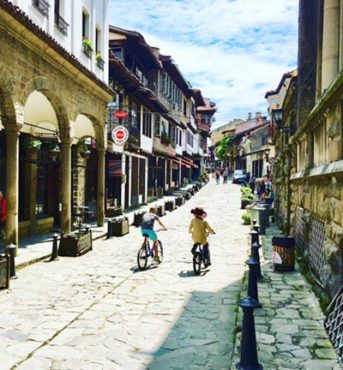 Take your time and visit the historic towns, many of which see few tourists. Wonderful hotels, inns and Airbnb rentals can be had from $20 to $100.
Sofia (Sew-FEE-ah), the capital, is in the west and is home to a wonderful array of historic sites, museums, churches and ruins. Sofia has become very cosmopolitan in the last few years, with a variety of shopping and delicious places to dine.
Veliko Tarnovo (mostly referred to as just TOR-no-vo) and the surrounding area in the north is a spectacular spot to spend several days. The town itself seemingly hangs from a cliff, with houses and buildings stacked one upon the other. The Old Town retains its charm. Make Tarnovo your base to reach many other small towns within an hour or two.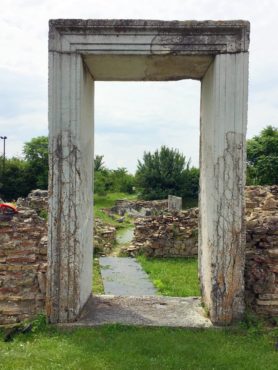 About an hour and half south of Tarnovo, you will find Bulgaria's famous Valley of the Roses. Bulgaria produces the most rose oil in the world, used primarily in perfumes and fragrances.
Plovdiv (PLOV-deev), Bulgaria's second largest city, is a bustling metropolis but with an interesting old town perched on a hill. Plovdiv sits squarely in the middle of the country, surrounded by agriculture as far as the eye can see.
The cities and towns on the Black Sea such as Sozopol (So-ZOP-ul), Nesebar (Nes-E-bar) Burgas (BUR-gus) and Varna (VAR-na) are a big tourism draw for Bulgarians, Western Europeans and Russians. Resort beach towns survive all year on the four short months from May to September when the temperatures soar, the sun worshipers arrive and the beautiful Black Sea (which is actually turquoise) becomes a playground.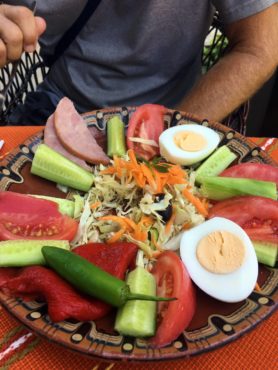 The Black Sea is a huge inland sea whose water laps the shores of Romania, Bulgaria, Turkey, Georgia, Ukraine and Russia. The only salt-water connection is through the tiny Bosphorus strait at Istanbul, some 70 miles south of Bulgaria. This creates a positive fresh-water balance, meaning the sea receives more water from rivers and rainfall than the oceans. Low salinity, warm temperature and the lack of tidal change will make you forget you are swimming in a sea.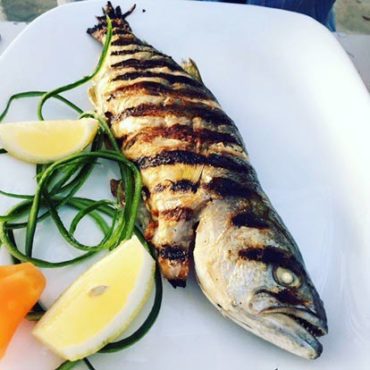 Sozopol is Bulgaria's oldest city and sits on a peninsula jutting out into the Black Sea. The Old Town is still a living, breathing neighborhood, with a few shops and restaurants and inns. But Sozopol, by accident or design, has managed to put most of the tourist services and kitsch in outlying beach areas — providing a preserved old town while still filling the entertainment needs of visitors.
What do you get in a country with thousands of acres of agriculture, hundreds of miles of shoreline, warm valleys, cool hills and abundant fresh water? You get the ingredients for a spectacularly delicious and healthy cuisine. No shortage of tomatoes, cucumbers, greens, beans, pork, fish, lamb. Traditional dishes are often slow-braised meats, stews and soups cooked in traditional brown crockery, and fresh-grilled fish and seafood from the Black Sea.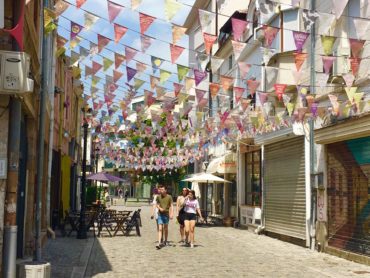 Yogurt (also invented in Bulgaria) finds its way into many dishes, and a yogurt drink called ayran is very popular (and delicious!). A feta-type cheese called sirene can be found in many dishes and salads. It's made with cow's milk and is used as a tangy accompaniment to anything.
Breakfast in Bulgaria, however, is just one thing: banitsa (ban-EAT-sa) — warm, delicious phyllo dough wrapped around the famous sirene. Eat it with an espresso from the machine you'll find on every street corner (30 cents!) and you are ready to go. A nice meal for two with beer or wine can be as inexpensive as $20.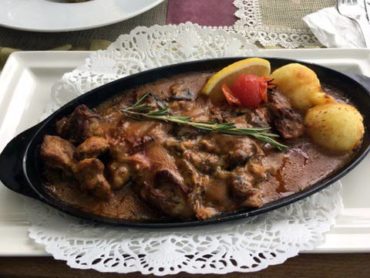 Bulgaria, much like its close neighbor, Croatia, has a burgeoning wine industry. Rarely found in the United States, Bulgarian wine is worth seeking out. Look for a varietal from the melnik or mavrud grape and you will find a new favorite to add to your wine collection. An excellent bottle can run you as little as $3.
As you drive throughout the country, enjoy how rural it still is. You will see horse-drawn hay carts going down the street, shepherds in the field or sheep and goats being herded down the lane. You will see miles and miles of sunflowers, in full bloom in late June and July and destined for sunflower seed export.
In June, it's cherries and in the fall, the harvest is beautiful and bountiful. It's reminiscent of much of Western Europe 40 years ago, when countries such as Germany and Switzerland were more rural and still rebuilding after the war. Bulgaria is right there, about to move to the next chapter economically.
Bulgaria is a member of the European Union but has not yet become part of the Schengen open-border area or the common Euro currency. Currently the currency is the leva, which at this writing was about 56 cents.
It won't be long until the Euro is introduced in Bulgaria. How that may change the prices in this amazingly inexpensive country is yet to be determined. But for now, Bulgaria is a travel bargain — a beautiful, interesting, delicious and enchanting bargain.
Get here soon.