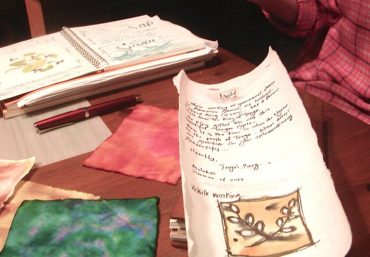 Long, long before word processors, computers, cellphones and inkjet printers were invented, all writing was done by hand.
History was recorded by hand. Official documents and books — especially religious texts — were written with handheld pens and often beautifully embellished with richly colored drawings.
Not so long ago, people sent each other handwritten letters and cards to commemorate special occasions or simply to keep in touch. And every school child was taught to print and write by hand using a pencil, pen or crayon on a piece of paper.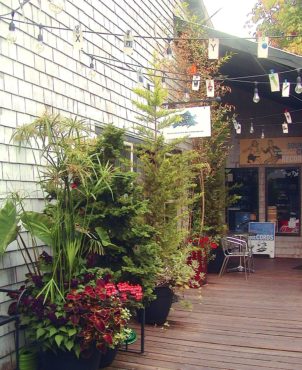 Sadly, many of those traditions seem to have been forgotten.
Annabella Serra wants to fix that.
Serra is out to restore the lost skill of handwriting. She teaches handwriting and calligraphy at her Bainbridge Island shop, The Lost Quill, tucked into a little nook just off Winslow Way.
"I've always loved inks and pens and writing by hand," she said. "When my kids told me that they weren't being taught handwriting in school, it made me sad."
So she became a penmanship teacher and then opened the cozy little shop, stocked with writing tools and supplies displayed in antique cabinets and desks. Each piece of furniture has a name and a story. The light bulbs wear paper shades crafted from practice papers.
"I didn't set out to have a store but I needed more space for my classes," she said. "To me, knowing how to write by hand is a way to connect with the past, whether it's appreciating the significance of the Declaration of Independence or just looking through a box of old, faded letters or an old autograph book."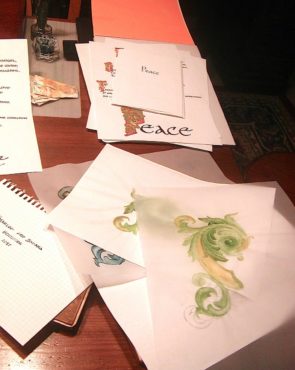 It's also a way to connect with one another in ways that modern technology can't.
An Italian born in Venezuela, Serra majored in graphic design and studied calligraphy at the University of Massachusetts in Boston. She also studied engineering at a time when personal computers were just being introduced. That combination of skills landed her a job doing special effects for Lucasfilm in California, where she worked for many years.
She and her husband eventually moved to Washington and lived with their two children in Pioneer Square in Seattle until the kids were old enough to start school. Then the family moved to Bainbridge Island.
All the while, Serra kept up her love of writing by hand and now, in her shop, visitors will find all manner of writing supplies — fountain pens, calligraphy pens and assorted nibs, more than 100 colors of ink and writing papers that feel luscious to the touch.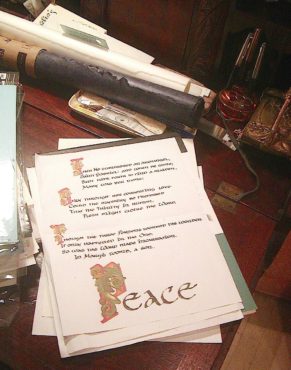 "I'm a paper geek. I love the smell of paper and the way it feels in your hand but I don't want to be a paper store," she said. "I love the marriage of the paper and the ink."
Lately she's even started carrying dry pigments for those who want to mix their own inks and paints. "The store has evolved into much more than I ever thought it would," she said.
She teaches classes every day. Penmanship classes take place four days a week at various times; calligraphy classes are offered twice a day on Tuesdays, Wednesdays and Thursdays.
She even teaches sumi-e classes that begin with the ritual of rubbing the ink stick onto a stone to make the ink, then using various brush strokes to draw traditional subjects such as bamboo, plum blossoms, pine and chrysanthemums.
Everything begins with learning to feel comfortable with a pen, pencil or brush in your hand.
Penmanship students come to weekly classes; calligraphy students come whenever they want after they've learned the basics.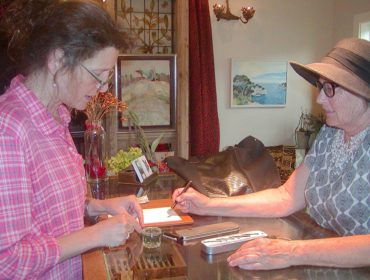 "I tell them all to take the tools — the pens and inks — and go practice and play with them and have fun. More than anything, I want them to enjoy it," she said. "You don't have to be a monk to do calligraphy or have nice handwriting."
One of her students, a teenage girl, loves to experiment. "She's just fearless. That makes me very happy because I love projects that push me to experiment — and students who want to take chances and try new techniques."
Her students range in age from 8 to over 80 and many of them drop by the store just to say hello or show Serra a new project they're working on.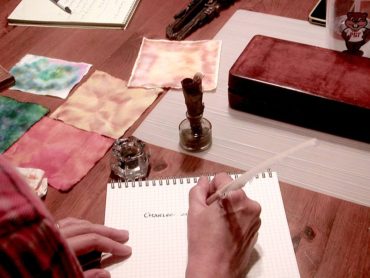 Island resident Roy Jackson, a retired art director who worked at ad agencies in Seattle, visits frequently to chat and share samples of different styles of calligraphy he's found. Designer Walter Bell often stops by to show Serra some of the colorful new papers he has created.
Eve Laeger of Port Ludlow needed to know how to fix her new fountain pen when the ink suddenly wouldn't flow. Serra simply dipped the pen's point in a tiny container of water and the ink immediately flowed freely. "In this dry weather, ink dries out really quickly. So all you need to do is dip your pen in water," she said with a smile.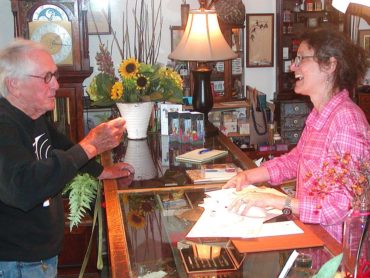 Those kinds of interactions with customers and visitors are special moments. "One of the things I love best about the shop is the people who come in here," she said. "It makes me so happy when someone walks in who didn't plan to do any handwriting — and then they get excited about it."
Serra recalled a customer from Houston, Texas, who stopped by the store. "I gave him a pen and later he wrote me a thank-you note saying, 'I could have sent you an email but I wanted to send you a handwritten card instead.'"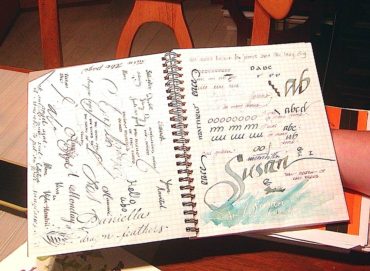 Another time, she gave a dipping pen to a little boy whose parents had come into the shop. "I made a deal with him that I'd also give him a bottle of ink if he promised to write me a letter," she said. "He jumped up and down and said, 'This is the best day of my life!'
"That is why I do this. I have no words to describe moments like that."
Navy folks who want to write letters to their loved ones are drawn to her shop for fountain pens and inks.
She encourages grandparents to write letters to their grandkids. "I tell them that if they write to a child, the child will write them back," she said.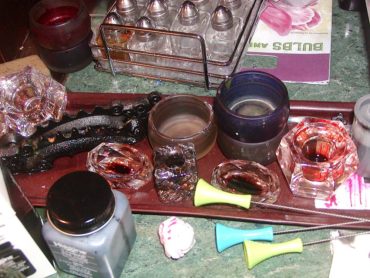 Needless to say, Serra is frequently commissioned to do special projects such as wedding invitations, Christmas cards, place cards and menus.
Recently, she handwrote a letter to the king of Tonga for a customer who was returning a rare fabric that the king had given to her late husband. "Her husband died and she thought the treasure should be returned to its original country," Serra said.
At the top of the letter, Serra added a drawing of one of the symbols on the fabric.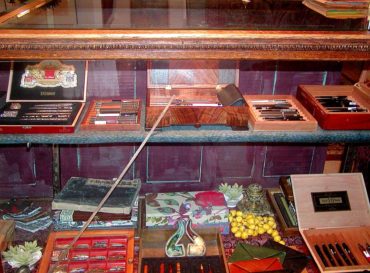 She's also designing and lettering a Christmas card for a monk at St. Martin's College in Olympia.
Each project has a story both the sender and the recipient will treasure.
"People shouldn't be fearful of their own handwriting," she said. "Everyone's handwriting has character and is an extension of their personality. Everyone should enjoy writing and have fun with it."
Helping people find that joy is a gift Serra loves to give to anyone willing to try.
"It's a gift I can give to young and old that I hope will stay with them for the rest of their life," she said.