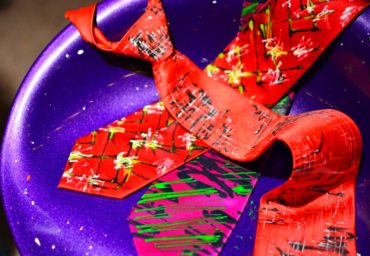 Who said ties have to be boring? Bremerton-based PKo Designs certainly doesn't think so. This three-year-old company is comprised of artists — and it shows.
The company's focus is on producing new, original, hand-painted neckties in a broad range of designs, motifs, patters and color combinations. They'll even make tie series for a customer's special event.
The artists behind the ties say that their customers are "those who enjoy crowding the boundaries of conventional fashion."
Going against the idea of mass-produced fashion-brand ties, PKo Designs looks at originality in a different way, which is why its neckties are made one at a time.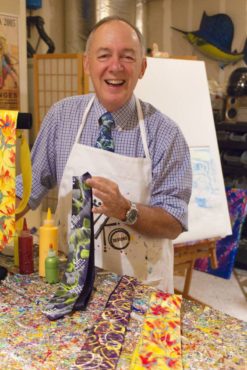 Artist Kent Tompkins is well known locally for his bold, explosive, grand-size, acrylic paintings. He took the same attitude and infused it into the idea of neckties. Having worn ties for his "day" job, he became drawn to what he saw as "showpiece" statements of his attire. After handcrafting a set of ties for a groom and his groomsmen more than seven years ago, Tompkins saw his imagination fly. He recruited a few more artists, and PKo Designs was born.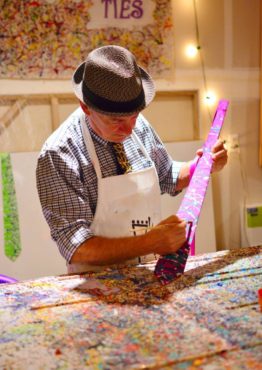 "The art and fashion that mingle in every item we create, market and sell, stem from the spirit, heart and brain-bank of a growing number of talented and committed artists," Tompkins says.
"Artists joining the PKo Design studio will adopt our styles, materials and techniques to their own creative bent, always attuned to the marvel of novelty."
PKo's plan for a scalable labor pool is as unique and innovative as the ties themselves. The idea is to attract passionate and talented artists who may not have the opportunity to live as full-time career artists. Those who join the creative team can produce part time at PKo's studios or at their own location. The hope is to launch some of these readied artists into the art careers they have dreamt about.
Future plans for PKo Designs include scarves, shoes, hatbands, luggage and even bedroom linens.