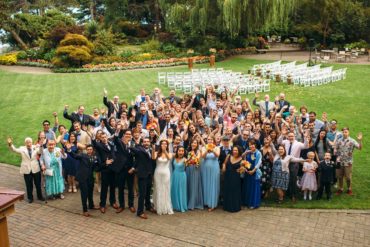 You've seen the big-screen wedding movies. Setting is important on the movie screen. It sets the tone and establishes the mood.
In "Wedding Crashers," the nuptials took place at the stately Inn at Perry Cabin in Maryland. The movie "Bridesmaids" filmed the ceremony in the bucolic Los Angeles County Arboretum and Botanical Garden. And four southern California locations provided the backdrop for the four weddings in "Wedding Planner" — Pasadena's elegant Westminster Presbyterian Church with its French Gothic Cathedral, the historic Wilshire Ebell Theatre in Los Angeles, the Mediterranean-style Athenaeum at Caltech University and the scenic Golden Gate Park.
Setting is important in real life as well when it comes to a wedding ceremony. Without the budget and crew of a production studio backing them, what factors should couples consider when making the decision about where to hold their own wedding production?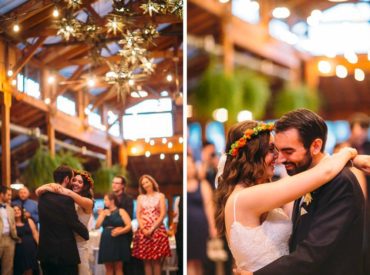 The wedding budget: Pete Orbea, manager and venue coordinator at Port Gamble Weddings, and Sonya Kelm, with sales and marketing at Kiana Lodge, agree that it all starts with having a firm budget.
"A lot of couples don't realize the importance of setting a budget first. Many of them venue-shop without any idea of what they can spend," Orbea said. Determining how much you can afford for the entire ceremony and then allocating no more than 50 percent for the venue keeps expectations realistic.
Gig Harbor bride Tessa Sayers, who is getting married in September, concurs. "Be prepared to be disappointed unless you have unlimited funds to spend," she said. "My fiancé and I are more country than urban city, so we knew we wanted a rustic venue, but even then, cost was a big factor. You have to know your budget going into the search."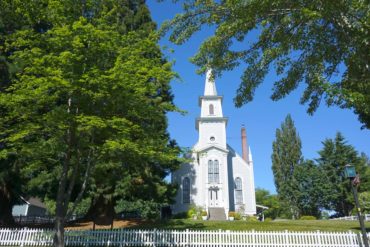 The venue's extra costs: Knowing about extra charges should factor into your decision. Does the venue charge extra for the wedding rehearsal? If the guests are having fun and the event goes into overtime, is there a charge for extra hours? If you need audiovisual equipment, is there an additional charge?
Does the rental rate vary according to the time of year? Many popular wedding venues have increased prices during the busy summer wedding season.
Venue availability: Summer Saturdays are the busiest days for most wedding venues. Kiana Lodge advises that couples need to book at least a year and half in advance to schedule a summer Saturday and a year in advance for a summer Friday or Sunday. Flexibility about the date of the ceremony and its location is important in the venue search.
Sayers and her fiancé didn't want a lengthy wait until their big day. The couple chose a newer venue that is still establishing its reputation as a wedding location and has more flexibility about available dates.
Ambiance: What kind of mood do you want to set? Will it be a country theme? Do you want a traditional, formal tone? Do you want a casual celebration? The venue plays a role in setting the mood.
Port Gamble has two locations used for weddings, Hood Canal Vista Pavilion and St. Paul's Church. "When a couple approaches us about their wedding, we ask them if they want a more traditional ceremony, in which case we suggest our restored, historic church, or a ceremony that includes the outdoors,and then we have them consider the Pavilion," Orbea said.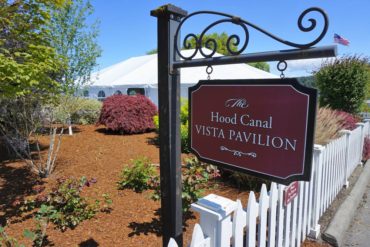 For newly married Poulsbo couple Brian and Katie Bishop, having guests feel comfortable and relaxed was a major factor in their venue decision. "We wanted our friends and family to feel like they were at a fun and casual event that just happened to include a wedding ceremony," Katie Bishop said. "So, we asked someone in our circle of friends if we could use their property and barn, had a short but sweet ceremony and then set up a volleyball net, croquet game and barbecue to roast burgers."
Nearby lodging: Are there a variety of nearby accommodations for the wedding party, family and friends who will be coming from out of town or want to stay for the festivities? Does the venue have a relationship with nearby hotels that provide a discount for wedding attendees? Kiana Lodge wedding guests, for example, can take advantage of a 15 percent discount at nearby Clearwater Casino Resort.
Access and parking: Is there enough parking and is there accessible parking for guests who need it? How remote is the location and will it require it is transportation needs to be factored into the budget and provided for the wedding party and guests?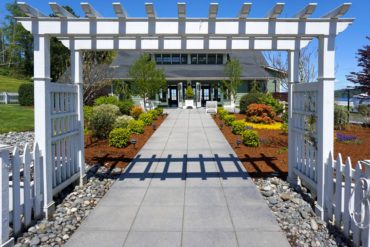 Indoor/outdoor options: If the wedding is going to be outside, is there an indoor option if the weather changes?
"Almost 99 percent of couples in the summer want to go outside for their weddings, so when they arrive, we discuss the weather," Kelm, of Kiana Lodge, said. "If it looks like it is not going to cooperate, then we look at the Doppler to help decide if we are going to set up the ceremony chairs inside or out. Final decisions are normally made a couple hours before the actual ceremony occurs."
Port Gamble Weddings asks the couple to complete a form that provides for a plan B if the weather doesn't cooperate.
"Our venue coordinators know what the typical weather pattern is on any given day, but having a venue with the flexibility to change the setting if the weather isn't cooperating is important," Orbea said.
Guest capacity: Does the venue have enough space for all the wedding activities? If you want a sit-down dinner and dancing in addition to the ceremony, does the space allow for the smooth flow of guests from ceremony to eating a meal?
Planning services offered: Kelm explained that two special events coordinators at Kiana Lodge can be there to ensure the venue logistics flow smoothly, but if more assistance is needed — helping with style suggestions, decoration suggestions and booking vendors — Kiana Lodge recommends that the couple hire a wedding planner.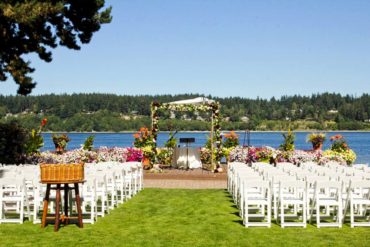 Orbea concurred. "If it's a large wedding or one involving multiple third-party vendors who need to be coordinated and many moving parts, Port Gamble recommends a wedding planner," he said.
Venues often provide a list of preferred wedding planners and vendors as well.
Catering: Will the venue allow you to bring your own alcohol and food? If there's no catering, does it provide the linens, china, glassware and silverware, or will you need to rent and bring your own?
Port Gamble permits off-site caterers, but, as Orbea cautions, "Off-site or on-site catering is a cost factor and, as part of your budgeting, you need to know what the venue allows."
Decorations: If the couple is determined to transform a venue with their own decorations, knowing the site's restrictions before signing a contract is important. There may be limits on decorations hung on walls, open-flame candles and certain type of party favors like rice or sparklers.
Additional factors: For September bride Sayers and her fiancé, having the couple's two dogs in their wedding was important. "Finding a venue that allowed dogs wasn't easy," Sayers said.
Orbea recalled a wedding where the couple wanted a nautical theme including a faux pier that guests could walk. "We were able to make it work," he said, "but when deciding on the venue, make sure you check to see if they can accommodate unusual requests like that."
Setting is important for a wedding. It sets the tone and establishes the mood. But it also needs to be within budget, meet logistical needs and accommodate special requests that are important to the couple on their big day. It is, after all, their movie role of a lifetime.