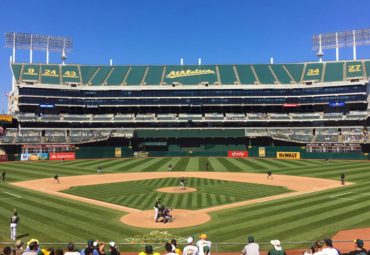 Back in the day, when I was a moody, disagreeable, know-it-all teenager, like most kids at that age, my relationship with my parents was less than ideal. I know some of you may think I never grew out of that phase of my life, and I'll just leave you to ruminate on that.
However, no matter how tense things got at home and how much I tried to drive that proverbial wedge between my parents as teenagers are want to do, no matter how loud or profoundly unpleasant things actually got, when we couldn't agree on or talk about anything, there was always one subject my father and I could discuss like civilized human beings — baseball.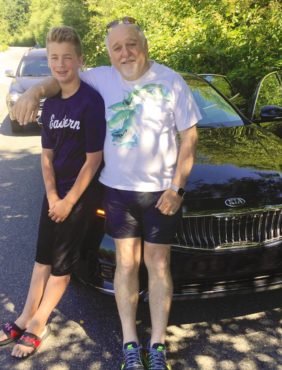 My father — who played semi-pro ball with the likes of Yogi Berra and the late Phil Rizzutto — had an unbridled love of the game that he passed on to me. Growing up in Fort Lauderdale, Florida, I would go to Yankees spring training games at Lockhart Stadium with him, and the seasonal rental house across the street would somehow always be rented to a ball player down for spring training.
I played Little League, Pony League and Khoury League ball, where my dad coached our teams — including wins in more than one league championship — and I went on to play in high school, earning some public recognition as a first baseman. I think it was my dad's dream that I would someday play pro ball.
Unfortunately for both of us, I discovered fast cars and girls at about the same time. But my love of game never diminished. Today, I'm still a major fan — a long suffering Mariners fan, a sentimental Yankees fan and, more recently, a Dodgers fan. I also umpire at South Kitsap Eastern and Southern Little League. I do love the game.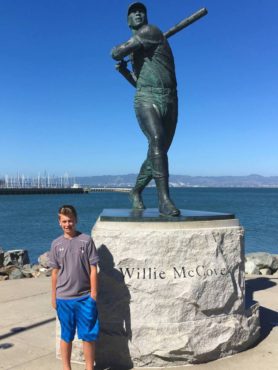 In 2003, our first and only grandchild arrived — a bouncing baby boy named Bryce. Bryce lives with us, and while I've never fathered any children of my own, for almost all of his 13 years, I have been his father figure. I've changed his diapers and rocked him to sleep, as well as taught him how to throw and catch a baseball, watching him quietly evolve into a four-sport athlete who is at his happiest with some kind of ball in his hand.
It doesn't matter if it's a soccer ball — he's an outstanding goalie — a basketball, football or a baseball. But I do believe he has embraced that special love of baseball my father passed on to me. Bryce has literally thousands of baseball cards, knows every player on every team and their stats, and can talk intelligently and intellectually about the game.
Bryce, who is exceptionally modest about his own skills and credits others rather than accept praise himself, has played several positions over the years. He's a great catcher with a gun for an arm. The only problem he's had throwing people out at second is second basemen who can't seem to catch the ball. Although he plays first base reasonably well, he isn't all that fond of it. His current favorite spot is second base.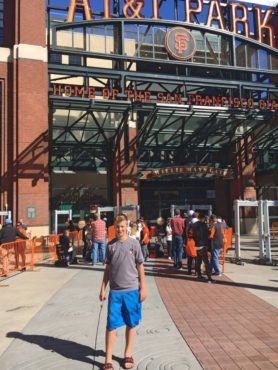 And he can pitch. I once watched him pitch three innings in relief where he fanned nine batters on 28 pitches. An umpire friend who did the plate in that game later told me, "He just consistently paints that outside corner like I've never seen a kid his age do."
So fast-forward to summer 2017. At 13, he's at "that age." While he's pretty even-tempered, he has a tendency to argue and question everything, as well as express his opinions as if we adults don't know anything about anything. I can remember when I was that smart myself, and wish I knew as much now as I did back then.
But like my dad and I, the one thing Bryce and I can always discuss like rational human beings, no matter what, is baseball. So I started looking for something special to do with him this summer that involved baseball. We've been to numerous Mariners games — having bought a set of second-row end seats behind third base from a friend for several years — and to some Rainiers games. But I wanted to do something special to kick up his appreciation of the game a notch or two.
Then it hit me — a baseball road trip. I looked at the schedules and we could do five stadiums and see nine different teams in seven days. Bryce was all for it, and I found myself really looking forward to spending the time with him.
One of the perks of writing about and reviewing cars is the fact that if I'm out of town, a manufacturer is always willing to help me with a courtesy loan. In this case, it was my friend James Hope, of Kia Motors America, who supplied us with a top-of-the-line Kia Cadenza SX-L for the trip.
We headed out on Tuesday, July 18, after getting a late start, with the goal of making it to Redding, California, the first night. We made it, but it was about 10:30 when we got there thanks to it taking the best — or worst — part of three hours to get through Portland. The Cadenza was a great-handling, quiet, comfortable highway cruiser, averaging 30.1 mpg with the cruise control set at 79 mph most of the trip.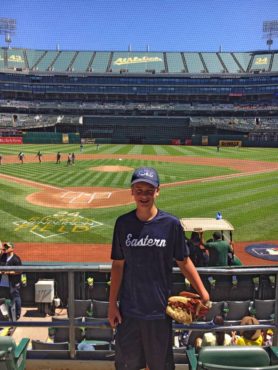 Wednesday, July 19
The next morning, once Mickey D's finally got our drive-through breakfast order right after three attempts, we were off to Oakland to see the A's and the Tampa Bay Rays. We had great seats for an afternoon game — right behind home plate about 10 rows up. It was hot and sunny — around 90 — and the A's won 8-2. Bryce was bummed, as he was rooting for Tampa.
Then it was time to find a hotel. After much searching online and driving north from the south of San Francisco Airport, we were finally able to find a Motel 6 in Petaluma — almost 50 miles past the Golden Gate Bridge — for just shy of $100 per night. I knew the Bay Area was expensive but geez.
What we didn't know was that we picked the same week to be there as ComicCon, so hotels were at an absolute premium. It's a good thing the Cadenza was so comfortable because we spent a lot of time sitting in traffic — including almost getting sideswiped by a city bus.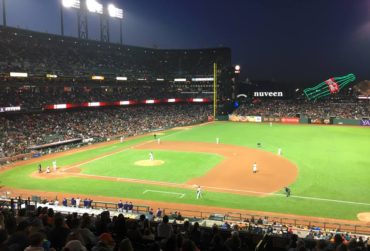 Thursday, July 20
The next day, we had the San Francisco Giants and the San Diego Padres. Since it was a night game, we had all day to wander around San Francisco like tourists. We left Petaluma around 11 a.m. and had brunch at that California institution — In-N-Out Burger — which quickly became Bryce's new fav.
We spent some time wandering around Sausalito and then up above Fort Baker in the Marin County hills that overlook the bridge, where we took pictures. Then off to the game.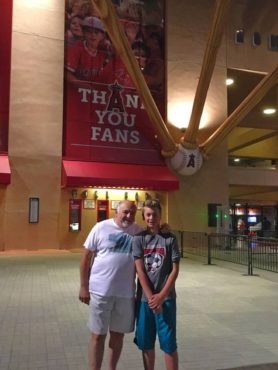 After paying $38 to park, we chose seats on AT&T Park's Club Level in the second deck behind first base. These offered a surprisingly good view of the action and it's where Bryce wanted to sit for the rest of our games. The nice part was that these seats were only a couple of rows from the enclosed food court.
In spite of the day's heat, there was a cold wind blowing off the bay that night. Since we were going to California, neither of us thought to bring anything with long sleeves. But we were lucky to be able to sit inside the food court, watch the game from the ceiling-to-floor windows and stay warm.
Pitching for the Giants was World Series hero Madison Bumgartner — who got knocked out in the fourth. The Giants were losing 8-1 in the eighth, and like a lot of other fans, we headed for the car.
We had the Anaheim Angels playing the Boston Red Sox up for the next day. But we knew we had a long drive to L.A. ahead of us, so we headed south after the game and ended up in Stockton for the night.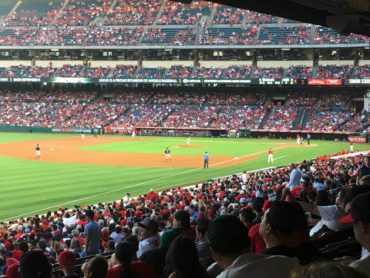 Friday, July 21
We were on the road to L.A. early, comfortably cruising down I-5 with the Cadenza's cruise set at 82, occasionally holding up traffic at that speed. We hit the In-N-Out at the bottom of the Grapevine around 2 and stopped for lunch.
Then it was up and over the Grapevine. Friday afternoon traffic came to a screeching halt on the downside right around the time we hit Six Flags, and never moved faster than 20 all the way to Anaheim.
We were in traffic for more than four hours. Meanwhile, Bryce was online trying to find us a hotel. We made a reservation and headed straight to the ballpark, which is right near Disneyland.
The Angels were playing the Red Sox and it was over by the time we found our seats in the top of the first, when Boston scored five runs. We stayed until the seventh inning stretch, leaving when it was 8-2. We settled in our room, ordered a pizza and called it a night.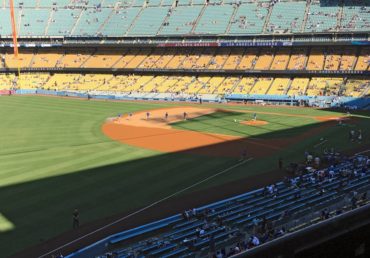 Saturday, July 22
I spent some time at the hotel pool working on a tan while Bryce slept. I woke him up at 1:30 so we could get ready for the trip to the game, which was on the other side of L.A.
This game had the Dodgers playing the Atlanta Braves at historic Chavez Ravine. What a great ballpark! It was a late-afternoon start, so it could be broadcast in primetime back in Atlanta. The weather was perfect — mid-70s — and our third-base side club-level seats included restaurant and bar service.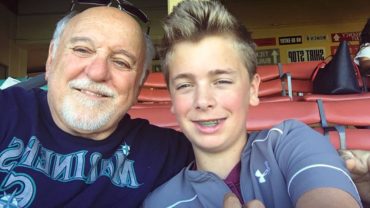 We saw Corey Seager — Kyle's younger brother — belt one into the cheap seats in the first, and Chase Utley hit one in the fourth. Then Chris Taylor — a former Mariner — made it 4-2 in the seventh with a two-run shot. The Dodgers broke it open in the eighth, and it was lights out for the Braves.
I became a Dodger fan that night. Not only are they a great ball club playing in a historic stadium, but they honor their fans. Plus, I was doubly impressed by the way they honor our military.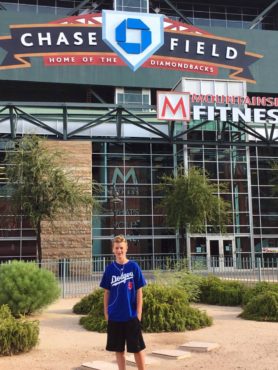 Sunday, July 22
It was back on the road late morning heading to Phoenix to see the Diamondbacks on Monday. Once we found our way to I-10, it was smooth sailing. The Kia Cadenza just ate up the miles. At one point between Indio and Palm Springs, I had the cruise set at 90 and was being passed like I was standing still. Meanwhile, we were averaging 29.2 mpg at those speeds. We got into Phoenix about 9 that night and were greeted by a thunderstorm.
Monday, July 23
We were staying in a friend's condo in Scottsdale, and after some time around the pool before it got too hot, it was off to Chase Field to see the DBacks play Atlanta — the only team we would see twice.
Chase Field is nice — and despite 400-foot fences, seems smaller and more intimate than it actually is. The Diamondbacks are also a team that goes out of its way to honor its fans as well as the military.
We had great seats to see the DBacks beat the Braves — club-level, end seats, right along the second-deck rail in front of the press box. It was a pitcher's duel for the first few innings until Arizona broke it open on a couple of throwing errors and some timely hitting. We did get to see Sean Rodriguez belt a two-run homer over the 410-foot fence for the Braves as a pinch hitter in the top of the fifth. That made it 4-2 Arizona, but it was all DBacks after that.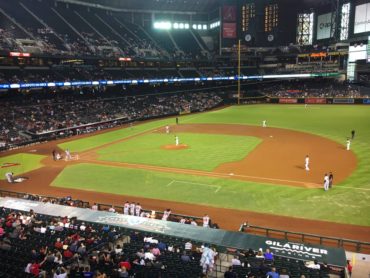 Tuesday, July 24
It was time to head home. We loaded the Cadenza and before heading out, had breakfast with an uncle of mine who lives in Phoenix. I could tell Bryce was getting burned out on the travel but we still got some time to talk baseball.
We gassed up in Phoenix ($2.03 per gallon) and headed back down I-10 to Blythe, California, took the shortcut up Highway 95 through Needles and Mojave to Bakersfield, and picked up I-5. We spent the night at a truck stop hotel about 110 miles south of Sacramento. Of course, we had In-N-Out for dinner.
Wednesday, July 25
Out early enough to hit rush hour in Sacramento. But it was clear sailing past there until we got to Portland — at rush hour. We were meeting Bryce's other grandparents in Troutdale, and they were taking him on a camping and hiking trip for the next week.
By the time we got there, I could tell Bryce had had it with the intense amount of travel we had done. He was irritable but glad to see his grandparents. But as they loaded his stuff into their truck, he hugged me, told me he loved me, and said thank you for the memorable time. That made it all worthwhile for me.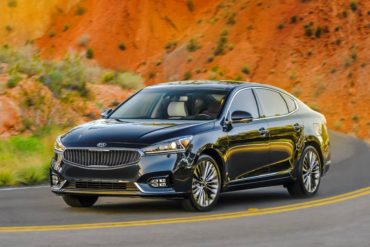 Quick Observations
I had driven the Kia Cadenza several times before, including on its original debut event. I liked it then, and like the new version even more. It's quiet and comfortable on the highway, performs and handles well, and you can't argue with 29-plus mpg at 80-plus mph. I knew this was a good car going in, but it's much better than I originally thought — and that's saying something. If I were in the market for a car, the Kia Cadenza would be my top short list. I want to say "thank you" to James Hope and Kia Motors America for the courtesy loan.
Until you see how other teams honor and respect their fans at the ballpark, you can't appreciate how the Mariners — and the Giants — take theirs for granted.
This was a very personal and moving experience for me. I hope it's something Bryce always looks back upon — like I do to those times my dad came to Plantation High School and took me out of class to go watch the Yankees at spring training. I want this to be as fond a memory for Bryce as that moment is for me. Here's hoping.