What started out as one man's hobby has grown into a nursery with a reputation for quality plants with reasonable prices. Raft Island Roses had its beginning in 1997 when Frank Gatto, originally from Burien, retired from his first career and began selling roses at farmers markets. Over 20 years, the business has grown along with the selection of plants for sale.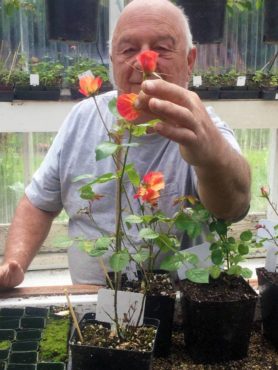 Starting a nursery is as risky as farming. Over the years, there have been the perils of a tornado tearing apart a greenhouse and the weight of an unusual snowfall collapsing the roof of another greenhouse.
Gatto's son, Michael, is now running the day-to-day retail nursery and farmers market business, which allows time for Gatto to pursue his passion of rose hybridizing in one of the other greenhouses on the property.
In 2009, it started with evaluating roses at the rose gardens at Woodland Park and Point Defiance to determine which varieties had rose foliage that was disease-resistant in our climate. Decisions were made from those evaluations about roses that Gatto would choose to be the "mother plants" for future seed and pollen parents in his hybridizing program.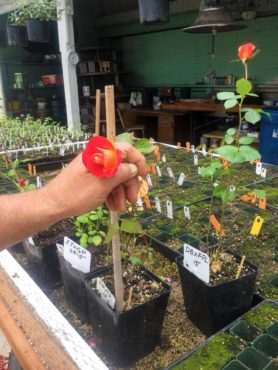 The hybridizing year begins with crosses in early summer, then formation of hips. Each cross is recorded for evaluation at a later date. Harvest begins when they are ripe in fall.
The seeds are separated and refrigerated until January, when they are planted. Some seeds will have a 50 percent germination rate but others have none. Last season, 10,000 seeds yielded 2,000 seedlings that were grown and evaluated.
Starting in early June, baby blooms appear and "every day is like Christmas" because you never know what you will see. The entire process can take nine years from the seedling stage of a rose to the plant being accepted by a major distributor and available for purchase.
Last fall, a rose grower of 500 roses, George Hedger of Tacoma, died and Gatto was able to go to the private garden and harvest open-pollinated rose hips with the hope of getting one good rose to be named after Hedger. The collected hips yielded about 1,000 seedlings.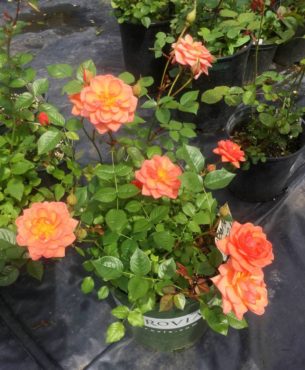 Mentors and Inspiration
A group of professional hybridizers under contract with major rose distributors have been very helpful and have visited Raft Island Roses offering classes and advice. Tom Carruth, Keith Zary and Ping Lim all encouraged Gatto and now, that enthusiasm is being passed on to anyone who grows roses and wants to learn more.
The Pacific Northwest Rose Hybridizers Association includes John Moe and Dennis Konsmo, who are more than willing to share knowledge about techniques, successes and failures. Gatto said that getting a few good roses each year encourages him to continue and improve but he admits he jumped into this retirement project "a little too aggressively."
Gatto wants to encourage anyone with the interest in growing roses to get started by growing seeds from open-pollinated roses by just collecting the rose hips in the fall. "Mother Nature does a nice job all by itself" but evaluating your rose seedlings calls for being ruthless, he says. Any seedling with disease gets composted.
Contemporary hybridizing goals are disease resistance, lots of flowers and fragrance. The fragrance goal is the most difficult genetic attribute to achieve.
Gatto and his rose assistant are willing to share information with any interested rose gardeners. He would like to get the Pacific Northwest Rose Hybridizers together again for the next generation of growers.