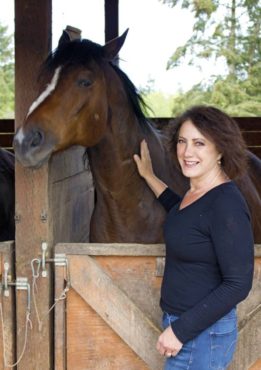 Rosemary Collins founded Pony Up Rescue for Equines in Olalla in 2006 because she saw a need for a rescue organization. In early 2007, Pony Up received 501(c)3 nonprofit status, and its mission is to rescue, rehabilitate and rehome horses in need due to neglect, abuse or abandonment.
Collins serves as president and in addition to two vice presidents and a secretary/treasurer, the organization has 20 volunteer staff.
"I am blessed to have some incredible people who share my mission, values and goals," she says.
The rescue is located on a 5-acre farm with a barn. There are 13 stalls, and the operation runs at capacity almost year round. Horses come from neglecting environments as well as from humane societies that don't have the space or expertise to care for abused or abandoned animals. The volunteers have rescued other animals too, from pigs to chickens.
Other services offered by Pony Up Rescue include low-cost clinics for equine dental care, castration for colts, yearly vaccinations and lameness evaluations at the facility. For individuals in financial crisis, Pony Up offers equine euthanasia and a hay bank to help feed horses.
Collins says she can't remember a time in her life when she wasn't around horses.
"My family owned horses since before I was born and I grew up in the saddle, so to speak," she says. "I was one of those kids that you could always find in the barn."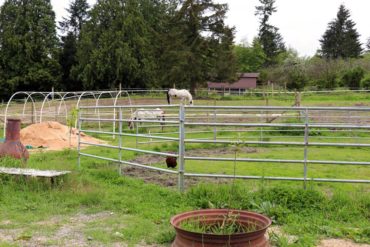 She says her parents instilled in her a great responsibility for caring for horses and other animals. Collins began rescuing neglected horses as a teenager — "much to my parents angst," she says.
As an adult with a full-time job, she wanted to be involved with horse rescue so she donated to one that she found online.
"I soon discovered the not-so-good side of that organization," she says. "I wanted 'horse rescue' to be better and to make a difference — better for the horses in need and better for the people who donated their hard-earned money."
Asked what makes her work worth it, she says that a "before" and "after" photo of a horse that nearly died would tell the story best.
"Our hands bring them back and that makes it worth it," she says. "When other humans have failed them, we bring them back — the 'after' picture tells it all."
For more information about Pony Up Rescue for Equines, go to ponyuprescue.com.
The Importance of this Work
I saw a need for a quality rescue organization. This work is important to our organization so that we can help horses who are in need and so that we can provide a safe haven with rehabilitation.
Best Part of the Job
The best part of my job is when I see horses in new homes getting another chance at a better life.
Biggest Challenge
Frankly, the biggest challenge is fundraising — rescue/rehab work with horses is costly.
Best Compliment on the Job
My biggest compliment is that someone recently called me a miracle worker after seeing one of our rehab horses who had recovered from a terrible starvation.
Things I Can't Live Without
My friends, my pets — my family.
Best Way to Relax
The best relaxation for me is no phone, going on a nature walk or having dinner out with a friend; otherwise my life is busy and very full.
Hobbies Outside of Work
I love to landscape, garden, paint, listen to music and ride my own horse.