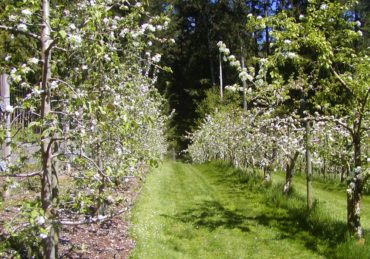 The small, hand-lettered sign on Peacock Hill Avenue near Gig Harbor says, simply, "Butler's Farm. Apples. Self serve."
It's the first hint that at the end of the dirt driveway, there's a 7.5-acre orchard where more than 1,200 apple trees — with upward of 500 varieties of apples — are growing and thriving.
Steve and Donna Butler are the farm's owners. In addition to the apple trees, there are also pear trees, Chinese pear trees, flower and vegetable gardens, a friendly dog and a hand-built log house encircled by an imaginative, handcrafted stone-and-shell mural around the foundation.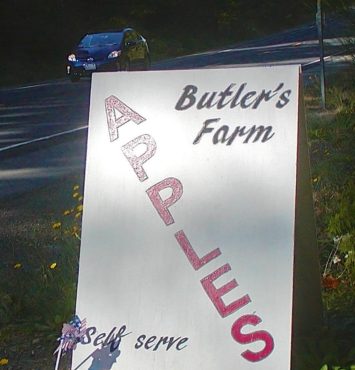 Many years ago, Donna and her late husband started clearing the land on which the house and orchards now stand. After he passed away, she met Steve and they've been together for more than 30 years.
They planted the first apple trees in 1982 and added more and more varieties over the years. This spring, they planted about 225 new apple trees in a large new space cleared last summer.
The farm was featured in the 2016 Gig Harbor Garden Tour and introduced hundreds of visitors to the gardens and Donna Butler's clever repurposing of old farm implements as art objects.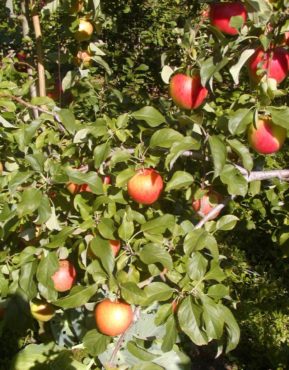 Donna Butler is in charge of the gardens. She also created the mural around the home's foundation from shells, rocks, fossils, agates, bits of petrified wood and colored glass the couple has collected.
"We've collected rocks for just about forever," she said with a smile. "Finally, I decided I had to do something with them. It took me about 10 years to get it all finished — and I still keep expanding it whenever the rock collection gets out of hand."
She loves to give guided tours of the artwork and shares stories about where the objects were collected. "Every thing in it has a story, even the glass starfish," she said.
Likewise, every tree in the orchard has a story, as well, which Steve Butler is happy to share with attentive visitors.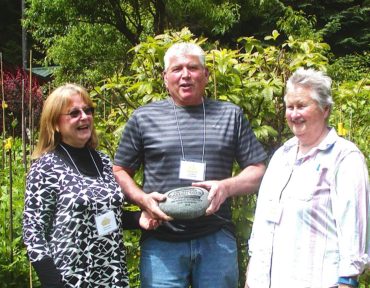 This spring, in addition to all her usual produce plantings, Donna added 33 new dahlia varieties to her flower garden. While she is tending the gardens, Steve is, literally, "growing" the orchard.
The apples are the lure to the farm, again and again, from midsummer until the weather turns wintery. The Butlers sell them out of a small, open shed near the house.
The "Apples" road sign usually appears on Peacock Hill the first week of August, announcing that the farm stand is open and the early apples are available for sale.
Inside the shed, box after box of fresh-picked apples are stacked on counters — apples with names like Holstein, Fiesta, Sweet 16, Pixie Crunch, Rubenette, Sweet Tango, Pinova, Blondee, Honey Gold, Echo, Mitsu, Florina (called Gallerina in Europe), Kidd's Orange-Red, Sansa, Sekai Ichi (the bestseller in Japan) and a variety called Adam's Pearmain, an heirloom russet type that's said to have been Thomas Jefferson's favorite apple.
And that's just a small fraction of the varieties of apples the Butlers grow and sell every year.
Each box is labeled with the name of the variety and includes a description of its lineage, keeping qualities and suggested uses.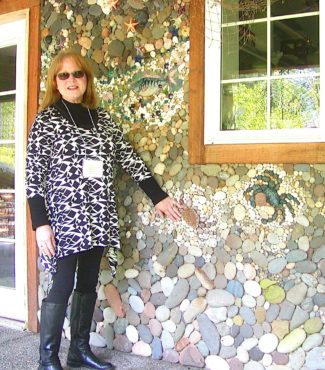 Some are best for eating fresh, some for pies or sauce. Some are excellent keepers and some should never be stored in the refrigerator or they'll lose their flavor. Some make pink applesauce and some are good for just about everything.
There are usually two dozen different types of apples in the shed on any given day — all available for sale on the honor system. Most are sold for 50 cents to $1 per pound though some hard-to-grow or limited varieties cost more.
In the back corner of the shed, a large, glass-fronted cooler is stocked with berries, figs, grapes, cucumbers, zucchini, beets, beans and other vegetables in season from the garden, and in the fall, there will be jugs of freshly pressed cider for sale. Donna Butler also sells bouquets of dahlias and often allows "cut-them-yourself" as an option.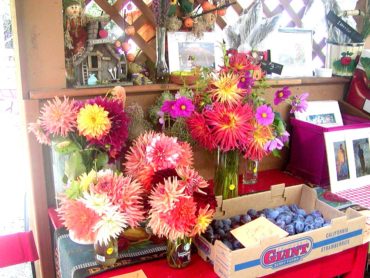 Dahlias and many produce items are available by early July, before the sign is set out on the road. As long as the sign is out, the stand is open. Last season, the Butlers kept the stand open until early February.
The apple and produce offerings change as each variety comes into maturity. Often the later apple varieties are the best keepers but some are best eaten or used for pies or sauce soon after picking.
In the fall, visitors to the shed can even find a box or two of pears, Asian pears and the ultra-popular Honey Crisp variety, although those are more expensive.
"Honey Crisp is hard to grow because it's calcium deficient; it's an alternate bearer and a triploid. And it doesn't store well. That's why it's so expensive," Steve Butler said.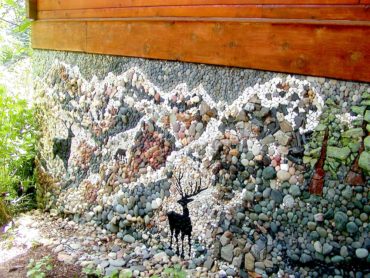 But soon there will be an alternative to Honey Crisp because Washington breeders have come up with an off-shoot called Cosmic Crisp, which will likely be available in stores — and possibly also in the Butlers' apple shed — in a year or two.
In addition to old-fashioned varieties like Gravenstein, Melrose, Macoun and Newtown Spitzenburg, Steve Butler also grows several very rare varieties including Canadian Strawberry and Fall Jennington. "That one was thought to be extinct until a fellow in Walla Walla found one on his land. I planted one a couple years ago that will probably start bearing fruit next year," he said.
Many people don't realize that newly planted apple trees shouldn't be allowed to bear fruit until they're at least three years old.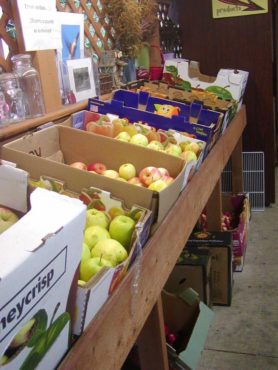 "You have to grow the tree before you let it fruit," he said. "You pluck off all the blossoms for the first three years."
Sometimes in the third year, you can allow a single apple to grow so you can test it.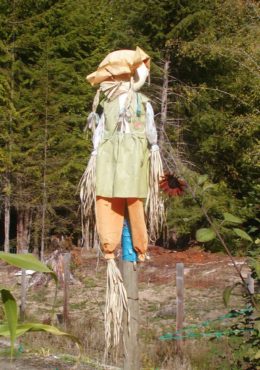 "Then in the fourth year, you maybe let 10 or 12 apples grow. Then after that, the tree should be mature enough and strong enough that it can safely bear good crops," he said.
Once the tree is established and producing, the best way to tell if an apple is ripe is to apply a bit of thumb-pressure to it and listen for a soft "pop." If it "pops," it's ripe.
Steve Butler planted more than 200 new apple trees this spring in a big new space he cleared last summer. "I added Zestar, an early eating apple; Rezista Resi from Germany; Bonnie Best from Wisconsin (which is great for pies) and Elstar, a Jonagold-like variety developed in Holland," he said.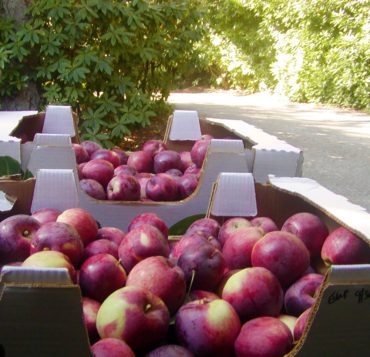 He keeps close tabs on what's happening in the apple world as new varieties are created through "tissue culture." Two of last year's introductions are destined to be grown only in Minnesota and two only in New York. The other new varieties will eventually be grown throughout the country, he said.
He also planted a test plot of cherries that are being tested for nonsplitting qualities.
In addition to the hundreds — nay, thousands — of pounds of apples he sells in the shed, Butler also sells through the Fresh Food Revolution Co-op on the Key Peninsula. Last year, he also supplied the Key Peninsula Farm Tour with dozens of bags of apples.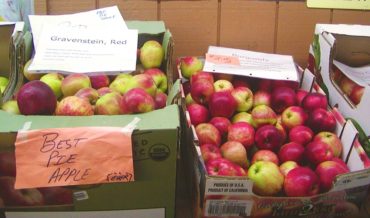 He's a regular participant in the Peninsula Fruit Club's annual fall fruit show. This year's show takes place Oct. 28 at the West Side Improvement Club in Bremerton with fruit tastings and displays of apples, pears, nuts, grapes and other fruit grown on the west side of Puget Sound.
Growers will be on hand to answer questions about how to care for fruit trees and there will be trees, plants and supplies for sale.
"It's a great way for people to discover a new favorite apple," Butler said.
Unless you've already found your new favorite in Butler's shed.