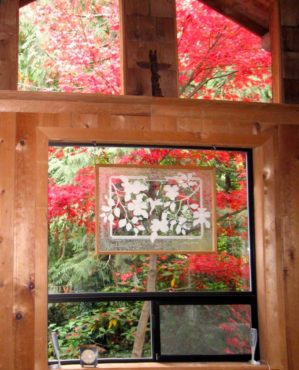 Around Belfair, it's still called Hippie Hill Community. Some old friends and the price of the land drew glass artist Randy Calm and his wife, Cathy, from Chicago to Hippie Hill nearly 47 years ago.
Then, there were 13 homesteading families and no electricity. The couple lived in a teepee while hand-building their house with some help from their neighbors.
"I don't think anybody knew what they were doing then," Randy Calm says, laughing, "but the house is still standing."
To make a living, the couple worked at the now-defunct Werberger Winery near Grapeview, running the tasting room, working in the vineyard and learning about winemaking.
They've come a long way since those days. Not only is their house still standing but their property is also the home of Phoenix Design South, Calm's hand-built studio where he turns out custom-designed residential and commercial etched glass.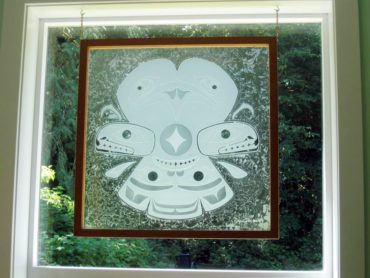 From an Iowa State University degree in advertising to a Belfair career in winemaking, carpentry and custom-designed glass, it seems a circuitous career path. But to Calm, it all makes sense.
"The economy was bad when I graduated and we had friends in Washington," he says. "When they took us to the Skokomish Valley, we fell in love with the land. I learned carpentry by building our house."
His career in glass etching came from a chance meeting with Jim "J.D." Francis, his former partner in the business.
"J.D. rehabilitated old cars for a hobby and had a sandblaster to clean parts. He also sandblasted small gift items on the side," Calm says.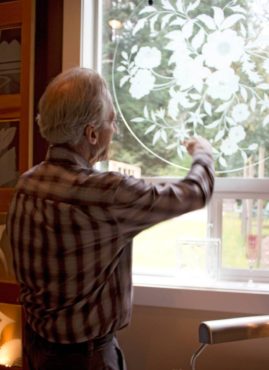 Cathy Calm went to work for Francis first and eventually convinced her husband to join them. From there, the business took off.
The partners worked out of an old brush shed in Belfair in the beginning. In 1979, they moved into a Belfair house, which they converted to a studio.
"At first, we made small, etched-glass cabinet doors and gifts and sold them at street fairs like the University District and Bellevue fairs," Calm says.
For 20 years, he and Francis perfected the art of glass etching using a sandblaster and glue.
"When we started, people didn't know what etched glass was," he says.
Though Francis moved to Kingston in 2004, the two still send occasional custom glass jobs to each other.
The process of glass etching is a partnership between customer and glass artist. It begins with an idea; sometimes a drawing Calm does after interviewing the client and sometimes from an illustration the client brings to him. The sized glass is covered with a special adhesive paper and the design is hand-drawn onto the adhesive first, giving the customer a chance to visualize the completed project before the sandblasting and etching begins.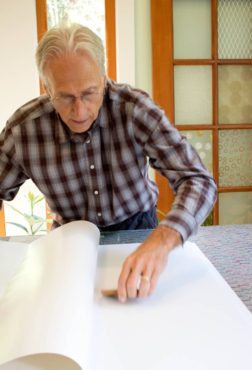 He prefers the customer come to his woodland studio to see and discuss the drawn design before he proceeds. Sometimes the designs are intricate geometric borders. But more often than not, residential and commercial customers want Northwest scenes — cedar trees, birds, salmon. And one time, a Sasquatch.
The process of designing on the glass hasn't changed much since Calm's early days in the brush shed. Once the customer approves the design, he begins the arduous task of cutting the adhesive away with a blade. The glass piece then goes into a specially designed blasting booth that allows Calm to put his arms through protective sleeves and gloves to work while watching his progress through a glass window. Using aluminum oxide and the high pressure of a sandblasting gun, he slowly moves the gun to carve varying depths into the glass, creating a three-dimensional look and effects to the designs.
For additional dimension and texture, he also uses glue chipping on some of the glass art. A specialized glue put directly on the glass "chips" at the surface to create the feathery texture needed for designs such as ferns. It's also a technique he uses for borders or to add privacy to a window or door — for a room such as bathroom.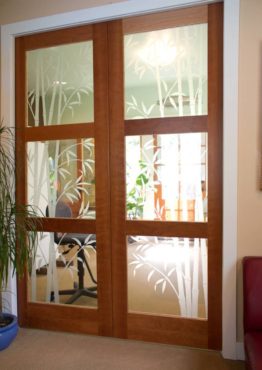 The entire process, from design to cutting to sandblasting and etching, can take about 40 hours for a piece as large as a door. Sometimes a finished product leads to more work.
"We had a client who originally ordered eight windows for door transoms and once they were installed, came back and ordered more etched glass for the 6,000-square-foot house," Calm says.
Other times, an order can also call upon his carpentry skills, as it did with the commercial Mason County PUD 3 building near Shelton. He not only did the glass engraving for the building, but also the carpentry trim work around the glass.
In December 2009, Calm moved his studio from the Belfair location to his property down the hill from his house. The move was part of his effort to semi-retire, though as Cathy Calm says, "He's going to do custom glass until he can't work anymore."
The new studio reduces his overhead costs and it's warmer, prettier and quieter than the brush shed or Belfair house. "I was smart. I put the compressor outside when I designed this studio," he says.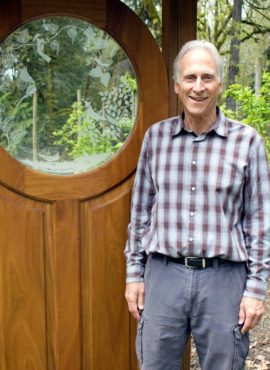 The closer proximity also lets him walk down the path and check on the progress of a new project. "I cut my work commute from 3.5 miles to 100 feet," he says, laughing.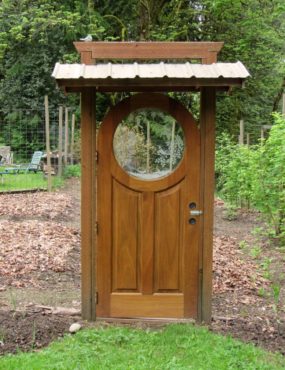 Occasionally, he donates his time and skills to a project. The French glass entrance doors at Belfair's Pacific Northwest Salmon Center were Calm's way of showing his support for the center's environmental purpose. A fundraising project by the North Mason Coalition of Churches and Community was also the beneficiary of his pro bono work.
His customer base has evolved over his years in business. Originally, more of the work was for private customers — small gifts, wine glasses for weddings, award plaques and cabinet doors. While he still gets commissioned to do some of that work, these days, most of his projects are larger-scale, custom architectural pieces.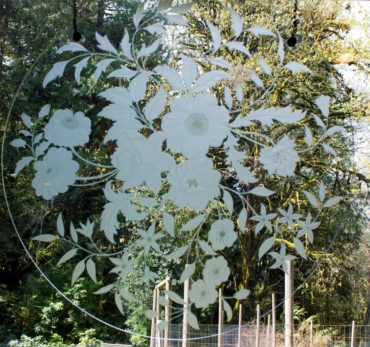 The 2009 move of his long-established studio in well-travelled Belfair to a more remote location on the south shore of Hood Canal originally gave Calm some concerns. Losing visibility could have meant a loss of customers.
"A lot of locals thought we disappeared or died when we moved up here," he says with a laugh.
In 2012, he relented and developed a website to promote his business. It turns out the fears of a declining customer base were unfounded. He has a long list of dedicated repeat customers — baby boomers who are downsizing, clients with one etched window who now want another piece. And a new generation of etched-glass aficionados have emerged: The children of former clients who grew up looking through etched glass doors and windows now want a piece in their own homes.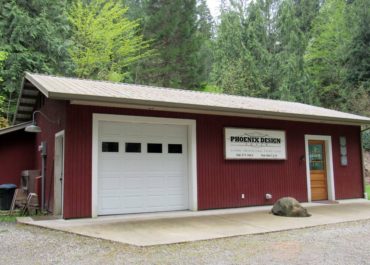 The Calms, who are avid walkers and hikers, are also trying to practice semi-retirement. In 2016, they travelled to Sicily and then took seven weeks to hike the Camino de Santiago pilgrimage route in Spain, an experience they describe as "mind boggling." Because the art is project-based, Calm can manage his deadlines and now carve out time to travel, an activity he and his wife hope to continue, in part because of the artistic inspiration it provides.
And he's not done using his carpentry skills. A partially finished building to house the couple's kayaks, another of their hobbies, sits adjacent to his studio and garden. All of the buildings on the property, even the garden, showcase his glass art. This one likely will too. Though, as he says about his customers, "People think for a long time about etched glass before making a decision. I haven't decided."