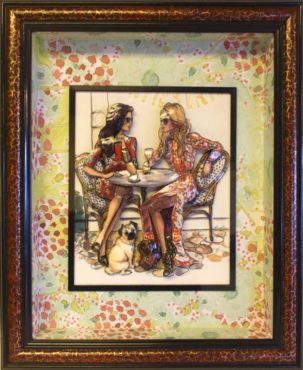 At the height of her career as a world-renowned miniaturist, Brooke Tucker traveled constantly around the country and the world to teach classes. In between, she spent as many as 17 hours in her studio, creating scale-model rooms that have earned her the reputation of a pioneer in the field.
That was another world, a career she left behind more than a decade ago. But her new passion — three-dimensional art she calls "Elevations" — brings back several qualities that made her miniature art distinct.
"Besides creating a feeling, a moment in time, or telling a story, Brooke's rooms are recognizable because they carry the stamp of her personality," writes author Anne Day Smith in her book, "Interior Design in Miniature: Brooke Tucker Originals."
It's that personality, that desire to tell a story, that helped Tucker rediscover herself as an artist two years ago.
"I couldn't draw and other kinds of art didn't speak to me," she says. "But I've always been fascinated with dimensions."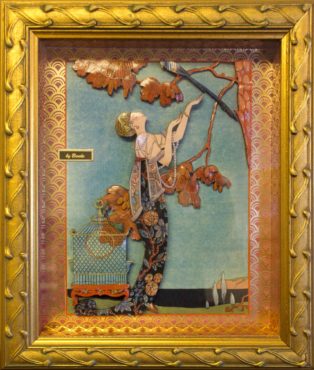 Borrowing from the old art of decoupage and building off her talent for working with very small pieces, Tucker found the perfect spinoff in three-dimensional art. Only she soon discovered that the results looked "homemade." So she enrolled the help of longtime friend Georgia Matuschek, a Poulsbo artist who "can look at something and say, 'I can do that,'" then go and do just that.
"I went to ask her for hints. I said, 'I'm bored. I want to do something like the old decoupage, but not really,'" she recalls. "I wanted to tell a story and it needed to be different from the puppy dogs and pansies (of the decoupage style)."
The stories, which travel back to the Victorian era, to art deco style and on to modern times, convey different moods and sentiments. Some use humor. All feature many, many tiny details.
"I create perspectives with layers," Tucker says, adding that a lack of detail in a print that she builds her three-dimensional pieces around makes her work harder rather than simpler.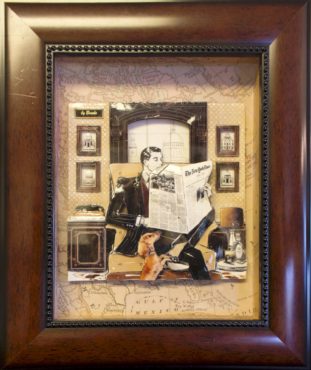 "If the nose is detailed, it's easier for me," she explains.
The details are another point of return to her former career. Her miniatures astounded with their levels of precision. Seen through the illusory filter of two-dimensional photographs, the miniature rooms look every bit real, down to throw pillows, bowls of fruit, reading glasses or makeup brushes.
The Elevations — multi-layered, multidimensional vignettes created from other artists' prints — bare that same meticulous attention to detail that Tucker was known for. Look close at the woman's Victorian dress, and you'll notice microscopic beads at the hem of her sleeve. Squint at the group of cheerful beach ladies, and you'll see that those sunglasses on the forehead are their own layer, as is the tiny hair ringlet.
Tucker does now, as she did then, have a bit of a disposition toward the flamboyant in her work. Full of life, her style has retained its quality of boldness and vivaciousness.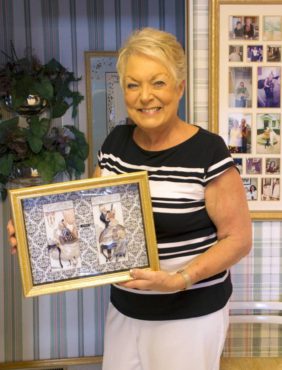 "From the very beginning, her work bore the unmistakable 'Brooke' look that set it apart," Smith writes in "Interior Design Miniatures."
That style lives on in "Elevations by Brooke." As Tucker herself explains on her website, "I found I could incorporate my miniature 'The Brooke Look' into the use of paper patterns and prints."
Serendipity at Work
"Elevations" are Tucker's second time of reinvention. Before she became known for her miniatures, she was well on her way to a career in Hollywood.
The daughter of Forrest Tucker of "F Troupe" TV show fame (and the granddaughter of renowned character actor I. Stanford Jolley), Tucker spent her childhood in Hollywood. She started acting with her father on stage as he toured with theater productions. One of her TV roles was as a prison guard in an episode of "Charlie's Angels."
"I beat up Jaclyn Smith," she says with a smile.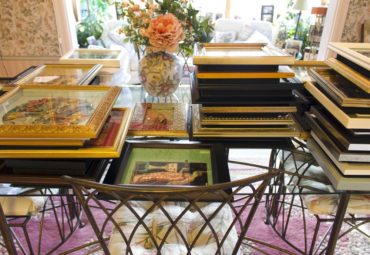 Her acting career was, in a way, responsible for bringing her to the world of miniatures in the 1970s. Tucker wanted to make a memory box for her boyfriend, also a Hollywood actor. She bought a spice drawer for the box at a craft store and needed a tiny Christmas tree. The clerk sent her to a miniatures store.
"I didn't know what miniatures were," Tucker says. "I opened the door to this place and was like I stepped into a make-belief world. I was mesmerized."
She was hooked. Her hotel rooms became her temporary workrooms and Tucker recalls littering those rooms with her supplies.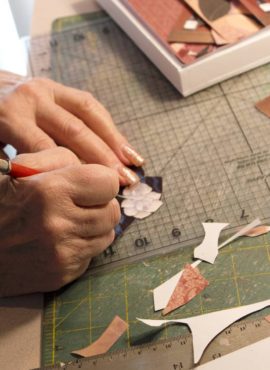 "I went on stage at night and couldn't wait to get home and work with my hands," she says.
That serendipitous encounter with the store clerk landed Tucker on a new career path. Her father was skeptical when she told him she would be famous making miniatures one day — but she kept her word.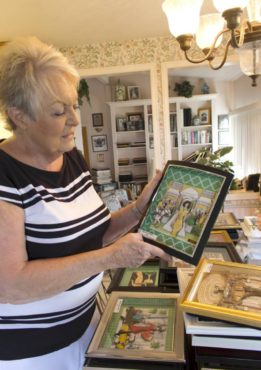 By the time she retired a decade ago after 30 years of professional miniature work, Tucker was the only miniaturist to have two entire books written about her and has had her work in numerous private collections as well as places like the Miniature Museum of Taiwan.
"It's funny how a total stranger you've never seen before — and will never see again — will change your life," she says.
She never gave the boyfriend that memory box.
The Art of Making Tiny Things
Her past life of working with small scale and constructing things translates well into "Elevations. "
"I know how to use the tip of the knife or scissors (for small things), where to cut, how to get sharp lines," she says.
The three-dimensional pieces are enclosed in custom-made shadow boxes of sorts. Tucker makes her own boxes out of Styrofoam and frames that she finds at places like thrift shops. Each box is different, made just for that piece. She has shelves full of frames in her garage and her studio.
"I buy some very strange things sometimes," she says. "When I started, I didn't know what I was doing."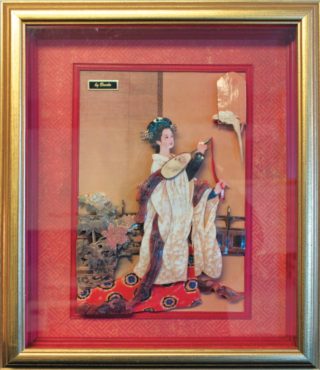 Her craft has evolved to include even more details, more individual layers for the little things like a shoe buckle, an earring, a makeup brush or a dress ruffle.
"I work from back to front," she says. "My level of detail has changed. I did that with miniatures too — I always saw something that should have been done differently."
She has a process now and lets the print guide her design.
"It tells me where I need to put something," she says.
She admits that she dislikes marketing her work. Locally, she sold at Tidefest (Gig Harbor High School arts fair) and showed her work at the Franciscan Hospice. Currently, she's selling exclusively through a high-end art gallery in Maui.
New World of Opportunities
Tucker moved to Bremerton from California 30 years ago. For a while, she ran a retreat-like class program, "bed and breakfast" style, at her home not far from where she lives now. She called the home Tranquility — and her students loved it.
"My week at Tranquility is my 'Fantasy Island,' where you are catered to, the meals are wonderful, and you can keep the outside world away. I call it my therapy," Smith quoted a student as saying in another book about Tucker's work, titled "Brooke Tucker's Golden Christmas."
Eventually, after trotting the globe to teach classes — including on cruises — the life of a road warrior became tiring. "I had no life," Tucker says.
After retiring from miniatures, it took her eight years to find a new passion. Just like her first visit to a miniatures shop opened a new world for her, so did Matuschek when she shared her creative process and ideas with Tucker.
And this new world seems to suit Tucker well (to say nothing of the slower pace). Every day brings new possibilities.
"Every day is a new piece of work for me," she says. "It's the best thing I found, especially in my life now."
As Jane Fonda is oft quoted as saying, "It's never too late — never too late to start over, never too late to be happy." Luckily for her fans, in reinventing herself as an artist — once again — Tucker didn't completely start over. She built on her flair for the dramatic and her passion for telling stories to find a new, unique way to express herself in "Elevations by Brooke."