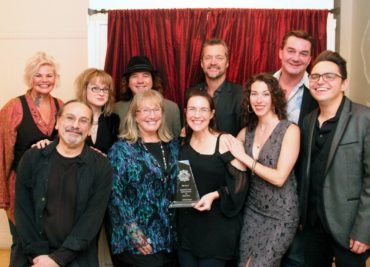 It's said that music changes lives — United by Music North America changes lives in profound ways.
Based in Gig Harbor, the nonprofit organization works with musically talented people who happen to have intellectual or physical disabilities and helps them become performing musicians.
United by Music was founded in the Netherlands in 2006 by Joris van Wijngaarden, a blues lover and financial director of a consortium of independent healthcare providers in that country; and the late Candye Cane, an American blues singer.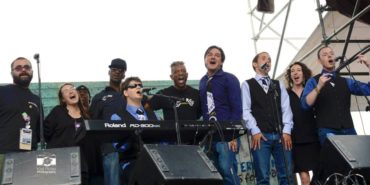 Today, United by Music has branches in the Netherlands, Holland and North America and their artists perform throughout Europe, Africa and the United States.
The American branch — UBMNA — has blossomed under the direction of Gig Harbor residents Barbara Hammerman and her daughter, Amanda Gresham.
According to Hammerman, UBMNA seeks out individuals who have Downs syndrome, autism, blindness and other developmental or physical challenges and show musical promise, and links them to professional musicians who mentor them to perform in front of live audiences.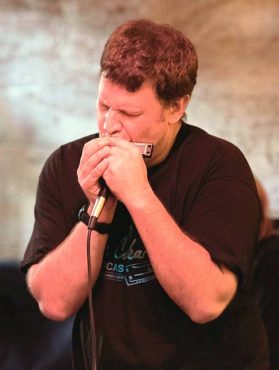 At the same time, UBMNA challenges the public's notions about persons with disabilities by demonstrating that music connects people regardless of their differences.
"For me, it's a social justice issue," Hammerman says. "Everybody deserves a chance, and United by Music lets our artists soar. And all our training is free. There's no cost to our artists."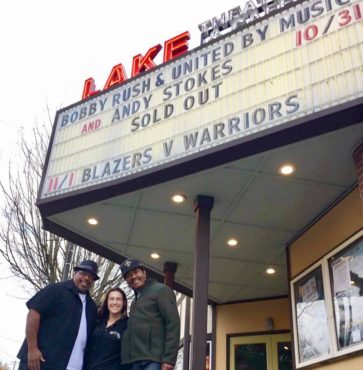 "Our artists are differently abled and they shine in ways that are so refreshing and truthful. There's really no 'dis' in their abilities," Gresham adds. "And when you see them in action, you can see how their lives are enhanced and how our own lives, in turn, are also enhanced. It's so beautiful and it cuts through people's preconceived notions."
Reaching out from their Gig Harbor home, Hammerman and Gresham have expanded UBMNA's artist base to include musicians from Kentucky, the San Francisco Bay area, Portland, Eugene, Tacoma, Edmonds, Olympia, West Sound and points in between. Mentors include Tacoma's Stephanie Anne Johnson, who was a finalist on The Voice TV show; members of the award-winning Tacoma band Junkyard Jane; and Dan Wilson, owner of Gig Harbor's Allstar Guitar.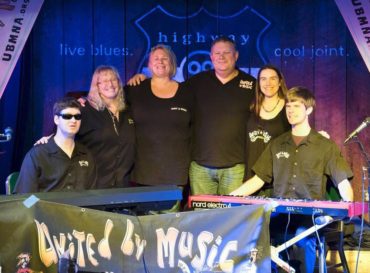 Wilson's participation in UBMNA started when he did sound for one of the group's concerts.
"When my wife and I heard the performers, we were hooked and decided that we'd help in any way we could," Wilson recalls. "There can be people who you might have trouble carrying on a conversation with, but if you sit them down at a piano, they're amazing musicians."
The Wilsons soon became full-time sponsors and supporters of the program and several UBMNA artists, including David Hoefer, Nicole Rogers of Port Orchard and Wauna resident Roy Bowen, all of whom are students at Allstar Academy.
Bowen, a guitar player, has been performing with UBMNA for about two years.
"United by Music is very special to me. It's been a godsend," he says. "I get to perform with live bands and I've made so many new friends. And I've learned so many new skills about playing the guitar. There's just no comparison to the enrichment this provides."
Hoefer, too, is enjoying his newfound success.
"It's really fun," he says. "I play guitar. We go to festivals like the Emerald City Blues Festival and Waterfront Blues Festival in Portland and other places. We rehearse a lot before every big show and we always have a great time. And after the gig, we all hang out and talk together. We're trying to get well known and trying to get United by Music happening all across the country."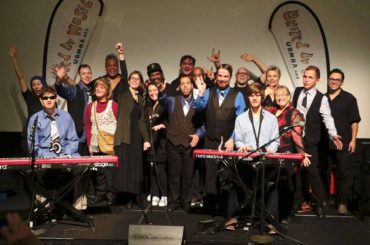 Partnerships are an important part of the UBMNA program. Hammerman and Gresham collaborate with TACID in Tacoma, Centrum in Port Angeles and the Disability Resources for Students Center at University of Washington Tacoma.
Vocalist Jessica Raz of Eugene, Oregon, was UBMNA's very first artist. This summer, she attended workshops at Centrum's Acoustic Blues Festival on a UBMNA scholarship.
"I'm so honored to be their first artist. What I get from United by Music is a place of belonging," Raz says. "This world can be cruel and ugly but because of United by Music, we now have friends. I have lifelong friends and I love each person for who they are as human beings."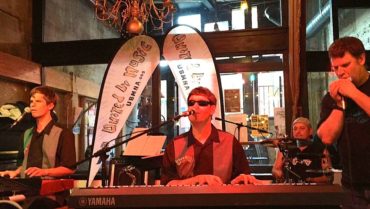 In 2016, UBMNA artists were on the road a lot. In June, they travelled to the Netherlands to help celebrate the 10th anniversary of United By Music.
"It was a total musical immersion," Hammerman says with a smile. "There were musicians from four countries and we all lived together in a kind of Olympic village. We learned each other's languages and rehearsed and played together. We performed six sold-out shows and we were treated like rock stars."
"That was one of the greatest experience of my life," Bowen says of the trip. "It was immensely rewarding."
Keyboard player and vocalist Nick Baker agrees. He has been part of the group for three years.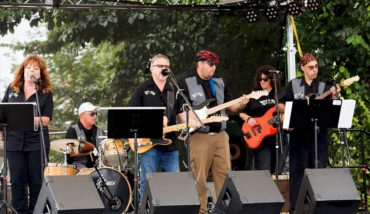 "I gotta tell 'ya, being part of this organization and working with these artists and mentors has really been a pleasure," Baker says. "I've enjoyed it immensely and going to the Netherlands this year was a complete blessing."
Closer to home, UBMNA artists have been making the rounds in the Northwest.
In 2016, they performed at the Bite of Oregon and the Rose City Blues Festival in Portland and at the Taste of Snohomish. They also did shows at Jazz Alley and Highway 99 blues club in Seattle and at Jazzbones, B Sharp coffee house and Anthem coffee house in Tacoma.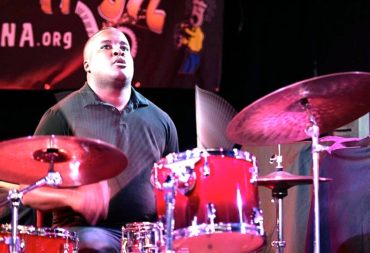 The Anthem show was a collaboration with UW Tacoma in celebration of Disability Awareness Month.
"This was the second time we've participated in that event and (last) year, one of our artists — Alexandria Reynolds, who we met at the 2015 show — performed with us," Hammerman says.
Reynolds is a computer science student at UW doing "lots of programing and game development." As with the other UBMNA artists, music is a big part of her life.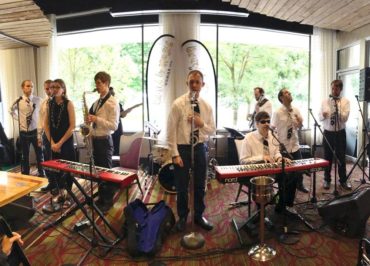 "I've known that music was my 'thing' ever since I could talk," she says. "United by Music is such an amazing organization — it's really making my dream come true."
UBMNA also gives house concerts at the Wurlitzer Manor in Gig Harbor and often appears at Rotary and other service-group meetings to spread the word about the organization.
For the past four years, UBMNA has performed at the prestigious Waterfront Blues Festival in Portland. That festival draws upwards of 500,000 music fans to Portland's riverside park over the Fourth of July weekend and raises more than a $1 million for the Oregon Food Bank Network.
During the festival, UBMNA also hosts a daily Blues Brunch showcase at the nearby Hotel Rose. The Blues Brunches earned the group a 2016 Muddy Award from Oregon's Cascade Blues Association.
"We were nominated in two categories, Performance of the Year for our Waterfront show and Northwest Event of the Year for our Blues Brunches," Hammerman says. "We were absolutely thrilled to win the trophy in the event category."
As 2016 came to a close, United by Music artists travelled to Saint Louis, Missouri, for performances at the annual meeting of the National Advocacy for Disability Rights and also at the National Blues Museum.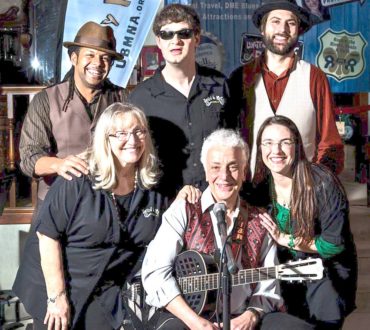 At press time, Hammerman and Gresham will took artists to Memphis, Tennessee, in February for a showcase at the National Blues Foundation's International Blues Competition. More than 400 bands were expected to compete in several categories over the three-day event. UBMNA planned to play right after the semifinals and at several blues clubs.
"And of course we'll be telling our story and talking about all the opportunities for inclusion and how music is a link to everything," Hammerman said prior to the trip.
As the organization begins its fifth performance season in North America, Hammerman and Gresham plan to do more outreach on this side of the Tacoma Narrows Bridge and look forward to adding additional West Sound musicians to their lineup.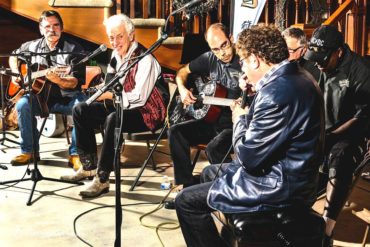 "We do formal auditions about twice a year but we do informal auditions in people's homes just about any time," Hammerman says. "Meeting people in their own homes is often just as productive as formal auditions because it gives us an opportunity to really talk about the program and get to know each other."
And, as always, networking and fundraising will be a big part of their 2017 agenda.
"As we move into our fifth year, one of our key focuses will be on getting financial support. We'll be doing some traditional fundraising and especially looking for sustained giving opportunities and maybe even some crowdsourcing," Hammerman says. "Every dollar makes a big difference and people who can make a monthly financial commitment are very important to us. It doesn't take a lot of money to do a lot of good — and to change a lot of lives for the better."