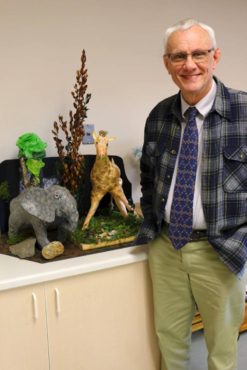 As Martha & Mary's chaplain, Ernie McCluskey's main role is to perform church services and provide spiritual counseling for residents, patients, families and staff. But McCluskey does much more than that. An artist who has exhibited his work, he also coordinates the Art & You program, which immerses residents and patients in art projects and experiences.
"He has touched so many lives in his many years of service to Martha & Mary. His love of art and desire to minister to our residents and patients via this pathway both inspires and heals," says Communications and Outreach Manager Jennifer Bailey.
McCluskey has a master of divinity degree from Fuller Theological Seminary and a master's of fine art from the University of Washington, where after graduation he taught beginning sculpture for a quarter.
"I have been an artist since childhood. That is a gift my parents gave me," he says.
He has exhibited and sold some of his sculptures, and currently is focusing on figure drawing and painting with pastels from artists' models.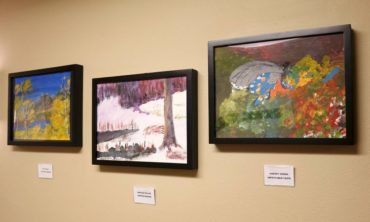 His passion for art and art therapy shows in his work to comfort residents and patients and assist them to express themselves creatively — especially those who can no longer communicate verbally. The program provides activities centered around various tactile mediums, such as mosaics, polymer clay and papier-mâché. There are also short teaching modules on art topics as well as guest artists and field trips.
In addition to the expressive art program, he leads the resident men's wood-shop, where "the guys" can get together in their "man cave" and make things like birdhouses, wooden toys and walking sticks.
McCluskey worked with the Seattle-based Antioch University to set up Martha & Mary as a site for pre-intern practicum fieldwork for graduate art therapy students. Some have been able to complete their internship in Poulsbo — especially helpful for students who live in the Kitsap area.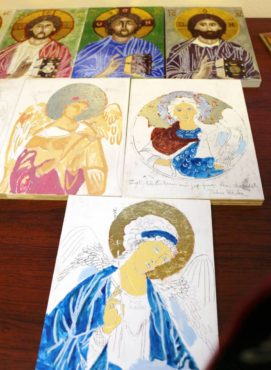 To better understand expressive arts therapies, McCluskey self-studied the topic, and became fascinated by the psychology aspect. He sees the arts program as part of spiritual care.
"Chaplaincy in the setting I am in is seen by the church as a specialized ministry, thus I am, in a sense, a spiritual clinician," he says. "Professionals with an expressive arts therapies certification are trained to be mental health clinicians who use creativity as a tool. I also use creativity as a tool in both my preaching and with hands-on art with residents."
For more information about Martha & Mary, go to www.marthaandmary.org.
Why Get Involved
I got involved with expressive arts therapies here because I am fascinated by the positive effects that can come about in the life of one of our residents when a certified art therapist works with them. It has already been proven to help with bringing about a sense of wellness and the ability to communicate when words fail, such as in a deep loss or traumatic experience.
Why is the Work Important
It's important because it offers another tool to help those in need. And in some cases, some of the meds necessary for a resident can be eliminated with the uses of expressive art therapies by a trained clinician.
Best Part Of The Job
Basically everything. My role as a chaplain and spiritual care provider is a midlife vocational change, and I love it, especially working with seniors. Anyone who is older than ourselves still has a lot to teach us. So we need to listen. That's wisdom.
Biggest Challenge
Keeping up with everything. It's a very large job, and I could not do what I do without the assistance of volunteers who generously share their time and talents to enhance our spiritual care program.
Best Compliment on the Job
"Thank you." It's the seemingly small things that can be big and meaningful.
Things I Can't Live Without
Again, volunteers.
Best Way to Relax
Taking time for camping in a wooded area. Reading books on art, art history and also theology.
Hobbies Outside of Work
Gardening and getting my hands in the soil, woodworking, and, of course, art.