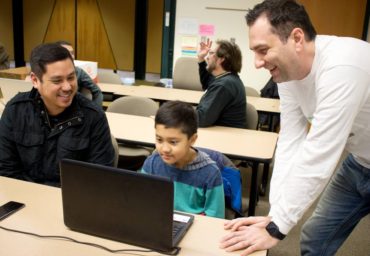 Josh Rosenberg is only in sixth grade, but he's already decided on his dream job: He wants to work for Pixar, creating animations or effects for films like Toy Story. Which is why every chance he gets, the Hyla Middle School student spends his free time learning programming and animation.
"I've liked computer-related stuff for a long time and I'm always interested in how things like video games work," he says.
On many Saturdays, Josh can be found working on his projects — or helping other youngsters — on the Poulsbo campus of Western Washington University. Along with other kids as young as 7 — and their parents — he's building up his coding skills at a West Sound CoderDojo workshop.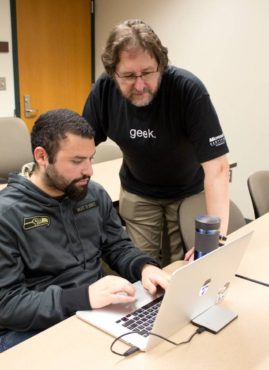 Students' projects have ranged from coding for the popular Minecraft game and editing video to animating shorts and programming websites. Unlike most similar activities outside of the school classroom, CoderDojo doesn't have a teacher-student model, nor does it offer a set curriculum.
Instead, the free, volunteer-run sessions are self-directed. This means the young coders are motivated by their own interest — and they work in a collaborative environment. They can choose the programming language they want to learn and the projects they want to work on, at their own pace. Their more advanced peers like Josh can help, and adult mentors can guide them in the right direction.
"I'm there to answer questions when kids can't get the answer or a peer can't answer — I'm there to remove road blocks and if they need help getting unstuck," says Tim Duffey, a Bremerton resident who's been volunteering for many of the sessions.
Not all youth and parents like the student-directed approach, and some drop out. But for Josh's mother, Beckey Anderson, it's a major appeal.
"I like the opportunity (for Josh) to learn a new language in an environment that's peer-motivated instead of a top-down learning model," she says. "The way it's structured, so kids can learn from and mentor each other, is a great way to run it."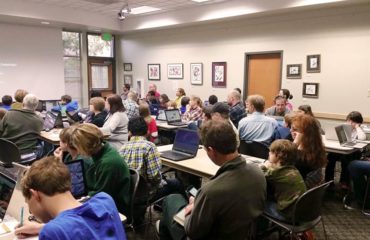 Kids don't need to have any coding experience to participate, though many have at least an understanding of the concept. They're encouraged to not only help each other but also showcase their work and even lead a workshop or project.
A community-led initiative that locally started out on Bainbridge Island, West Sound CoderDojo is part of a worldwide movement. Launched by an exceptionally talented 18-year-old computer geek in Ireland in 2011, the CoderDojo concept has spread to 65 countries and more than 1,100 clubs.
Washington state has about half-dozen clubs, with the largest, in Seattle, accommodating as many as a hundred kids, working in different rooms based on level and interest. The second-largest, West Sound CoderDojo sees 15-20 kids per session, on average. Many become regulars.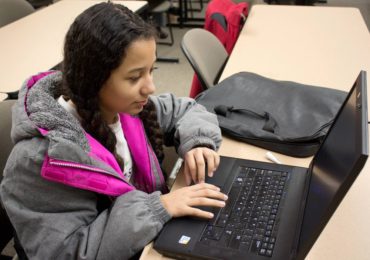 Since its May 2015 launch, West Sound CoderDojo has taught about 2,000 kids and their parents to code. But, as WSCD co-founder Doña Keating points out, the CoderDojo model is not just about programming.
She considers coding a second language that everyone should speak in the 21st-century innovation economy. Still, Keating says the problem-solving and critical thinking that the kids learn in this collaborative environment are skills they'll need in any field, not just computer science.
Her daughter, Merrill, is a good example. A seventh-grader, Merrill has been coding at home since kindergarten, and in a school setting since first grade. At CoderDojo, she's worked on various coding languages and regularly mentors students and parents.
"Being able to stand in front of a group and present or speak builds my confidence and leadership skills, and I get better at it each time," she says.
She doesn't think she'll pursue a career as a programmer, however.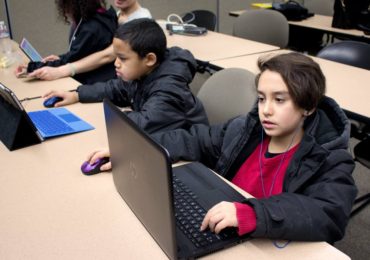 "But I definitely think in the future we will be using coding in our everyday lives in a way that makes the knowledge unavoidable and necessary," she says.
Josh Rosenberg, who's been encouraging his friends to attend too, agrees. He thinks that not only coding will be a big part of his peers' lives but this is also the time to learn it.
"It's something that is very important in my generation's lives," he says. "It's super important to learn it while you're younger and your brain is fresher — and get used to how coding works."
Growing Pains
CoderDojo clubs are not branches — they operate independently, some under the auspices of a nonprofit or as a library program. A "champion" in the community leads each dojo and can tap into various resources such as tutorials or registration platforms. It's up to each dojo to find a location, community partners and volunteers.
Keating launched WSCD with her husband, Charles, as an initiative of West Sound Technology Association. As parents and leaders in technology, they knew that kids have limited opportunities to learn programming. Nationwide, less than 25 percent of high schools offer computer science. The couple wanted to make coding more accessible, as well as encourage kids to learn at a younger age.
"Because there wasn't anything like this in the region, the interest was almost immediate," she says. "Once we had a place to meet with reliable WiFi, the momentum somewhat took care of itself."
But not without their constant work to find partners and expand outreach efforts. Even a community-led effort has expenses, such as space rental and marketing. Thanks to WWU, one barrier — rental fees — was removed.
"Without WWU, it's likely we would have fizzled out by now since the cost of renting space — so that an all-volunteer initiative can provide a free offering — is expensive and prohibitive," Keating says.
Other challenges, however, remain. Including outreach to local schools, most of which use a special platform for flyer distribution that is too cost-prohibitive for a group with no source of funding.
The biggest challenge, according to Charles Keating, is "getting people to not just think of this as a traveling show that we bring to them or the occasional one-off event." "It takes a lot to get together the pieces, but then the community — parents and the students — they have to help the dojo keep going," he says.
The challenge is universal, as they found out last fall at DojoCon, the annual CoderDojo conference, hosted in Ireland. The entire Keating family traveled to the Dublin area for the event, where Doña was a presenter. Comparing notes with other dojo champions, they learned that getting volunteers to step up and inspiring community and business leaders as well as stakeholders into action were shared experiences.
"We can want an innovative technology and more talent, but it takes action, agility, the willingness to leap and move quickly vs. thinking every 'i' needs to be dotted before we can execute," Doña says.
Filling a Niche
For those who do think programming may be a good career choice, CoderDojo is a great place to explore the options, Duffey says. A software developer for Redfin (a Seattle technology-based real estate company), Duffey has worked in the industry for a decade. He says that growing up, there wasn't much awareness in school about the world of software development.
"I learned about technology by trial and error," he says. "Getting parents and kids into these events builds awareness and word of mouth to get other kids excited."
He says that some of the problems participants learn use the same logic that can be applied in real-world software-development scenarios. And the demand for these types of skills is high. Washington state ranks at the top in the United States for the number of jobs in STEM (science, technology, engineering and math) fields. At the same time, the state has an estimated 45,000 unfilled STEM openings — a number that is still growing.
Washington state imports its talent for the large technology economic engine in the Seattle area, Charles Keating notes. Yet competition for this workforce is stiff as other areas are also seeing an increased need for homegrown talent.
"The challenge of sustainability here is that we have to know what we want and go for it, not just expect the schools to catch up," he says. "Every library, every school, even the senior centers, could have something like a dojo."
Spreading the Wings
That belief is perhaps one of the drivers behind the Keatings' effort to help launch new CoderDojos in West Sound and beyond. WSCD is a CoderDojo licensed regional group, and the Keatings want to help other communities get their own clubs off the ground.
The West Sound Technology Association, which Doña Keating co-founded in 2000, folded at the end of 2016, following the resignation of Charles as president and Bill Bandrowski as treasurer. As a result, WSTA transitioned into operating as West Sound CoderDojo, with the hope that the community will embrace the movement and help it spread its wings.
Currently, there's interest in North Mason (with the Port of Allyn being encouraged to take the lead), and the couple hopes that Bremerton and Olympic Peninsula could be next.
There are also discussions about a statewide dojo, which would help raise both awareness and funding for a broader, more coordinated effort. A statewide organization "puts us on the map in a way which shows we're taking nontraditional but coordinated steps to create and develop talent," Doña says.
From tech hubs like Seattle, to rural villages in Africa, the CoderDojo movement has been embraced equally. Here in West Sound, one techy family hopes to change the cultural habit of people, no matter their age, from being simply consumers — and instead becoming active contributors who both "plant seeds to grow and partake."
Inspiring action, of course, is not easy. But Doña Keating is not one to give up easily.
"My takeaway (from the trip to Ireland) was that it didn't have to be like Seattle CoderDojo, with hundreds of kids a week, in order for a dojo to be a success. So many other dojos around the world were working with 10-20 kids and their parents, and making an impact in their communities," she says.
"But I'd also like to see this region grab the initiative by the horns and thrive," she adds. "Collaborating across regions is a given aspect of economic vitality, but there's no reason we can't become a viable micro-hub in our own right. CoderDojos, given their inclusive and accessible nature, are a no-brainer as one of the ways to achieve that objective."