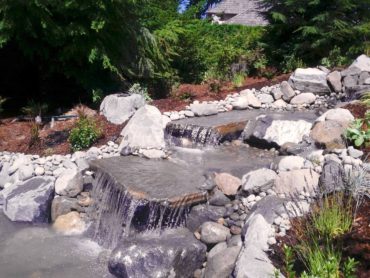 In marking 70 years in business in 2016, Morrison Gravel is an example of a company that has evolved adroitly with the needs of Kitsap County. Through the years, it has diversified from a gravel pit to a full-service gardenscape supplier.
The Morrison family moved to Port Orchard from Idaho in 1944. When World War II ended, Wilbert Morrison and his son, Donald, were laid off from the shipyard. They bought a 1-acre gravel pit in the spot where the business is today. At the time, gravel was shoveled by hand onto a conveyer. The father and son also ran coal and firewood delivery with contracts with the school district.
When an opportunity to buy more property adjacent to the gravel pit came around, they bought it and closed the fuel business. Morrison Gravel gradually expanded to its current 96-acre site.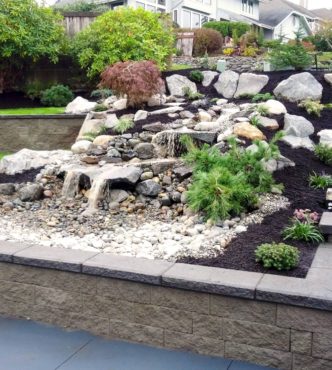 Ken Morrison, now third-generation owner, says he was "born into the gravel business" and grew up playing in sand piles. He chuckles when he reminisces of his first paycheck, earned at age 15 while making $1.25 an hour. At 17, he had his combination license, today's equivalent of a commercial drivers license, and delivered gravel in a tandem axle truck "perhaps a bit too young," he surmises.
When asked if other boys his age were jealous of the fact that he was operating heavy equipment and making "big money," he laughs and modestly says, "I suppose."
By 1980, Ken Morrison had been promoted to manager, and when his father retired in 1991, he purchased the corporation from him. The company leased more land for gravel production, added trucks and drivers and for a time, washed gravel out by the Bremerton airport.
By 2000, Morrison decided to get out of the gravel business and closed the three operating pits all at the same time.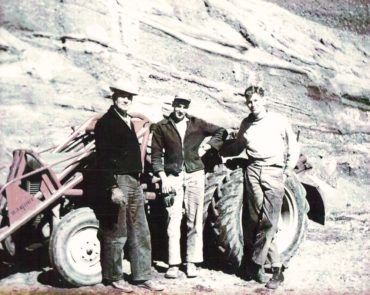 "There was not enough quality gravel anymore and I was losing interest in that aspect of the business," he says.
This was when Morrison began to expand to landscaping supplies. The timing of this business diversification was good. Morrison Gravel transitioned into what he calls "the rock biz," as residential landscapes with beautiful, quality rock became more commonplace in Kitsap County.
"More people want to have their landscape match the quality of their home building and now professional landscapers are our primary business," he says.
When Morrison Gravel advertises, it uses photographs shared by local landscapers of actual garden installations that creatively use the stone purchased from the company.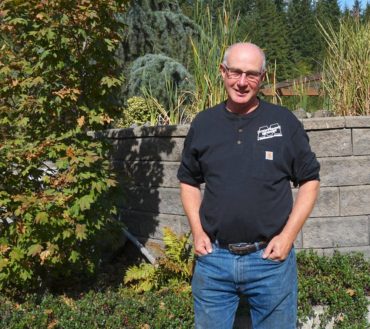 Since landscapers and homeowners like the convenience of being able to buy a wide range of gardenscape materials in one place, Morrison Gravel sells a variety of soil, bark and compost products as well as stacking stone and specialty landscape rock. Even filter fabrics, weed barriers and pond liners with the mainstay of crushed rock.
"We sell a large volume of topsoil every year, so we take the quality very seriously," Morrison says.
All topsoils are kept covered onsite and lab tested each spring to make sure they will provide for healthy gardens.
"About 12 years ago, we started carrying stacking stone and interlocking paver systems, only carrying the higher- quality lines that aren't sold in box stores. People come to us when they want unique flagstone or specialty stone," Morrison says.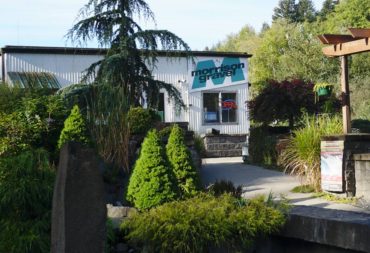 Homeowners from Kitsap and Pierce counties appreciate the products as well as the customer service from Ken, wife Charlene and their 16 employees, naming Morrison Gravel "Best Rockery" in the WestSound Magazine readers poll for five years. Steeped in a company that has been around since 1946, manager Jessica Kelley jokingly refers to herself as a "short-timer" with just 16 years under her belt.
Morrison Gravel is serious about its selection of specialty stones and takes its own trucks out of state at least once a week into places like Eastern Washington, Canada, Idaho and Montana. Morrison travels the country to find interesting rock, such as the popular and elegant bluestone from Pennsylvania. Some limestone, flagstone and beach cobbles come from abroad, imported into New Jersey by ship and then reaching Washington via railcar.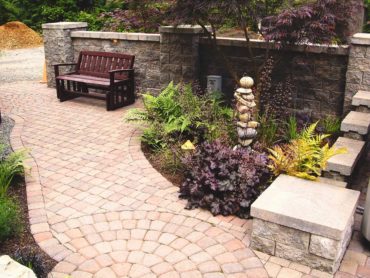 It's clear that Morrison enjoys broadening the offerings of rock and adding new products to the inventory.
"We are one of only two businesses in Western Washington that sell Cascade granite," he says.
The selection of round rock and boulders is a source of pride for the business, as well.
"We're not a fancy facility and won't ever be," Morrison says. "But we have the best selection and quality around — that's what matters."
It's a philosophy that has worked for his family and for Kitsap customers for 70 years.