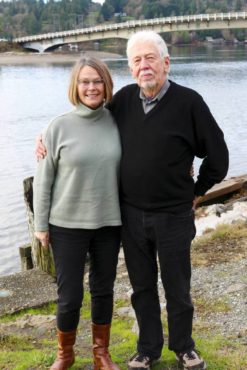 Phil and Kathy Bauer are well-known around the Key Peninsula for their extensive contributions to several organizations. Phil has contributed countless hours to the Key Peninsula Civic Center, among others. Kathy is the co-founder of Two Waters Arts Alliance, a local organization that is now 15 years strong.
A former Army pilot who served seven years on active duty and 16 years in the reserves, Phil Bauer retired from a 32-year career as a commercial airline pilot. He became involved with the KP Civic Center more than 17 years ago.
"Nearing retirement, I was looking for something to do," he says. "The Civic Center was close and looked very interesting."
The nonprofit organization, located in a historic building that was once the local high school, provides community programs such as a Skate Night for kids and an annual livable community fair, as well as public amenities such as a tennis court, a playground and a picnic shelter. The building is also home to several other nonprofits, including the Key Peninsula Museum, and serves as a meeting venue for groups such as the Boy Scouts and as an events venue for the public.
The civic center has been a hub for the local community for decades, and its operations are funded entirely through private grants, donations and program/user fees. The local community newspaper, Key Peninsula News, operates independently under the KPCCA umbrella.
In addition to serving as president for the Key Peninsula Civic Center Association for more than four years (including as co-president this year), Phil Bauer has been involved with many projects and initiatives at the center. He's also volunteered with the Key Peninsula Fair Association for nine years and Two Waters Arts Alliance for four.
Kathy, who is semiretired (she's a photographer whose previos career included banking, retail and flight attendant), has been instrumental in the success of Two Waters Arts Alliance. She started the nonprofit in 2001 with a friend when the two realized the local artists needed to organize — another organization needed artist mentors for local kids but didn't have a way of communicating with the arts community.
"We met in living rooms for several weeks before calling our first official meeting at the Key Peninsula Middle School library," Kathy says. "Fifteen years and thousands of volunteer hours later, TWAA is thriving with successful Artists in Schools programing, art exhibits and shows, working opportunities for artists, a well attended annual art walk and performing arts programs both in schools and in public venues."
Kathy's roles through the years have included president, vice president and coordinator of the highly successful Spring Fling fundraiser. She retired from the organization in 2015 but remains involved as a volunteer consultant to the board. Her daughter, Taylor Reed, has also been involved with TWAA.
"My work with TWAA has proven to be the most fulfilling," Kathy says.
Both Phil and Kathy have been nominated several times for Citizen of the Year, an honor presented by the Key Peninsula Lions Club, and Phil received the award in 2006.
To learn more about Two Waters Arts Alliance, go to www.twowaters.info. For information about the Key Peninsula Civic Center, go to www.kpciviccenter.org.
Why Get Involved
Kathy: I saw a great need for an arts organization on the Key Peninsula. The arts are integral to the well-being of any neighborhood, or society, for that matter. Because the peninsula is geographically isolated and socio-economically diverse, there may be many children and adults who might never have experienced the arts in ways that a local arts organization can make possible.
Phil: I feel we all have an obligation as a community member to help people less fortunate than ourselves.
Best Part of the 'Job'
Kathy: The best part of this experience for me is seeing adults and children participate in and enjoy quality art experiences without leaving the peninsula. One specific moment I will never forget is when TWAA brought the Tacoma Youth Symphony to our three elementary schools to perform for the kids. Watching our small children look up to these young professionals dressed in black and white, playing their instruments so beautifully, brought tears to more than one eye in the group. Our kids were mesmerized, saw possibilities for themselves and learned concert etiquette at the same time.
Phil: The friendships established with people in our community.
Biggest Challenge
Kathy: I think that with most nonprofit volunteer organizations the biggest challenge is finding enough willing volunteers and sometimes staff to follow through on all of the wonderful ideas that we and our community would like to see. Funding can also be a challenge, but we have been very fortunate to have a supportive community.
Phil: Keeping our community center solvent. We get no operational funding from the county, state or federal government.
Best Compliment 'On The Job'
Kathy: TWAA was awarded the Margaret K . Williams Arts Award for Support of the Arts in Pierce County in 2004, just three years into the life of TWAA. Community support remains a great and very much appreciated compliment to TWAA.
Things I Can't Live Without
Kathy: The arts! Family and friends.
Phil: Kathy (my wife and friend), our children, grandchildren and friends.
Ways to Relax
Kathy: Taking photos of nature. Working on jigsaw puzzles from my photos.
Phil: Coffee together in the morning while we plan our day and future trips.
Hobbies Outside of Work
Kathy: I absolutely love to spend time with my family and friends and travel, explore photography, work in my gardens; and read, read, read!
PhiI: I make wine barrel stuff (chairs, small tables, trays, candle holders, etc.)