Research and education aren't the only things you'll find at The Salmon Center in Belfair — there's also art!
The beautiful, etched-glass double door (see gallery at bottom) was the creation of local artist Randy Calm of Phoenix Design South. Calm, who specializes in custom, architectural etched glass, donated more than 50 hours of his time as well as materials to design, make and install the glass. The two panels depict the salmon's life cycle: eggs, fry, smolt, adults.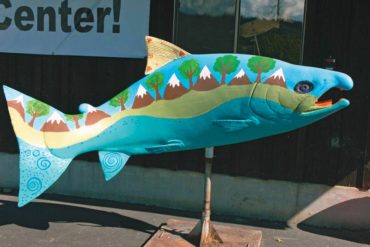 The fish model above was originally donated by artist Amy Burnett to the center more than a decade ago. In 2015, Burnett donated her time, supplies and studio space for an outreach effort involving the community — guiding volunteers in repainting the weathered piece, which was then renamed "Soul Salmon Daughter of Neptune" in a contest. Legend says the Soul Salmon Woman guided salmon to spawning waters.
The model on the left was painted in a contest by third-graders from Sand Hill Elementary. Third-graders from Belfair Elementary painted the opposite side (not pictured).