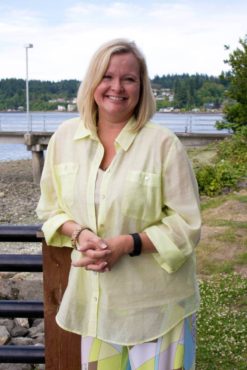 The Port Orchard Jingle Bell Run is a festive 5K event that raises funds and awareness for America's top cause of disability: arthritis. Participants tie jingle bells to their shoelaces and wear festive attire as they stroll or run through the streets of downtown Port Orchard. It is one of more than 100 Jingle Bell events around the country benefitting the Arthritis Foundation.
Sheila Cline's daughter Kinsey was diagnosed with polyarticular juvenile idiopathic arthritis in 2008. Cline didn't know at the time that children could get arthritis.
"Like any parent of a child that is hurting, I wanted to do what I could to make things better," she says. "Kinsey's doctor told us about the Seattle Jingle Bell Run and I thought, that's it! That's what I can do to help."
With family and friends, she formed a team and started raising money. They raised $1,235 that year and had a blast.
"We had so much fun that we thought we should have something like this in Port Orchard," Cline says.
She approached the Arthritis Foundation about starting an event in this area. But they weren't able to organize it in time for 2010 so the Cline team participated in the Seattle event again and raised $3,788. They spent all of 2010 and 2011 preparing and marketing the Port Orchard event.
"The community rallied around the idea and allowed us to plan the event the same day as Chimes and Lights," Cline says. "The Arthritis Foundation told us to be prepared for around 500 participants. We had 1,244 and raised $47,342. I truly believe it is only due to the hard work of my friends and the support of the community that made that first year such a success."
To date, the local efforts have raised a total of $293,789 for the foundation.
In 2014, Cline was offered a job as development manager with the Arthritis Foundation. Her role includes organizing the Port Orchard Jingle Bell Run and the May Walk to Cure Arthritis — Puget Sound. She also helps with other events.
She is a member of Port Orchard Bay Street Association, the Port Orchard Chamber of Commerce and the Dr. Maurice S. Mathis Guild, as well as a supporter of the South Kitsap Helpline and Kitsap Humane Society.
"I truly believe it is our duty in life to give back. I was raised to help those less fortunate than us. To lend a hand whenever needed to whomever needed it," Cline says. "To give — not necessarily monetarily — but freely and without expecting anything in return. As Sir Winston Churchill said, 'We make a living by what we get, we make a life by what we give.'"
What Makes it Worth It
I know that what I am doing is not only raising awareness but helping raise funds for research. My daughter is now 16 and playing lacrosse. This is only due to the medications she is on and the wonderful doctors at Seattle Children's Hospital.
Best Part of the Job
I love the day of the Jingle Bell event! There's so much that goes into the planning. When everyone takes off running and walking, that's the best part. To see those affected with arthritis cross the finish line — that's the best part too.
Biggest Challenge
Not being able to reach as many people as I'd like. Everyone needs to know that arthritis is not just an "older person" disease. People need to understand that there are more than 300,000 children who have been diagnosed. Two-thirds of the people diagnosed with arthritis are under the age of 65.
Arthritis costs the economy more than $156 billion annually in lost wages and medical expenses and the loss of 172 million work days.
Best Compliment on the Job
After the first Jingle Bell Run in 2011, we received the WOW Award from the Kitsap Peninsula Visitor & Convention Bureau. (Now called Visit Kitsap.)
Things I can't Live Without
Pizza and chocolate!
Best Way to Relax
Relax? Who has time for that?
Hobbies Outside of Work
I love where I live. The Pacific Northwest has so much to offer. I like to enjoy the beauty around us by hiking, kayaking and just being outside.