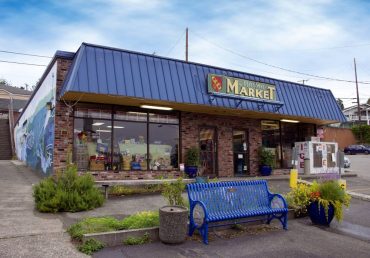 When Seattle transplants Andrea and Jonathon Rowe opened the tiny Marina Market on the pier in Poulsbo in 1998, they didn't imagine that 18 years later they'd be running a popular, international, boutique grocery store selling everything from exotic craft beers to wooden Dutch clogs and French sardines. Nor that demand would be so great, they would need to move out of the marina and into a larger space on Poulsbo's main drag just two years later.
And they certainly didn't foresee opening a Twitter account for their popular Licorice Shrine.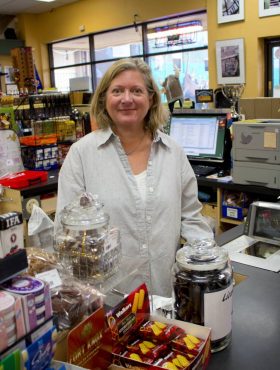 "We just keep growing," said Andrea Rowe during a tour of the store's aisles, pointing out shelves with tinned fish like herring, cod livers and fish balls; the small Italian gourmet section; and products from new areas like the Baltics, Eastern Europe and Poland.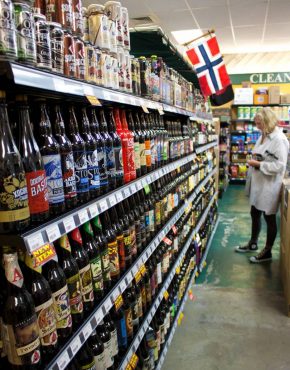 The store, which has a worldwide reputation for its Scandinavian grocery inventory, has gone global in response to customer demand. That's always been the philosophy of Marina Market.
"Jonathon trained as a chef and we both owned businesses before moving to Poulsbo," Rowe explained. "When we decided to move here, we asked local acquaintances what kind of business was needed. The downtown grocery store had closed a few years earlier and there was this space available at the end of the pier.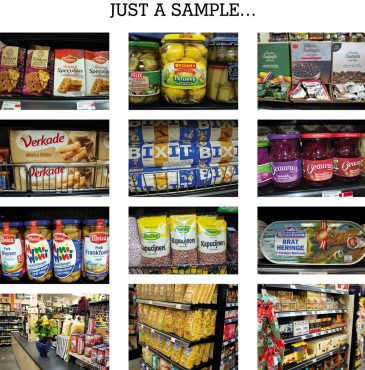 "I walked around downtown with fliers, asking people what kinds of items they'd want to see in a newly opened grocery store, and they wanted pickled herring, Norwegian chocolate and hardtack crackers. They also wanted German, Dutch and Indonesian items."
The market still makes inventory decisions by crowdsourcing. Its website boasts, "We pride ourselves on responding to customer requests, researching new products and sources and providing the best selection of import foods to our valued customers."
The store doesn't limit itself to groceries. When the local marine supply store went out of business, Marina Market began to carry boating and marine equipment.
"We gave that up when Longship Marine opened up down the street," Rowe said.
The store still carries a few shelves of teak cleaner, sealants, marine wax, tools and fishing supplies for visiting boaters who come into Poulsbo Marina and for the local live-aboard population. There are novelty items such as Scandinavian children's toys, bacon soap and wool hats knitted to look like Viking helmets. And the store's website features recipes made with products from the shop.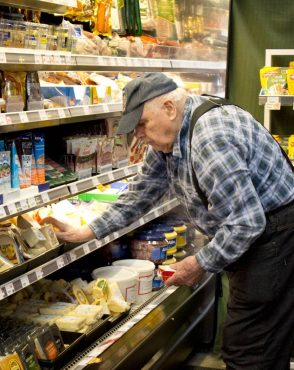 The market's customers are as diverse as its inventory. A Poulsbo expat couple currently living in France returns home annually to see friends and stock up on the uber thin Norwegian flatbread they can't find in Europe. Sabine Mahling, a Bainbridge Island resident from Hanover, Germany, does monthly shopping at the Marina Market.
"I find things here I can't find anywhere else," she said. "I come here to get my canned herring, licorice from Germany and sauces."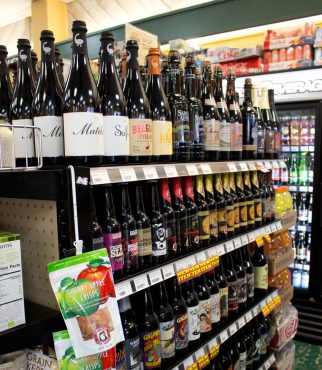 Pointing to the tiny red, black and yellow German flags on the store shelves, Mahling identified an impressive collection of German foodstuff. The entire shelved grocery inventory has explanatory flags to identify country of origin. The red-and-white Austrian flag is perched below the Rum Kokos Chocolates, the blue-and-yellow Ukrainian flag under the Ukrainian Fish Soup Mix and the Scandinavian yellow cross sits proudly beneath the Swedish Leksands Knackebrod.
"You need to know your international flags in this store," Rowe said with a laugh.
As the store has gained fame, it has gained fans. In 2009, it won Evening Magazine's Best of Western Washington Best Gourmet Grocery Store award and it regularly makes the list of nominees and top vote-getters.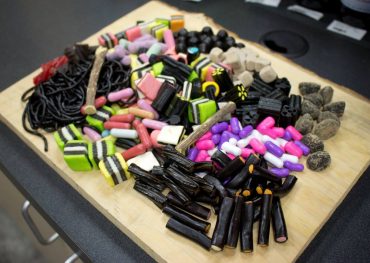 The most famous customer to date is Mario Batali, the celebrity chef, writer and restaurateur. "He called on the phone and ordered pickled herring from us for a while," Rowe said, shaking her head in disbelief.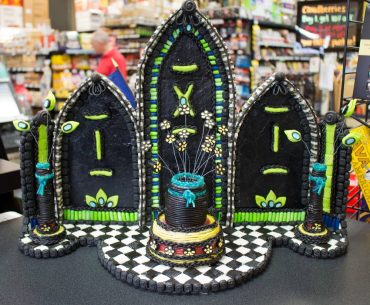 Jonathon Rowe's expertise is the beer. The market maintains a sizable inventory of craft and specialty local, national and international beers.
"We began carrying craft beer in 1998 when the store opened and microbrews were still in their infancy. Back then, we carried Bert Grant's beers, the earliest microbrew master in the country," he said.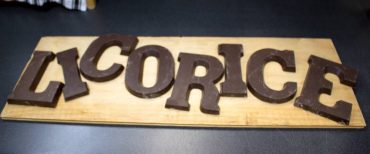 Today, Marina Market's always-changing beer inventory hovers at 1,100 varieties, including a new trio from Poulsbo's Sound Brewery called Mortal Kombat X, based on the popular video game. Jonathon is active in a group of regional beer geeks — distributors, friends and members of the West Sound Brewers Club who spawned most of the local Kitsap breweries. He's taken Cicerone classes — the sommelier of beer — to keep Andrea and the staff informed about details that beer aficionados want to know when making a purchase, including aroma, body and intensity of the brew.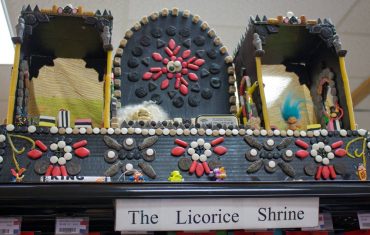 Occasionally, the store hosts beer tastings, charging a nominal fee to sample beers and ciders with paired food. Past tastings have included rabbit and veal prepared by local restaurants Sogno di Vino and the former Mor Mor Bistro.
The couple's son, Ari, was only 6 months old when his parents opened the market on the pier. He's grown up in the business and today runs the Marina Market's shipping department, handling orders and deliveries of everything from Belgian butter to preserved lemons from Morocco. About 25 percent of the store's business is generated from its online store, with most of the deliveries going to Seattle and out of state.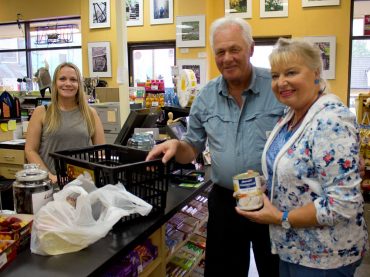 In addition to tourists, boaters and store fans living outside Poulsbo, the store has always been the downtown grocery shop for local residents and shopkeepers, who drop by for a carton of milk or to chat with Rowe. She currently serves as president of the Downtown Poulsbo Merchants Association and also served for six years on the board of Poulsbo's Fishline Foodbank, where she did a stint as president.
And about that Licorice Shrine, the inspiration for the store's Twitter handle, email address and Got Licorice blog? The store has always informally called its growing inventory of licorice a shrine. It carries over 550 types including salted, sweet, extremely hot, soft, hard, red, black, crunchy, fruity and salty international varieties.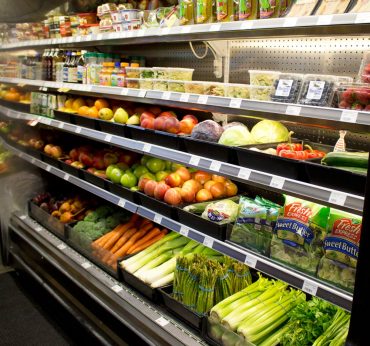 The licorice shelves are a United Nations of tiny flags, with customers coming from all over the world just to buy some. And it's not just the candy they stock. The market carries licorice-flavored syrup, pasta and shampoo as well.
Four years ago, Zoe Hyra, a valued employee, licorice expert and fan favorite at the store, decided the shrine needed to be brought to life. She crafted a monument atop the licorice shelves that greets everyone who walks through the door.
To pay homage to the Licorice Shrine, you can visit the Marina Market webpage and place an order from its vast inventory of groceries, beers, licorices and chocolates. You can check out its Facebook page with announcements about new products and the popular beer tastings. Or you can do what most fans do — wander into the store, give the monument its proper due and then get lost among the shelves of eclectic products and tiny international flags.