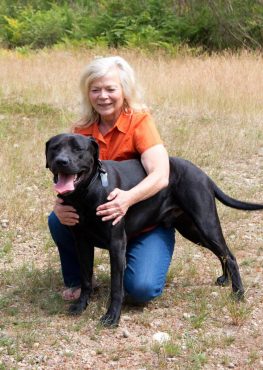 Hazel Bellinger started volunteering with the Humane Society of Mason County in August 2012 after retiring from a 35-year career with the Kitsap County 911 Center. Prior to that, she was a volunteer and then a board member at Kitsap Humane Society for 16 years. At KHS, her main responsibility as a volunteer was to provide foster care for over 300 homeless kittens and puppies. She also cared for several injured adult animals during their recuperation period and helped raise funds to support the shelter.
Bellinger joined HSMC after moving to Mason County and reading about HSMC's low-cost spay and neuter program. She realized the organization needs people to raise funds to keep the program as well as to build a much-needed animal shelter.
"Currently, if you find a stray on the road in Mason County, you'd better hope it's wearing a collar and ID or that it is micro-chipped, or the owner answers your ad for a 'found pet.' Otherwise, you can pretend you just didn't see it, or you can take it home with you," says Bellinger, whose role is the assistant coordinator of the spay and neuter program. "Not much of an alternative for people who care about animals."
In her role, Berringer initiated the partnership between HSMC and Northwest Spay Neuter Center in Tacoma in order to provide surgeries for some of the larger dogs. HSMC also works closely with Kitsap Humane Society for the majority of the surgeries and with Shelton Veterinary Hospital and any other veterinary clinic in the county who will honor the vouchers.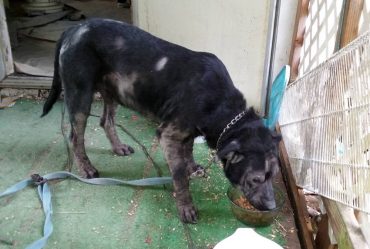 Berringer serves as foster "parent" for some of the many homeless cats and kittens who are abandoned in the area. She uses her contacts with other rescue groups (RED, PAWS, KHS, Adopt-A-Pet, Kitten Rescue) to help find them homes.
"I became involved in animal welfare because I like animals and I think they got a bum deal when they got stuck with us, humans. We don't really understand many of their behaviors, we don't see them as permanent members of our families, and when things don't 'work out,' they get dumped," she says. "Animals don't have choices, so I think they need as many advocates as possible."
The Humane Society of Mason County was founded in 1986 by a small band of volunteers. Throughout the years, the group did foster care for many animals and were able to find homes for them. Over time, the demand became too large for this small group and in 2004, they decided to focus all energy toward raising money to find land and build an animal shelter.
With a 501(c)3 nonprofit status in 2006, the Humane Society started to raise funds while also providing low-cost spay and neuter services for the pets in Mason County. In 2014, the organization was successful in obtaining a special use permit for animal care shelter on a property located on North Mason School Road in Belfair, next to the new high school.
The next phase will be site preparation and installation of utilities. A capital campaign will be launched to help fund construction.
"The need is great in Mason County, especially the North end," says President Lynn Soderlund. "Shelton has Adopt-A-Pet, which accepts only adoptable dogs, and Kitten Rescue, which is always full to capacity. We hope to provide a much needed service and make a difference in the lives of unwanted and abandoned animals."
Last year, HSMC provided 175 spay and neuter surgeries and is on track to help more than 200 animals this year. This will make a huge difference in the lives of many low-income families. All the funding comes from donations, events and collection jars in various businesses around the county. The main fundraising event is the annual dinner/auction at Alderbrook Resort and Spa, planned for May 13 in 2017. The second most popular event is Santa Paws, where pets (and their owners) can get a picture with Santa. This year, it will be at Scott McLendon's in Belfair on Nov. 19 and in the Port Orchard McLendon's on Nov. 20.
The organization is looking for new board directors, especially individuals with nonprofit and building experience. More volunteers and new members are also being recruited. For information go to www.humanesocietyofmasoncounty.com.
Why Do the Work
In my opinion, everyone who cares about animals should be doing what they can to alleviate the problem of homeless and unwanted animals. Donate your time, your money; spay and neuter your pets; talk to your friends and neighbors about the necessity of spay/neuter; and if you're in Mason County, consider helping to fund a central shelter for the unfortunate animals who, through no fault of their own, find themselves homeless, injured or without food, water and medical care.
If you're broke, think about whether or not you can really afford an animal before adopting one. Basic care, including food, shelter, flea prevention, spay/neuter, toys and a possible emergency trip to the vet are costly. If you can't afford to be a good pet parent, volunteer at your local shelter. You can walk dogs, bathe them, play with them, even foster a litter of pups or kittens.
Best Part of the 'Job'
The best part of my job is when I know I have helped someone make a good choice for their pet. This could be anything from recommending a good trainer to providing low-cost spay/neuter services, food or flea meds to a family temporarily without funds, or finding the perfect dog or cat for someone looking for a new best friend.
Biggest Challenge
The biggest challenge at the office is trying to explain to someone that just because they have managed to find homes for their litters of kittens or puppies, it is not OK to let them breed. They are adding to the overwhelming pet population. The "right thing to do" is to spay or neuter.
Best Compliment on the Job
I was at a dog park watching a very large, well behaved rottweiler playing on the beach with a group of other dogs and some children. She suddenly broke away from the group she was with and came tearing across the park, headed straight for me, with her owner running behind her and calling frantically. I don't think she had ever disobeyed before. She slid to a stop right in front of me and thrust her head into my hands to be petted. At about the same time, I heard what the now-breathless woman was calling her: Mariah. It was the fragile little pup that I had fostered for several months when she was tiny, many years earlier. That made me cry.
Things I Can't Live Without
I can't live without coffee, books, my dogs, cats, family and several very dear friends.
Best Way to Relax
I think a walk in the woods is the best way to relax, so I usually take my dog and go for a walk in the evening.