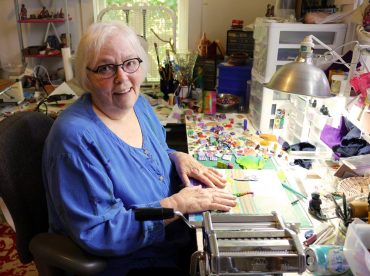 It's easy to get distracted when first encountering Susan Hyde's work. The Bremerton artist — who's quick to say she's really just a designer — has a signature way of creating an explosion of color in three dimensions. Your eyes may dart from one small piece of her work to the next, appreciating their vibrancy and bright combinations of the tiny bursts of color.
Her choice of medium is polymer clay. And while she now mostly makes jewelry and other small objects, her more rare works, which could be best described as three-dimensional paintings, are so intricate that you would be hard-pressed to dismiss them simply as "designs."
Although there's no shortage of colors when it comes to polymer clay, that's not enough for Hyde. She creates her own, both blended and solid.
"Most of what I do is intuitive," she says. "I took color theory (in college) but I don't think of it intellectually."
Versatile Medium
Polymer clay is actually not clay at all. Its main component is polymer polyvinyl chloride — and if that doesn't sound familiar, the acronym, PVC, will. In construction, PVC is appreciated for being inexpensive and durable. For artists, its attraction also comes from the malleability — hence the name, "clay" — as well as the texture and the versatility.
Its beginnings are traced back to a German dollmaker who was looking to alternatives to plastic in the late 1930s, when plastic was scarce because of the war. Still popular in Europe today, polymer clay began to catch on in the United States in the 1980s and '90s.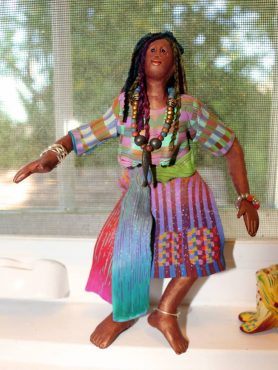 Hyde discovered polymer clay after she'd been selling Christmas ornaments she made from her own "baker's clay." It was the same kind of recipe from salt, flour and water that her mother used when Hyde was a child, and Hyde rediscovered when her own son was young, decades ago.
She started playing with polymer clay in the mid-1980s, just as the material was starting to attract interest in the United States.
"It was just a few people using it back then, and we all knew each other," she says.
The clay has to be conditioned to be malleable. In those early days, rolling pins often did the trick. Hands worked too. These days, the methods are slightly more "sophisticated" — Hyde's technology of choice is a pasta machine.
In her hands, this common kitchen appliance isn't just a way to condition the material, but also the perfect solution to color experimentation.
"It's all about playing with the clay to see what happens," she says.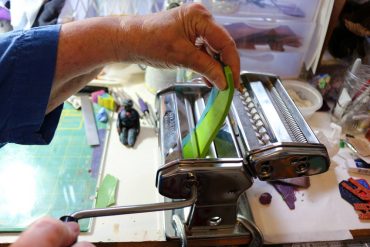 Growing a Following
Before moving to Bremerton 15 years ago, Hyde used an inheritance to quit her job and launch her own polymer clay business. Especially popular were her angel figurines, which she still makes but only around Christmas.
She did well and sold to galleries on both coasts as well as at various juried shows including The Best of Northwest. She taught classes at conventions and through guilds in California and Ohio, traveling there on weekends. But after seven years, she realized she wasn't making a living.
So Hyde, who has a degree in advertising design, took a part-time newspaper job and then landed full-time at the Seattle Times, selling advertising. It was a return to a career she knew — she'd done graphic design at other publications, only the tools of the trade were now computers instead of the linotype machine or wax.
Even after all these years since she was fully active in the polymer arts world, Hyde still has many fans. Many rave about her "fabric" technique, which was featured in a book (several other books also feature her work).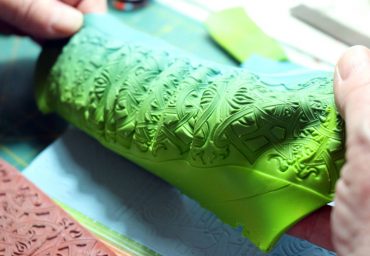 "I just can't get enough of Susan's amazing 'fabric.' It inspires me," one artist wrote on the Polymer Clay Daily website.
Hyde, too, has been inspired by other artists, and still enjoys getting new ideas at retreats.
"The polymer people are very open about sharing their techniques," she says.
Though she considers herself semiretired, Hyde can be found at her home studio almost daily. Sometimes, she says, the toughest part is "getting started on a path" — understandable, considering all those small scraps of polymer calling at her.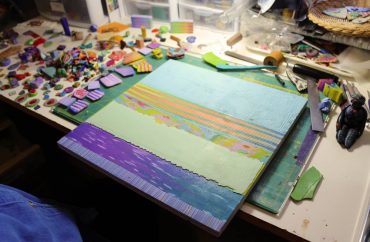 "You just have to get into a process sometimes, into the groove," she says. "Other times, you can make something fabulous right away."
When not in her studio, she may be found at Bremerton's Collective Visions Arts Gallery, where she's been serving as manager for two years. The gallery, in part, is responsible for getting her back into focusing her time on creating her designs.
After moving to Bremerton in 2001 (and commuting on the ferry for her Seattle Times job for four years), she became a regular visitor to the gallery for First Friday Art Walk.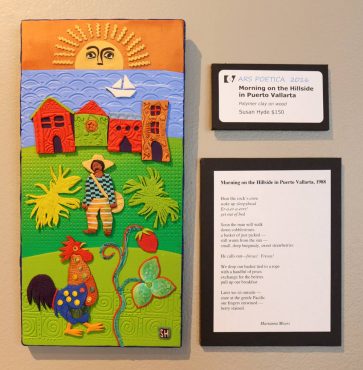 "My son said I should just join," she says.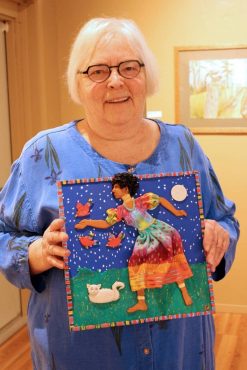 The gallery is now the main outlet for her work. Mostly, visitors will find her jewelry and "poof boxes," but sometimes her 3-D paintings are displayed as well. And in July, as part of the gallery's downtown Bremerton theme, Hyde will be working in two dimensions — she'll be drawing downtown street scenes that she'll use for cards.
Hyde began drawing and painting as a child, and she still does that occasionally. Using polymer clay, she says, is just like painting with solid color. Except she doesn't stop there, creating layers, adding glitter, embossing powders and so on.
Polymer clay can be made to look textured or shiny, even very close to real jewels. So like any artist, Hyde doesn't stop experimenting. (She's got the translucent effect in mind for the near future.)
Asked what keeps her creating, she says, "It's addictive… And I like to make people smile."