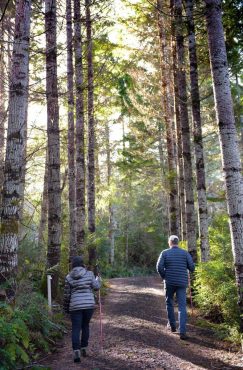 On a sunny day, the walk leading to Harmony Hill Retreat Center's Great Hall offers an expansive view of Hood Canal, framed by the Olympic Mountain range. Standing before that vista, it's easy to fill one's twin cups of humility and inspiration while at the retreat center.
Yet, Elaine Baker arrived at Harmony Hill, located in Union, when clouds shrouded the mountains. The Olympia resident recently got news her cancer had metastasized. Visiting at the suggestion of her oncologist and her psychologist, she brought her husband, Dave, with her.
"We arrived like so many others, feeling alone and dejected. But three days later, we left feeling supported and encouraged," she says. "It made all the difference in this cancer journey and has been a blessing in our marriage."
Recently, she visited Harmony Hill when the sun was shining. Whether gray skies or sun, Baker says she will always be inspired by her visits there.
Harmony Hill serves thousands of visitors annually through a variety of programs. Over the past three decades, the organization has evolved to meet emerging needs in wellness. Today, it specializes in three core areas, caring for those living with cancer, as well as those who seek a retreat away from their daily lives, and those who want to make healthy changes in their lifestyles.
About 1,500 guests ranging in age from their 20s to 80s visit "The Hill" every year. Most come from the Puget Sound area and as far as Oregon and California, but some visit from around the world. Harmony Hill offers everything from personal retreats to conferences. Most of all, it is known for its healing hospitality and nurturing staff, inspired by founder Gretchen Schodde.
The Beginning of a Dream
Schodde stands in the Great Hall holding a folded-over sheet of paper. She takes care to press and smooth the slightly bent page. It's a black-and-white photocopy of a 1950s-era snapshot taken during Christmas Eve in her childhood home.
In the picture, her grandfather, a Swiss immigrant and patriarch of her family, is carefully stepping through a festive living room full of smiling people; all eyes are trained on him. He holds several paper lunch sacks in his hands and is happily passing them out.
"My grandfather was a beautiful man," Schodde says. "Just like the grandfather character from 'Heidi,' he carved wood toys and absolutely loved Christmas. He filled brown paper sacks with an apple, an orange, a Snickers bar and Black Jack gum. Even for the grownups."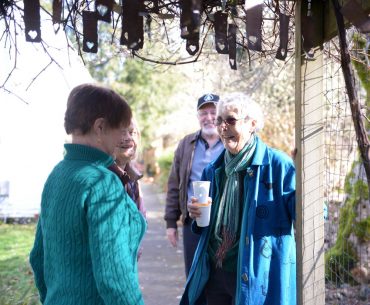 It was his love and care of Schodde's large, extended family that inspired her to pursue a career as a public health nurse. He died while she was in nursing school.
"I went on to graduate school with a mission in mind — of wellness, not just nursing," she says.
And, to pass along the inspired caring her grandfather blessed her and her family with over so many Christmas Eve celebrations.
Schodde began her work as a pioneer in wellness, bringing the nurse practitioner discipline to Washington state at a first-ever demonstration project in Darrington, a community so desperately in need of medical care that they posted a now-famous sign, "This town needs a doctor."
Later, a friend invited her on a trip to Europe, including a stop in Switzerland. The pull of meeting her grandfather's brother was compelling. She departed from her visit via an overnight train ride.
"When I look back, it was my first night of meditation," she says. "I was so filled with gratitude. I felt like I knew what I would do with my life."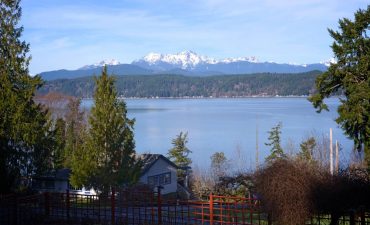 That was the beginning of her dream to create a wellness retreat, though it would take another decade to begin in earnest.
"During those years, I did many things, including social work, serving on university faculty, teaching and nursing. But I kept dwelling on this dream of recreational wellness." She even created a board game called "Winning at Wellness."
"The game was a big teacher, not necessarily a big seller," she says with a laugh.
Looking back, those experiences were all in preparation for her first visit to Harmony Hill.
Dream Comes Into Focus
In February 1985, Schodde spent a weekend at St. Andrews Episcopal Retreat Center in Union. Seeing a snowy Olympic Mountain range reflected in the still waters of Hood Canal took her back to Switzerland.
"I just knew I was supposed to be here," she says.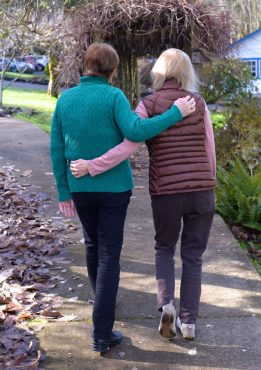 When she returned two months later, the retreat center director asked, "Why don't you stay?"
That invitation changed the course of her life. It also influenced the lives of thousands of people who visited Harmony Hill in need of the restorative power of recreational wellness.
Harmony Hill was the property adjacent to St. Andrews, also owned by the Episcopal Church. It started with a focus on drug and alcohol abuse prevention. The first board chairman was Andy Bell, a local leader and quadriplegic from an accident years before. Providing a way for him and others like him to participate in recreational wellness proved vital to the growth of Harmony Hill.
"The way people started showing up to help was just profound," she says, clearly still in awe of the first supporters of Harmony Hill.
Philanthropic Benefactors
Two of those people were Elmer and Kitty Nordstrom. They bought the land adjacent to St. Andrews and then, out of the blue, came for a visit.
"Elmer called me one morning and said, 'Kitty and I want to see it today,' and I could hardly believe it," Schodde says, lighting up with the memory. "On the tour, Elmer asked lots of questions. It was pretty obvious that I had a dream but not a business plan."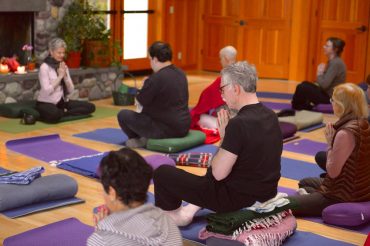 And he also wanted to ensure she had everything she needed for Harmony Hill. That included medical equipment and supplies. Since Kitty's father founded Swedish Medical Center, Elmer volunteered his truck and a shopping trip at the hospital.
"When I finally got the courage to drive Elmer Nordstrom's truck to Seattle, I was met at the loading dock by the CEO of Swedish," she says with a laugh.
That was the beginning of an incredible, pivotal relationship. The Nordstroms valued hard work and were dedicated philanthropists. Harmony Hill expanded its wellness retreats and Schodde's dream began taking shape.
A Game-Changer
In 1991, Schodde's mother got cancer.
"I kept thinking about how people prayed but there was no science of [holistic] healing," she says.
Her mother's recovery was considered miraculous.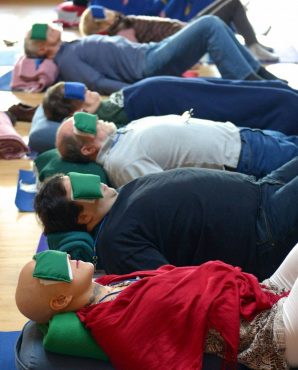 Then she caught Bill Moyer's PBS special on healing and the mind, and the last segment included a feature of the Commonweal Cancer Help Program founded by Dr. Rachel Naomi Remen and Michael Lerner, PhD. In 1993, Schodde underwent her first training from Remen and Lerner. She hosted her first retreat for cancer patients the following year.
Over the next decade, the retreats evolved from five-day to three-day encounters and other benefactors emerged, including the now-infamous FOBs (Friends of Barbara), led by Elaine Holland, whose fundraising efforts fueled a consistent stream of donations. Participants in the cancer wellness retreats were paired up with others from different economic and cultural backgrounds but bonded over the common experience of living with cancer.
Program Growth
In 2001, just after the terror attack of Sept. 11, Eric Blegen came aboard, providing much-appreciated administrative leadership and allowing Schodde to focus on programming in earnest.
"I was coming off an Olympic Mountain hike to hear the news of what just happened at the World Trade Center," he says. "With my training in environmental studies and our shared love of gardening, it was just a natural fit to work with Gretchen."
By 2004, wellness retreats began being offered at no cost to cancer survivors, and the center saw both a jump in attendance as well as financial support.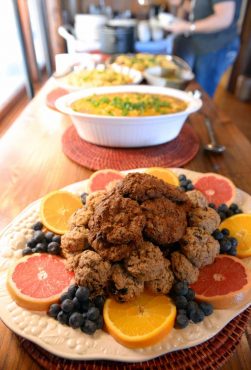 Harmony Hill also began serving as host for many corporate and community wellness retreats. Those dollars saw the organization through the recession. A matching grant from the Bill and Melinda Gates Foundation fueled further growth when many other nonprofits were closing their doors or cutting programs, wholesale.
"I came here during graduate school to serve as an assistant to Gretchen," Blegen says. "But I stayed because the world needs Harmony Hill and more places like them."
Focused on Cancer — Survivors and Caregivers
In 2014, responding to the growth of survivor-ship among cancer patients, The Commission on Cancer (CoC) established new guidelines for life with long-term recovery, called a survivor-ship care plan. By 2019, all cancer treatment centers are required to develop such plans for every patient concluding treatment.
"What was just a dream is now seen as a vital part of cancer care," Schodde says.
To help hospitals and health systems with this plan development, Harmony Hill added Pam Toal to the team as the program director. Toal, a former United Way executive, is a cancer survivor who benefited from Harmony Hill's healing retreats.
"I came here because I was told to go back to my old life after cancer treatment but I knew I couldn't," Toal says. "I wanted to make a new life. So, I let myself just sink into this place, to those around me at Harmony Hill during my retreat weekend. I found a way to not feel so alone and to figure it out."
As part of the cancer survivor-ship programs, Harmony Hill offers Healing Circles, an ongoing monthly workshop series. Also, understanding the issues of family caregivers and, specifically, children of parents with cancer, Harmony Hill adapts retreats for the benefit of everyone present. For professional caregivers, the retreat center offers acclaimed programs and support that are inspiring and restorative.
"The Latin root word for nursing is nurture and when they come here, they get to focus on just that," Schodde says.
Schodde and Blegen both describe Harmony Hill's Great Hall as a welcoming space.
"Everyone gathers, sitting all around the room, wherever they feel comfortable," Schodde says.
"This sets the tone for meeting the needs of whoever is here," Blegen adds.
Not unlike a family celebration — say, Christmas Eve. Now, those giving love and care are passing on an indelible family tradition for future generations.