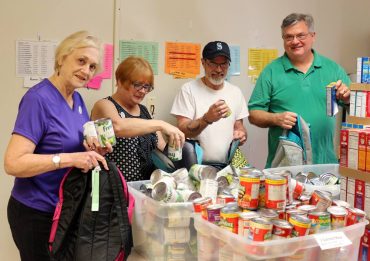 Every week during the school year, dozens of volunteers are working in small teams to sort, pack and make food deliveries throughout West Sound. They do it on different days and as part of different organizations, but these small volunteer armies have one goal: to make sure that kids from Gig Harbor to Belfair to Poulsbo don't go hungry for the weekend.
Whether called Backpack Brigade or Food Backpacks 4 Kids or some other variation, these grass-roots efforts collectively serve at least 1,500 kids at more than 60 schools. Most are run by all-volunteer crews. Many started with fewer than 10 kids at just one school — blooming into well-organized programs spanning several schools in each district. And some of the groups even inspired and learned from one another, spreading the idea to other communities.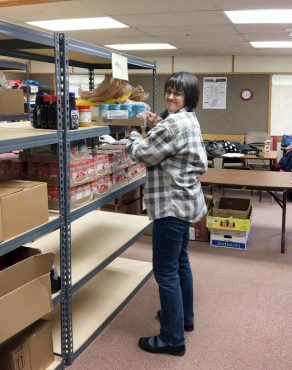 In South Kitsap, it all started in May 2008 with 19 extra sack lunches left over at First Christian Church from a distribution to homeless residents. A church member had an idea — call the nearby school, Sidney Glen Elementary, to see if any students could use them. And did they! Next week, the church delivered 15 more — and quickly realized sack lunches were not enough.
"We discovered there were quite a few kids in our community with little or no food to eat, especially over the weekend," says Teri Goodwin, coordinator of Backpacks for Kids in Port Orchard.
Next Sunday during church service, the idea for a school program was presented, raising $400 to get it off the ground.
An $18,000 boost through a Rotary auction helped Backpacks for Kids expand in 2009 to the entire South Kitsap School District. Currently, it serves about 325 students at 15 schools. While First Christian is still the home base and provides many of the volunteers, several other churches contribute regularly, as do a variety of community groups.
The community at large is generous, too — one recent food drive at Port Orchard Fred Meyer collected more than $6,500 worth of food and cash. And every single dime goes back into the program.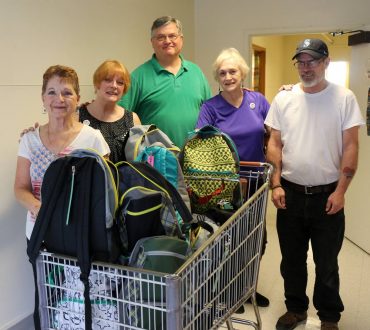 "The most rewarding thing is to see how the community has supported it," Goodwin says. "It's really heart-warming to see how many people are recognizing the program now and want to contribute and be part of it."
Backed by Community
In Belfair, a group of mostly women from Christ Lutheran Church were trying to address hunger in their community. A decade ago, they formalized their efforts under what is now called the North Mason Coalition of Churches and Community.
It's an amazing collaboration that results in weekly community lunches as well as monthly Sunday dinners. Churches, local businesses and other groups rotate to sponsor and host the meals, and the entire operation is volunteer-based.
The idea for Food for Kids was born out of this group in 2009. Modeling their program after South Kitsap, the women started with six backpacks at Sand Hill Elementary. Today, Food for Kids serves about 115 students at all five North Mason School District schools plus at Grapeview School — thanks to contributions from six churches, small grants, fundraisers and numerous community donors.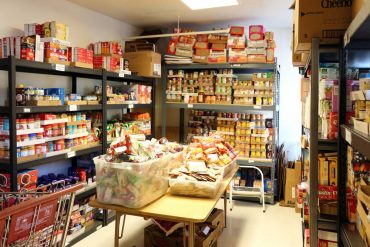 North Mason's program works similar to many of the others. Small volunteer teams get together once a week to pack backpacks (or simply grocery bags) with easy-to-make meals and snacks. The contents vary from one community to the next, but typical packs may include things like boxed mac 'n cheese, canned tuna, peanut butter and granola bars.
Most programs leave it up to the schools to select the families and administer the paperwork — so the volunteers don't even know the students' names. And staff try to get the food to the kids in a discreet way.
During the summer and other school breaks, however, North Mason's volunteers get to meet the families in person — they directly deliver entire boxes, filled to the brim with easy-to-make meals, eggs, fresh produce and other staples.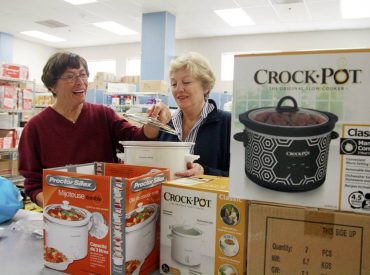 Monna Haugen, longtime North Mason Coalition board member and volunteer, says it's seeing the smiles on the kids' faces during those summer deliveries that motivates many volunteers to be involved.
"The volunteers are passionate about feeding local kids," she says.
A retired teacher who taught in West Bremerton, Haugen saw first-hand how distracted — and even disruptive — hungry students were in the classroom. She says teachers see a "huge difference when kids don't come to school hungry."
"It helps the kids feel more secure, too, knowing they'll have food for the weekends," she says. "And it reduces stress for families."
Filling a Major Gap
It's those weekend worries that are inspiring communities across the country to step up. Nationwide, more than 21 million children qualify for the federal free and reduced-cost breakfast and lunch program, according to Feeding America. That means kids from low-income families can count on breakfast and lunch at school. But come weekend, many go hungry.
In Washington state, 45 percent of K-12 students are enrolled in the federal school program — which means on any given weekend, as many as 450,000 Washington kids may have limited or no access to adequate food.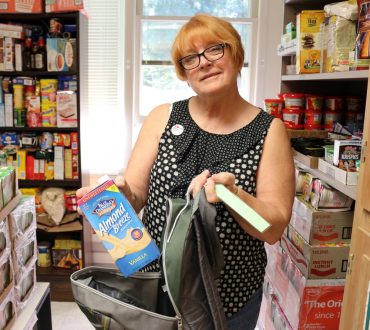 Across West Sound's nine school districts, the average number of kids in the federal program is 40 percent, though geographically the difference is quite big. Bremerton School District and Suquamish Tribal Education Department, for example, have the largest number, around 63 percent each. As another example, Peninsula School District's average number for all schools is 23 percent — yet break it down more, and Evergreen Elementary shoots up to 60 percent.
The recession has especially hit some families hard. Mary Nader, executive director at North Kitsap Fishline, says in 2009, the staff and volunteers knew they needed to do more for local families.
"We heard that children in school were not eating well on weekends, and we even heard that some kids were chronically hungry," she says.
Her predecessor, who used other programs around the country as a model, got funding and organized volunteers — and Food for Thought was born. It serves between 130 and 180 kids a year at about nine schools in Poulsbo and Suquamish (a similar program is offered in Kingston by the local food bank, ShareNet).
Unlike the other local programs, Fishline has an advantage because of its two thrift shops, which help pay for all its services. Other support for the kids' programcomes from grants, community members, churches and businesses, as well as a sponsorship program called Backpacks Friends.
Because in the summer the need is even more pronounced, two years ago Fishline added a summer pickup option. And because the staff administer the program in-house, they reach out to the families directly to offer them other available services.
Nader notes that based on the number of free and reduced lunches at North Kitsap schools, as many as 2,000 (or even more) kids may be going hungry.
"We have a huge opportunity to do more," she says. "Children cannot learn or socialize or thrive if they're hungry — it's just that simple. When we make sure a child has what he needs, we are investing in the future of our community and helping them do their best."
When It Takes a Village…
Like other similar stories, Gig Harbor's Food Backpacks 4 Kids started with a handful of people at one school — Evergreen Elementary — in 2009. The group used personal funding but quickly realized the need was much greater, and several churches collaborated to get the program started.
By the third year, all Key Peninsula schools were being served — and now, Food Backpacks 4 Kids distributes 450 backpacks every week across the entire Peninsula School District. Supported by a part-time, paid director, about 60 volunteers help with everything from running the nonprofit and raising funds to distributing the food from three separate sites.
It's a broad effort that is funded both by grants and community donors. Numerous churches, clubs, businesses and school groups also contribute food and funds. The Rotary, Lions, Kiwanis, the local Angel Guild, student leaders from the high schools, the Emergency Food Network — all do their part to make sure the roughly 4,000 pounds of food each week make it to the local kids in need.
"The support like that is invaluable because it not only gives us funding and food but also raises community awareness," says Mary Williams, the program's executive director.
Backpacks 4 Kids has grown beyond the weekend backpacks. Thanks to grants from the United Way and Angel Guild, a crockpot program initiated a couple of years ago supplied crockpots to every family in the program, along with starter kits that included things like spices. During the summer, the organization also coordinates lunches in conjunction with the Office of Superintendent of Public Instruction.
The community, in turn, has responded. One of the latest initiatives is to create drop-off areas for food donations. Westwynd Motel in Purdy is getting a shed to pilot the idea and there are plans to add cold storage at another location.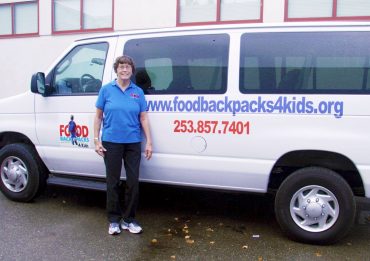 Spreading the Influence
Word spread around as one community after next embraced the idea behind the backpack deliveries. Although there's no formal collaboration among the groups, many of their founders freely shared tips to help others get started — which may explain the similarity of models.
Gig Harbor's organization went one more step. When a Central Kitsap group found it challenging to launch four years ago, Gig Harbor offered its nonprofit umbrella. Kitsap Food Backpacks 4 Kids started out with 14 students last year, and has grown to 248 at eight Central Kitsap Schools and two in Bremerton (where efforts are coordinated with the Bremerton Brigade).
"We know there's a very large, unmet need," says board member Tom Hawks. "We want to grow the program beyond the 240."
To help with that goal, the group is in the process of obtaining its own nonprofit status. Already, three more schools have asked to join next school year, and plans are under way to seek grants and other, more stable funding sources once the nonprofit status is approved.
Hawks says that the need around the community is so great, there's "simply no competition."
"We work very closely with similar organizations like the food bank," he says. "We're all collaborating."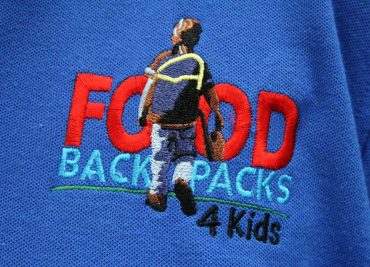 Changing the Trajectory
At Naval Avenue Elementary, a group of teachers in 2006 realized some kids were so hungry, they were taking food from the cafeteria home. They began helping seven of them, using their own money.
When Myra Batten heard about North Mason's program through her niece, a local teacher, she made inquiries. She learned that South Kitsap and Gig Harbor had similar efforts, but found nothing in Bremerton.
So Batten contacted Naval and brainstormed ideas. The Bremerton Backpack Brigade was officially born in 2010 and now serves all six Bremerton elementary schools.
It takes about 40 volunteers, working in four teams, to pack and deliver food — including fresh milk and produce — for about 250 kids. Another 20 volunteers help with special events such as food drives and fundraisers. Businesses like Rice Fergus Miller, Art Anderson and Pacific Northwest Title contribute food and funds. The Great Kitsap Give and three major food drives at Fred Meyer on Wheaton Way also add up.
"I am awed and humbled at the reaction of the community," Batten says.
Like the rest of the programs, the Brigade couldn't do its work without the full support of the school district and the teachers. The district even donated space in its building after the operation outgrew the previous home base at Saint Paul Episcopal Church.
Batten summed it best as to why these food programs are successful at the grass-roots level. She says on the national and even state political stage, she feels like a very small cog in a very big wheel.
"But here, I can do something. We can make a difference," she says. "Making sure kids get nutrition on regular basis can change their trajectory for life. It's a win-win."