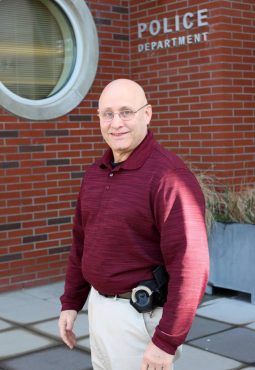 David Shurick, a Poulsbo Police Department officer for 15 years, is credited with the launch of Kitsap County's Crisis Intervention Team (CIT). The team, which today has 33 crisis intervention officers, receives special training to help minimize the use of force in crisis situations, with the goal of reducing incarceration and stigmatization of people with mental illness.
Shurick became involved with law enforcement in 1997. While serving in the Navy, he became a reserve police officer with the Port Orchard Police Department. When he retired as a chief warrant officer from the Navy, after a 24-year-career, he joined Poulsbo PD full-time.
After attending a crisis intervention training seminar in Portland in 2007, Shurick became interested in the CIT program. Fortuitously, shortly after he contacted the Criminal Justice Training Center (the local police academy) in Burien to ask if training was available, the CJTC received funding just for that purpose, and asked Poulsbo PD to host the training.
"One thing lead to another and we hosted three 40-hour Crisis Intervention Team trainings during 2008 and 2009, graduating around 50 officers and deputies," says Shurick, who had reached out to Kitsap Mental Health and partnered up with then Director of Emergency Services Ian Harrel to provide instructors as well as personal time for the training.
Although funding cuts put an end to the statewide trainings, the partnerships and trust created between Kitsap Mental Health and Kitsap County law enforcement launched an effort to bring this program to the area. Backed by local elected officials and law enforcement leaders, Shurick proposed and spearheaded the creation of a CIT program for Kitsap County.
With a mental illness and drug dependency tax (passed by voters in September 2013) helping fund the CIT program, the Kitsap Crisis Intervention Team was officially launched on July 1, 2014. A crisis intervention officer (CIO) is now available somewhere in Kitsap 24 hours a day and works closely with EMTs and medical professionals.
In addition to the 33 designated CIOs, the other 300-plus police officers and deputies from all Kitsap County jurisdictions attend mental illness awareness and de-escalation training taught by professionals in the field. The multi-agency effort includes Kitsap County Sheriff's Office, Bainbridge Island Police Department, Bremerton Police Department, Port Orchard Police Department, Poulsbo Police Department, Suquamish Tribal Police Department and CENCOM 911.
Shurick especially recognizes the work of the CENCOM operators.
"These professionals often pick up that 911 line and they are instantly in the middle of a crisis. Their trainers have attended not only the law enforcement CIT basic and enhanced trainings, they went to 911 specific CIT training," he says. "They brought that training to every one of their dispatchers and call takers. With the additional CIT training, they are better equipped to work in stabilizing or de-escalating someone in distress while street units get to the scene."
The CIT has reached out to community members and hospital and mental health staff to attend its meetings. According to Shurick, everyone has an equal voice at these meetings, and can contribute to ideas that eventually get implemented. The effort also led to the creation of a Crisis Triage Center in Kitsap.
"Even though it started with Poulsbo PD, this would not be where it is today without the support from the top of the Kitsap law enforcement chain of command down to the road officer and deputy and everyone in between. Further, we work alongside our civilian partners at Kitsap Mental Health, hospitals, mental health organizations and individual advocates, all keeping this important program moving forward," Shurick says.
Shurick was recognized for this work by being selected as the Washington State Crisis Officer of the Year in 2015.
Why Start This Work
As a hostage negotiator, I was trained in working with individuals with specific personality disorders but there was no study in the area of mental illnesses. So essentially I was taught techniques to safely end a hostage situation but not in working with a citizen in mental crisis.
As a new police officer, you quickly realize that you contact those in mental crises on a daily basis and certainly much more than you ever would in a hostage negotiation situation. At the time I went through the police academy in 2000, we learned precious little about mental illness and de-escalation communication. I must say though that fast-forward to 2016 and that has dramatically changed for the better.
Why This Work is Important
During our crisis intervention training, we get a generalization of various mental illnesses but the key pieces to the training are de-escalation, communication and resources. One component to the training is a panel of citizens who have family members with mental illness. They talk to the law enforcement audience about their challenges and what they want to see when an officer arrives at their doorstep to help them. That is powerful stuff.
When any officer arrives to a mental illness crisis, that officer is very aware that the safety of the public, the safety of the individual and the safety of the officer are in play during this tense time. It is a difficult call to go on, especially when a person in crisis is armed or combative. We understand there will be times when nothing will work, short of some level of force, but if there is a way to de-escalate an individual, then that is where the crisis intervention officer or those trained in crisis intervention can bring their skills to bear and bring about the best for everyone.
Best Part of the Job
It is the interaction with the person in crisis and the thanks you might get as a result of something positive you did for them. I've had citizens who were manic and after de-escalating their situation, they were eager for me to see them when all is well in their world.
Watching as the Kitsap CIT grows and evolves is clearly another best part of the job. Each officer and deputy is handpicked by their respective agencies to be crisis intervention officers on the CIT. They do not receive any specialized pay and their dedication to the program is evident as they respond to these often time difficult calls.
Biggest Challenge
In any given year, 18 percent of our population experience some level of mental illness and over 4 percent experience a serious mental illness. On a national level, law enforcement officers have become the street-level mental health workers — and jails and prisons are the new mental institutions. Simply put, police and correction officers are not qualified mental health workers so we spend our time putting a band-aid on a problem way above our pay grades. Our professional mental health workers need more in their budgets and our hospitals need more beds for those in mental crisis. Yes, it is much more complicated than that but that is the short and simple answer.
Best Way to Relax
I am a Ham radio operator and try to work that into my life for relaxation. Of course, there never seems to be enough time for that. Maybe when I retire.