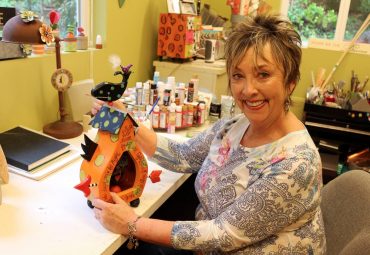 The first thing that jumps at you when you see Susie "Sooz" Mansueto's tiny wood dwellings is the whimsy — bright, lovely designs that instantly put a smile on your face.
But pause to study them, and you realize there's something much deeper going on — poignant even, as you start reading a phrase painted on one side. Like this one: "And the time came when the risk to remain tight in a bud was more painful than the risk it took to bloom."
There's a reason Mansueto calls them "spirit houses."
Sure, they have a quirky character. But the artist's goal is specific.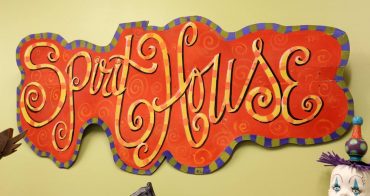 "I want something that has a voice. I want to have movement in a piece," she says. "I feel like each one has its own spirit and energy, and I want them to touch people."
Mansueto says the concept came to her as she tried to explain to her 12-year-old child, after the death of a family member, how "the spirit leaves the body an empty dwelling."
"My initial mindset here is that we are all dwellings, full of the contents that equal a life, full of the emotions, energy, experiences and complexities that define who we are. A house full of our spirit, our soul," she writes in her artist's statement.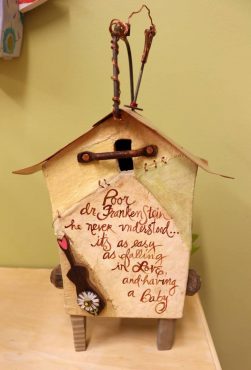 Her first attempt at embodying this concept came more than 20 years ago as she tried to come up with a present for her friend's 50th birthday. Mansueto had been taking 3D design as part of a requirement for an art degree (she'd gone back to school to become a children's book illustrator). Inspired by the class, she was building small dwellings out of cardboard, attempting to illustrate a children's book on a structure.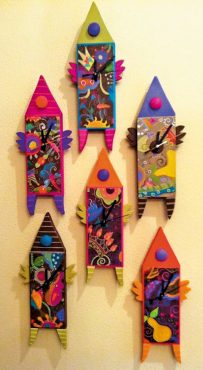 She soon switched to wood, after researching and talking to woodworkers, and through trial and error found the combination of wood that would do the job best. As she pondered the idea of that birthday present, Mansueto decided to experiment, creating a "house" illustrated and embellished with various things from her friend's life.
"I gave it to her on her birthday, and she freaked out," Mansueto recalls.
The friend showed it to another friend, who was an artist, who in turn hounded Mansueto in order to convince her to make those houses f?or an art show. Mansueto's first reaction was to say, "You're crazy" — but eventually she gave in.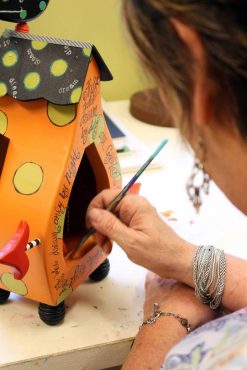 She went into panic mode as she realized a show was, indeed happening for her — and just five months away. She needed enough inventory to last three months.
"I really jumped in full force. It was insane," she says.
That was in 1993 — the beginning of a new career and passion. She never did finish that degree, although she did use whatever credits she had to later end up with a graphic design certificate.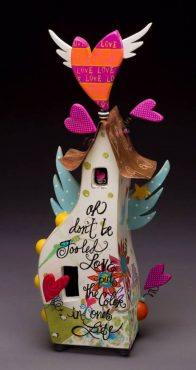 An Evolving Creative Process
Mansueto, who lived in California at the time, began to steadily build a following. More shows followed every year, while her creative process kept evolving. Those original dwellings were much simpler, rougher even, but have since become distinctly unique.
"My voice is a lot stronger now," she says. "I think I have a lot more confidence in it. But not too comfortable — I don't want to be complacent."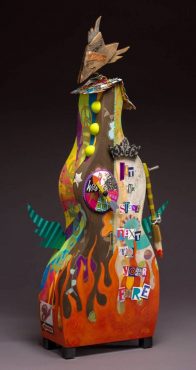 She doesn't have an exact process for her ideas. A sketchbook contains many of the designs, complete with notes on what she wants from the piece. Sometimes a quote will inspire her, sometimes a shape. She may even dream of an idea. And she may take a year (or in one case, three) to complete a project.
"Sometimes a piece will talk to you —'I need something over here' — so sometime I don't know when to stop," she says.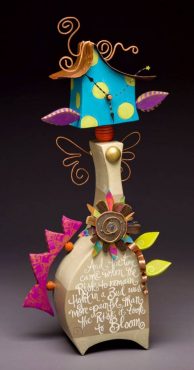 But through the years, that became easier too. Mansueto says she used to fight the creative process, seek perfection. Now, she knows when she's done for the day — or with a design.
"It took time — I used to fight it," she says. "I'm aware now that I'm always 'on,' creating."
Art with a Dose of Meditation
The spirit houses were just the beginning for Mansueto's business, "Spirit House Design." Soon after, she became making "spirit clocks," equally colorful and whimsical, and later added "spirit wands" and small "spirit boxes" to her list.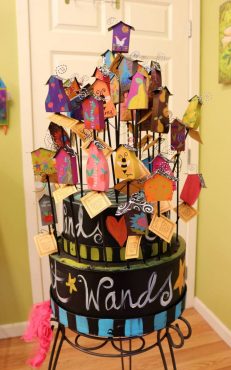 Except for the keepsake boxes, Mansueto creates her own wood forms, cutting the shapes and sanding them in her woodshop.
A separate art studio, just a few feet away from her Gig Harbor home, is filled with all sorts of doodads that eventually make their way into the 3D designs. Beads, metal parts, wood dowels, gauges, wheels, random finds — the artist never knows what she'll need.
For the clocks, Mansueto uses large pieces of illustration board to paint randomly and later cut the sheet into pieces.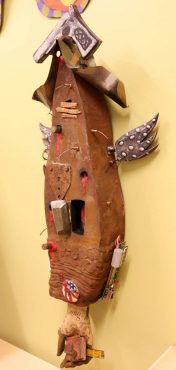 "I turn it upside down and cut to fit the clock, so I'm not constrained by design," she explains.
Acrylic paints, embossing stamps and clay are all part of her toolbox, along with tools such as chisels, pliers, wire cutters and nail guns.
The studio (which sports a sign saying "Keep calm and carry on" on a wall) may be the headquarters, but it's not the only place where the creative is happening. On warm days, Mansueto takes her work to the porch. And at any time, she may be toting a piece around as the idea is being processed in her head.
The work, she says, is meditative.
"I like that I can get lost in it," she says. "It still makes me happy."
Yet, the art is not always about being in the proverbial happy place. Sometimes, a spirit house design takes a darker turn — in response to a current event that makes her angry, perhaps. Or just as a way to get out of her comfort zone.
"I like problem-solving and sometimes I like to go dark because I want people to feel edgy," she says. "It pushes me harder — because I can get into ruts."
Creative Side Wins
When the Mansuetos moved to Gig Harbor 12 years ago for a change of pace — a tough decision after living in California for 25 years, Sooz says — she had to rebuild her business, particularly her customer base. About halfway in, she felt creatively drained, and took a detour to pursue another passion, real estate.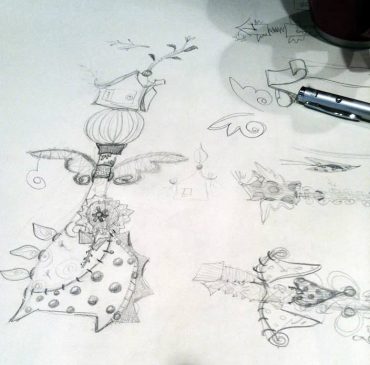 But deep down Mansueto knew she was always an artist. So after two years, she took a hiatus from real estate — and hasn't gone back. But that's not to say that returning full-time to creating didn't have its rough patches.
"It was hard to let my brain go and turn to the other side," she says. "It was cool to know I could do both, but it took a while to get back into the rhythm. The more I worked, the more cohesive my pieces were."
She hasn't dismissed the possibility of being back in real estate some day. But for now, Mansueto is content to use her creative side. And she may have given up perfection, but she hasn't lowered the bar for herself.
"I want to wow you every time I do a show," she says. "I want to make something that will knock your socks off."