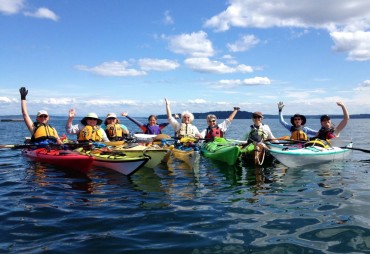 A chance meeting more than a decade ago was the unlikely beginning of a relationship that today builds confidence and begins transformation for women in an unlikely way.
A Spa for Your Wild Soul, women's kayak journeys, is the creation of Spring Courtright and Maria Cook, two local women on a mission to challenge other women to realize their authentic selves.
"We met 11 years ago at a 'Leave No Trace' training with Washington Water Trails Association," Cook says. "We had a lot in common and shared our dreams of women's kayak trips.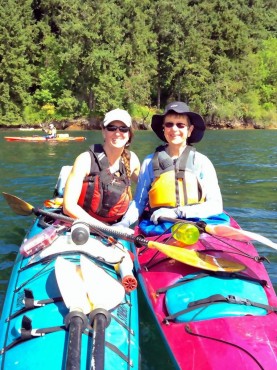 "A decade went by and I realized I needed to start living my dream now. I connected with Spring through a mutual friend and we were instantly on the same page, very compatible, and the timing was right for both of us. And here we are, doing these wonderful journeys together."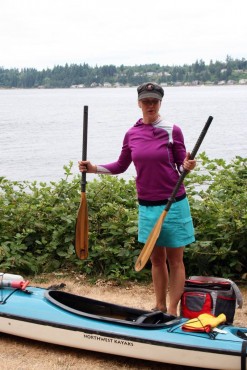 A Spa For Your Wild Soul, a three-day transformational journey, begins in a kayak on Bainbridge Island. But you don't need to be an experienced kayaker. In fact, kayakers of any level are encouraged and welcome on the trip, which begins at Fort Ward and travels to Blake Island Marine Park for two nights.
Groups of up to eight women join the two guides to paddle the beautiful Rich Passage, alongside Washington state ferries and the occasional aircraft carrier, to the waterside campground on Blake Island.
The journey itself is the beginning of the transformation.
"When you challenge yourself physically, you are encouraging yourself emotionally," Courtright says. "You begin working on your inner self by changing your outer circumstances."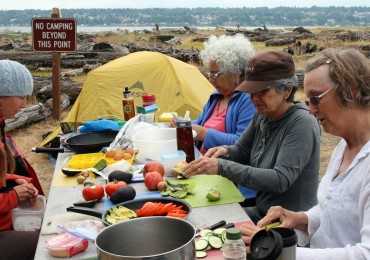 Novice kayakers need not worry. Courtright and Cook are both experienced water women. Courtright, a professional kayak guide, and Cook, a professional sailor and kayaker, have a combined 50 years of experience on the water.
The two-hour paddle to Blake Island is like passing through a portal. Behind, you leave your troubles and stress. Ahead of you is a challenge. Sometimes it can be terrifying. Sometimes it can be exhausting. But the journey is realizing your potential and saying, "Hey, look what I did!"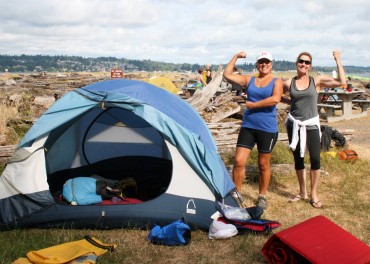 That's how the weekend starts. It continues with positive camaraderie with a wide range of women who choose to embark on this adventure. Women from ages 20 to 70 have made the journey. Throughout the camping adventure, the participants gather over delicious meals and share and support one another.
"We encourage each other to make personal decisions to bring positive change to our lives," Cook says. "Be happier and more open. Let go of the blocks to aliveness."
But the weekend isn't about sitting around and singing "Kumbaya" or a grown-up "Outward Bound." It's about fun and fulfillment and support. It's about beach yoga, hiking, midnight kayaking by headlamp. A brisk dip in Puget Sound and beach art. Laughing and crying or quietly writing in a journal. Watching the waterfowl, the deer and the raccoons. It's about being present, reflecting and finding purpose.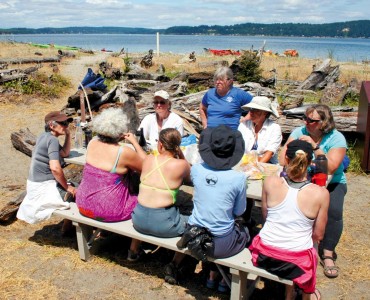 You feel so far away from civilization and your life, and yet the lights of Seattle, Port Orchard and Bainbridge Island are visible from your tent. It's a beautiful sight.
A Spa for Your Wild Soul is about finding time for you and finding focus to whatever it is you need to help you in your personal journey.
"We do three trips each summer, and each trip is a little different," Cook says. "We have found women really appreciate being listened to. It helps to be seen as a whole person. It's a great recipe for a delightful and unique experience."
"Women often get caught up in their own expectations," Courtright says. "We want to help break through your fear and limitations, and see what's possible."