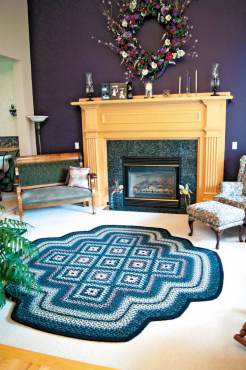 When Donna McKeever stumbled upon a rug-braiding class about two decades ago, she fell in love with this nearly lost art. Not only did she find her creative outlet, she wanted to inspire others to pursue it as well.
"It's a very simple art form yet there's a lot of beauty and simplicity to it," she says. "…I've done all sorts of crafts but when I started braiding, I knew it was for me."
McKeever's Gig Harbor home is filled with beautiful rugs of all shapes and designs. They are far from the cheap department store finds or the "rag" rugs made out of fabric scraps. Hers are true family heirlooms — made of wool and featuring complex, eye-catching designs and unique shapes.
"I prefer wool because it's more durable," she says. The fabric is naturally fire-retardant, stain-resistant and water-repellant.
A collector at heart, McKeever is constantly tempted by wool fabrics she finds. She has filled her home with it, including part of the garage and her upstairs studio. And since supplies are limited (partly due to the closure of many mills, partly because wool is very expensive and not common in fabric stores), she sells the wool to her students as well as the general public.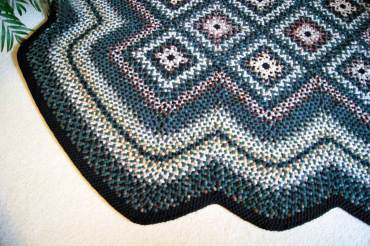 "One of the difficulties with this craft is that supplies are not readily available. It doesn't take a lot of supplies but you have to know where to get them," she says. "If they were more available in craft stores, more people would do it."
Renewing an Old Tradition
Rugs were the first true floor coverings in American homes (not counting things like straw mats) and were especially popular in Colonial times. Originally made out of scrap fabric, they were largely utilitarian, used to provide warmth and comfort to the home. The tradition of braiding them was passed down from mother to daughter, and eventually the rugs became an important part of a dowry.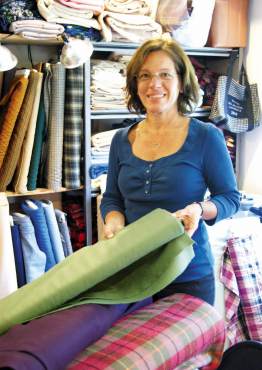 "Rug braiding started as a necessity. Even though they were made out of worn-out clothes, they still provided warmth and they weren't always the 'rag' rugs," McKeever says. "Some had very complicated designs."
Like many other traditional arts, this one is seeing a revival — thanks to people like McKeever, whose focus is on teaching rug braiding as well as raising public awareness. For about nine years, McKeever has been teaching and promoting the art using her Gig Harbor home studio as the base. She also produces semi-annual newsletters that include detailed diagrams created by her for patterns and techniques.
"Finding teachers is another difficulty but we're getting more recognition and growing into a more active braiding community," she says.
McKeever has never stopped braiding since she took her first class and she started teaching the art shortly after. When her family moved to Gig Harbor from Kansas about 10 years ago, she couldn't find any rug braiders in the area, so she decided to launch her own business, Rug Braiding by Donna. She hosts regular classes almost all year round, and has been organizing national conferences in Gig Harbor — with the next one tentatively planned for October 2012.
She says her students come from all sorts of backgrounds, from lawyers to doctors, including men.
"It's not just for the 'grandma' stereotype," she says.
Nuts and Bolts
Unlike other textile arts like cross-stitching, rug braiding doesn't require exact concentration, making it an ideal pastime for the multitaskers. In McKeever's case, it's a good way to keep the hands busy while watching television, for example.
"To me, it's therapeutic. I can keep my hands working with a purpose," she says.
It can also be addicting. McKeever keeps supplies and projects-in-progress in just about every room, waiting for her hands whenever the urge strikes.
One required ingredient for a successful rug-braiding hobby is patience. It takes McKeever about three hours per square foot by the time she adds in the planning, braiding and lacing.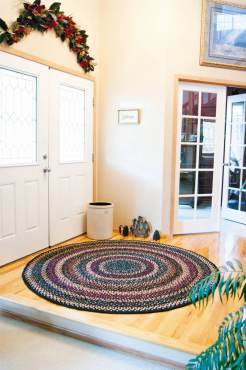 "It is a time-consuming craft… Most people do it because they love the creativity and like working with their hands, they don't do it for speed," she says.
McKeever believes that anyone can learn rug braiding, but she also feels it's easier to learn from an experienced braider. There are many tricks of the trade — including how to keep the rug flat as it gets bigger. The braiding itself has different techniques, and the lacing is often the key to a great-looking final product.
She is not against using thrift store finds for fabric, but notes the limitation it presents — to create a true pattern, you need an adequate supply of each fabric. The color, in fact, is the secret.
"They take a lot more planning than you think because without color planning, you'd just get blobs of color… Choosing the colors is the most complicated part because (fabrics) can look nice side by side but after the weaving process, it may look boring," she says. "And you also get different textures (patterns) based on how you strip and braid the fabric."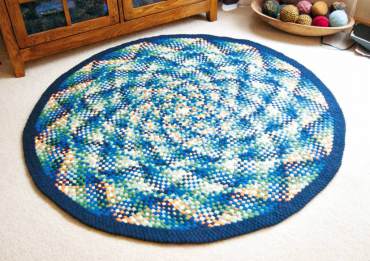 Beginners may find that rug braiding is hard on their hands but McKeever says it's just like exercise — the hands build strength and the discomfort eventually goes away. "I find it relaxing," she says, adding that she usually does it by touch, without looking at the braids.
McKeever is not focused on selling her rugs but she does go to shows once a year so she can continue to promote the art. Some of the reactions she gets from her demonstrations or the rugs perhaps help identify one of the reasons why rug braiding is growing in popularity.
"The most common thing people say is, 'My grandmother used to do this,'" she says. "They always say it with a smile on their face because rug braiding evokes warm memories."
This article was first published in the print edition of the WestSound Magazine in the Winter of 2011. Any discrepancies, omissions, or inclusions that seem incorrect are purely due to the age of this article. WestSound Magazine deemed this article useful and beneficial as a contribution to today's readership, and therefore is included in this site's online article archives. If you feel the content of this article is detrimental due to its age, please feel free to contact us to request removal or modification.