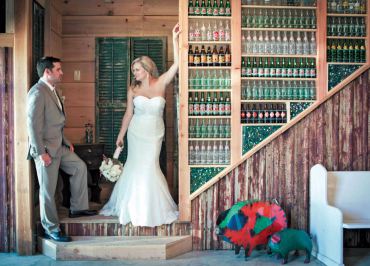 At first glance, Red Cedar Farm in Poulsbo seems like a typical remnant of country life of the yesteryear — complete with rustic barns, old wagon-wheel décor and farm animals. But the elegant atmosphere and the lush landscaping are a tell-tale sign that this is much more than a farm.
In fact, the animals — miniature donkeys, a pony and even cows — are all pets. True, there's an orchard with 200 kiwi-berry trees that are sold wholesale and at farmers markets, and the 20 pet chickens do lay eggs. Yet this is not a working farm in the traditional sense. Red Cedar Farm was created as a special place for couples to tie the knot — and all the elements, from the rustic décor, the horseshoe pit and the gazebo, to the vintage pinball room and the beautiful landscape, are designed to create a memorable backdrop for the special day.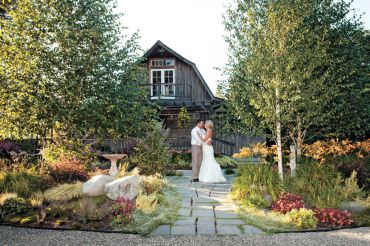 Andrea and Gregg Sampson have lived on their 35-acre property for nearly 30 years. For part of that time, Gregg operated bodylink, a fitness and sports training facility, while Andrea helped behind the scenes. During the fall for several years, they opened their farm to the public by offering a pumpkin patch and a corn maize. But Andrea dreamed of doing more with the 10 acres of the property that is developed (and includes their family home).
"It was time to do something different with it," she says.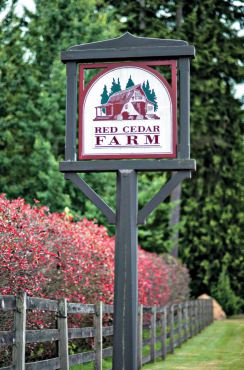 So about four years ago, the couple began an intensive makeover project for the landscape and the barns in order to capture the property's country charm into an elegant wedding venue. Now, Gregg is the one working mostly behind the scenes (he closed bodylink a year ago) and also drives the small school bus that shuttles guests from the parking area nearby. The couple's two sons, Zach and Parker, also help out.
This is the farm's second wedding season and already, it has caught the eye of couples from all over Puget Sound. "Most brides that come here want a farm, rustic feel," Sampson says. "Most wear their cowboy boots and flip-flops with their dresses. Stilettos don't work well here."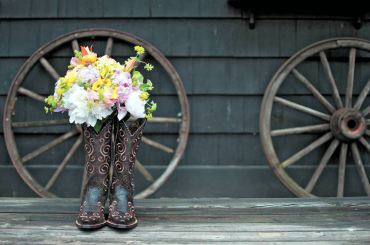 Kristen Newman was one of those brides. Not only did she wear cowboy boots, she had her bridesmaids do the same. Newman, who is from Bainbridge Island, wanted a rustic, country elegance theme for her wedding, this past June, to Brock, who's from Mississippi. She's heard stories about the venue's construction activities and first year from Gregg, her former employer, and when Brock proposed to her, she knew this is where she wanted to get married. The wedding was "absolutely perfect," she says.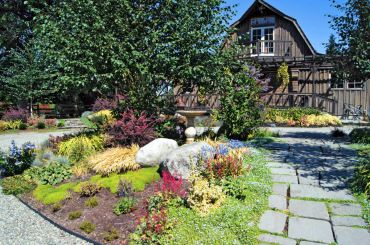 "We just wanted everyone to have a blast, which they did, and it would not have been possible to create such an easy, down-to-earth atmosphere if it wasn't for the farm's character and charm," she says. "They made sure every detail of their venue was perfect, from the beautiful flowers and gardens on the outside, to the rustic charm on the inside."
Outdoors, a gazebo with benches and a pergola with a firepit add to that rustic charm, as does the barn that is now a bridal suite (with an adjacent kitchen for caterers).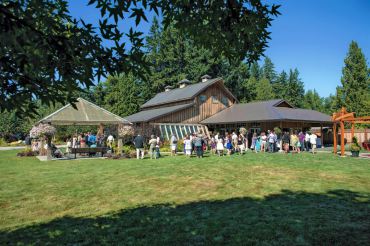 The main barn, part of which once was a chicken coop, is what may take many by surprise. It's a little bit of a trip down Memory Lane: One of the three rooms is filled with about 20 vintage pinball machines, which the guests can enjoy as they please.
"People have a good time in here," Sampson says. "We've been collecting the pinball machines over time. We like antiques so we've collected, collected and collected."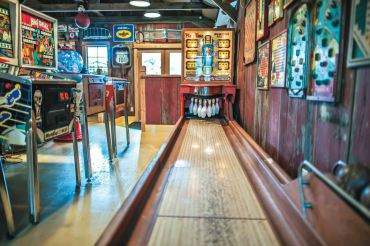 The interior décor includes an old church window that lights up, chandeliers made of wagon wheels and various other country décor. But what really steals the show is a wall decorated entirely with vintage soda bottles — Coke, Pepsi, Squirt and various others, including more obscure (even obsolete) brands such as Like.
"Gregg has been collecting bottles in boxes," Sampson says. "I looked at them and said, 'What can be done with them?'"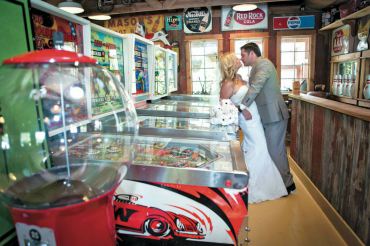 With that wall complete a few months ago, Sampson is off on her next project, the barn door. She started decorating it with bottle caps and figures she needs about 6,000 for the job.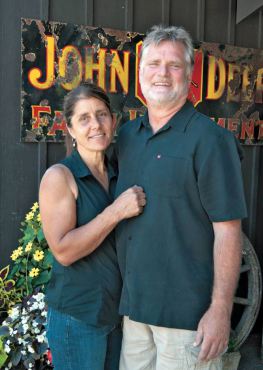 Sampson says she has about a hundred props for the weddings, from branding irons to collectible toy cars. She keeps coming up with more ways to enhance both the indoors and outdoors. "I'm always thinking of ideas and adding little things," she says. "People like the small touches."
She's also looking for new ideas for the property. While weddings is their bread and butter, the Sampsons would like to see Red Cedar Farm used for other events, including corporate retreats and small festivals. They plan to grow the business so some day their sons take over the farm and the family home.
Sampson seems content to have found a business that's enjoyable as well as provides the family with a good income.
"The people who own the venue is absolutely the best part of the wedding," Newman says. "Without them, it would not have been such a unique and special event."
Red Cedar Farm
27054 Lowfall Road, Poulsbo
360-697-7770 • www.redcedarfarm.com