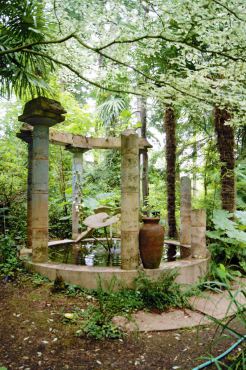 Heronswood Gardens in Kingston is springing back to life like the Phoenix rising from the ashes. In 2012, the Port Gamble S'Klallam Tribe purchased the former 15-acre Heronswood Garden and Nursery site in auction from W. Atlee Burpee. In November 2012 a small band of former Heronistas (the name for the much-loved employees of the former Heronswood) began their journey of returning the gardens to their former glory. It should be noted that the Port Gamble S'Klallam purchased back the exclusive rights to once again call the site Heronswood Gardens. It's also fitting to have the land returned to the tribe's usual and accustomed lands.
Heronswood Gardens opened to the public in early 2013 with weddings taking place in the spring and two garden open days held in May and July. The fall garden open and plant sale is Sept. 7 from 10 a.m. to 5 p.m. All garden open events are hosted by the Port Gamble S'Klallam Foundation, a nonprofit organization that is dedicated, in part, to increasing understanding of Port Gamble S'Klallam's rich cultural heritage. The foundation, along with a steering committee made up of plant enthusiasts, tribal leaders and respected horticulturalists, has been charged with managing restoration and community outreach activities at Heronswood.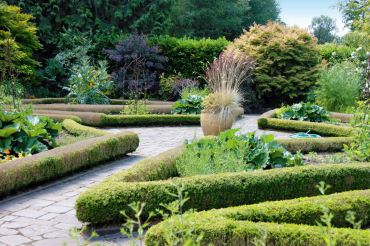 The Sept. 7 garden open day features tribal artisans and plants from nurseries around Puget Sound including Hinkley's Windcliff, Dragonfly Farms Nursery, Far Reaches Farm, Naylor Creek, Sundquist Nursery, Foxglove Greenhouses, Celestial Dream Gardens, Chimacum Woods, Far Reaches Farm, Dancing Oaks, Dig Nursery and several others. The S'Klallam Singers will perform throughout the day and local vendors will be set up to sell food to visitors and participants. Tribal art will also be available. The speakers for the day are Dan Hinkley, Kelly Dobson and Sue Milleken. The educational talks are free but attendees will need to pick up a ticket coupon for admittance to the talks. The meeting space has limited seating. Those who wish to tour the gardens can do so for a $10 donation.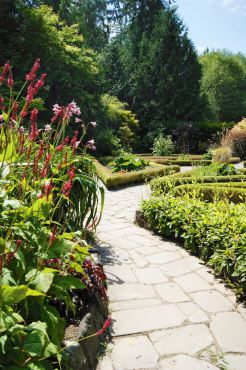 Laurie Mattson, foundation director, says, "Heronswood provides a unique opportunity to further an appreciation of tribal art, history and culture, while stressing the tribe's commitment to education and environmental stewardship. With this in mind, every event at Heronswood will feature tribal artisans selling their work. One of the foundation's goals is to install tribal-inspired art throughout the garden."
The gardens are being brought back to new life by a team of tribal members, past Heronswood Nursery employees Celia Pedersen and Alan Hanson, tribal member Bernie Folz and a host of volunteers. "We know it will take several years but we're so thankful that the bones are still present," says Heckler, who, as general manager, is overseeing the gardens. She explains that Celia Pedersen, who was head gardener at Heronswood for seven years, has been hired by the Port Gamble S'Klallam and has returned as head gardener.
Heckler credits Alan Hanson with keeping the bones of the gardens alive during the seven years of Burpee ownership. "We also have Alan Hanson on contract. He was a longtime Heronswood employee pre-Burpee days and stayed on during Burpee's ownership. He was responsible for keeping the pleached hedges and all the boxwood hedges pruned during all that time. He maintained the watering system and kept things alive by keeping them watered — even volunteering much of his own time to keep the gardens as alive as possible. He is one of the most loyal of all. Alan is our hero," Heckler says.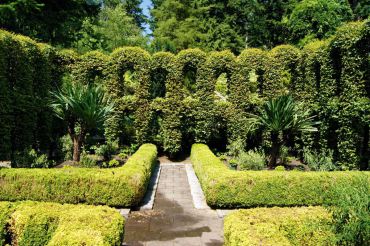 Dan Hinkley volunteers regularly at Heronswood and has been a key player in finding the garden's hidden secrets. The garden languished since June 2006 when the gates were abruptly closed by the owner, W. Atlee Burpee Co. When the nursery closed, the Heronswood staff was locked out by Burpee. Luckily Pedersen had been keeping a very complete inventory of all the plants at Heronswood and where they were in the landscaping. The inventory book was locked out of the nursery along with Pedersen. This book has become a very valuable tool to the staff and volunteers in attempting to bring the gardens back to their glory days.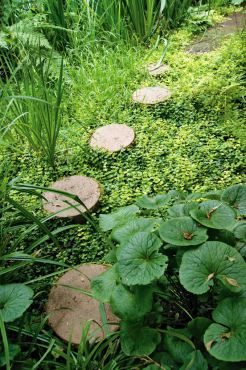 "We've found stray inventory tags nowhere near where we remember the plants being but we're collecting them as a record of what was there once," Heckler says. They've been teasing Pedersen because she had always been so meticulous about the plant inventory book. "When I'm old, all I'll have is my inventory book and my cats," Pedersen used to say. "Boy, are we glad she kept that book," Heckler says. Much of the book was compiled during a time before scanners and online data systems. "We'll be spending quite a bit of time on data entry," Heckler says.
As in all gardening undertakings, the gift of having to restore or renovate a garden is in the surprises and in the things learned through time. The new team of Heronistas is discovering native plants and other treasures underneath and around all the past neglect. Many of the former plants (especially the woody ones) were removed and sent back to the East Coast. Recovering and recreating the garden has provided opportunities to try other introductions and to incorporate and create native plant areas.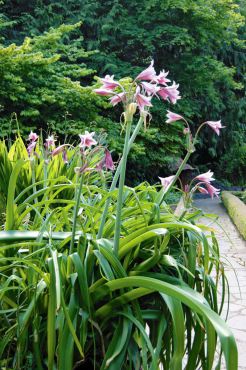 "We have plans for an area where plants used by the tribe through their history can be reintroduced and where the tribal youth and adults can come to learn about their heritage and in turn help others learn and appreciate the heritage," Heckler says. "We also have plans for an area for plants used in weaving and other tribal art. It's because of the Port Gamble S'Klallam that Heronswood has been saved."
No Longer a Nursery — But Even Better
"We are not a nursery anymore. We will never be that. The steering committee and foundation have plans for more educational venues, more speakers and classes and more tours. Hinkley has agreed to regular walk-arounds when he's available. One idea we're kicking around is 'Walk Around Wednesdays with Dan,'" Heckler says. "We also hope to involve the tribe in labeling the plants — both in their language and in Latin." Future plans include internships for tribal members.
Along with Heckler, Hanson and Pedersen, the tribe has contracted with Cristy Lamb, who is the events coordinator. The facilities are still open on a limited basis during daylight hours. But future plans include lighting and evening events. "That will come later," Heckler says.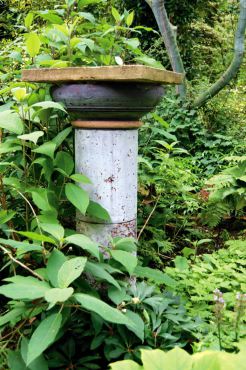 Work Parties and Donations
Most of the work, other than a few paid staff and tribal members, has been accomplished by a host of volunteers. Tribal member Bernie Folz was honored as the Heronswood Volunteer of the Year. "We love to have helpers," Heckler says. "Several who have helped so far are The Miller Botanical Garden staff and their garden crew, Flotsam and Jetsom and several smaller groups."
To learn more about scheduled work parties, visit the websites shown in the sidebar. The Facebook page posts volunteer info or you may call Christie Lamb at 360.297-9624. Groups can come to volunteer by appointment. "It's so discouraging to tackle a big garden bed. In the fall especially, volunteers are very welcome and it's a great learning experience," Heckler says.
The volunteers and staff are hoping that at a future point in time the team can put a call out to all those gardeners who visited Heronswood in the Hinkley era and perhaps some of the plants can be divided and returned to Heronswood again.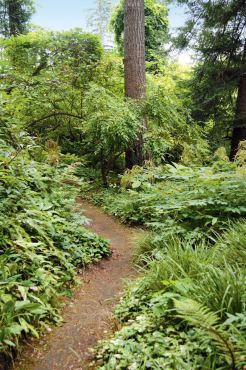 Donations of bulbs have come from Brent and Becky's Bulbs and from B&D Lilies. The team is thankful for the bulbs because they don't need irrigation, other than what nature provides, and the gardens will be festooned with them next year. "We're not ready yet for plants that need to be watered and in the future we'll publish a wish list of plants to reintroduce," Heckler says. Donations can be made to the Port Gamble S'Klallam Foundation through the website.
Become a Charter Member
An excellent opportunity awaits between now and the last day in December, 2013. Anyone can become a charter member of the new Heronswood Gardens. Everyone who joins as a charter member will always be listed on the official records as a "first and best friend" of Heronswood. Charter members will still need to renew their membership each year but they will have had the honor of being the first supporters of Heronswood. Memberships range from $10 to $75 depending on the category. See the sidebar for a link to download and print a membership form.
2014 Garden Open Dates
If you missed the September, 2013 Garden Open, make sure to catch one or all of them in 2014. Those are scheduled for the first Saturday of May, July and September, but check the websites to confirm the dates.