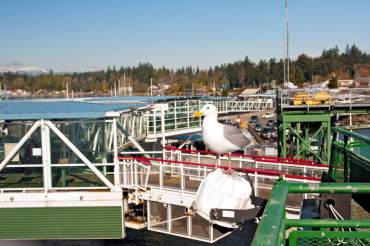 Kingston is an enticing destination on a warm weekend for anyone looking to "get away" without driving far. Shopping and dining are among the main attractions but the gorgeous views and the proximity to various parks and other recreational opportunities make Kingston a serious competitor to other local charmers.
Once a booming lumber town, Kingston wears its nickname, "the little city by the sea," perfectly. And while downtown is an obvious stop for visitors, save some time for your itinerary to expand your perimeter and explore other parts of town.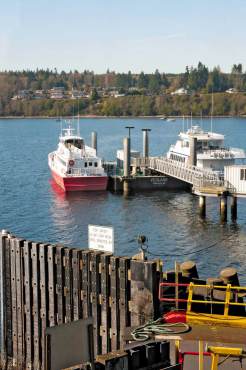 Downtown
The pedestrian-friendly waterfront greets visitors with beautiful views and a variety of shops and restaurants. On any given day, you can catch a glimpse of the ferry, which takes commuters and visitors on a 30-minute scenic ride to Edmonds. Boats sail in and out during the warm season and the SoundRunner ferry, operated by the Port of Kingston, currently takes foot passengers to and from Seattle in the mornings and afternoons during the week.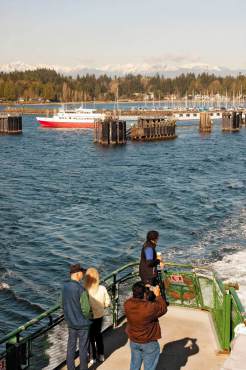 Summer is especially a busy time downtown, thanks to a Saturday farmers market, Saturday night "Concerts on the Cove" live outdoor performances in July and August, and various community celebrations. The popular July 4th celebration features Tiny Town, a festival just for youngsters, as well as fireworks, parade and other festivities. Other fun events include the Kitsap Arts & Crafts Festival and the famous Kingston Slug Hunt, which stretches throughout town.
If you're looking to indulge your sweet tooth, your biggest challenge is in the number of alluring choices. A popular one, J'aime les Crepes, is a magnet with its selection of generously sized sweet crepes and other unique selections, such as honey lavender ice cream and Nutella latte. If you're not one of the lucky few to nab a limited indoor or outdoor seat at the creperie, take your food to the Mike Wallace Park across the street, where you'll find picnic tables and ample lawn for stretching out.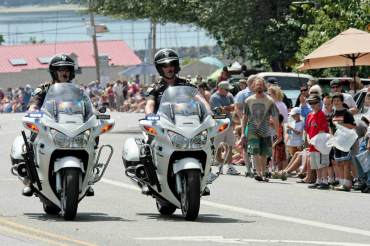 A few feet away from J'ame les Crepes, the newly expanded Mirracole Morsels Community Bakery brings the talents of several bakers under one roof, with temptations such as the Sweet Bliss confections from Sweet Life Cakery — a "gourmet recreation of the Ding Dong" that lives up to its name. And up the main street, Mora Iced Creamery (open during the season only) is by itself full of tormenting choices of locally made ice creams — how do you limit yourself to a scoop or two when more than two dozen flavors are offered, and that's not counting the seasonal selections or the sorbet?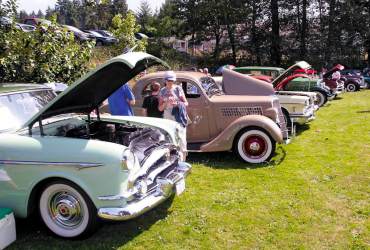 Other quick treat options, all within a radius of a few feet, include milk shakes and ice cream at Drifters Sports Bar & Grill, and espresso along with cozy indoor seating at Majestic Mountain Coffee. And once you're ready with a full-menu appetite, the choices are just as enticing — from savory crepes at J'aime and burgers or fish & chips at Drifters, to Italian fare at Bella Luna Ristorante and fine dining at Main Street Ale House.
In the mood for a little shopping? Don't miss Clever gift shop, where you'll find an eclectic mix of beach gifts, jewelry, Kingston and Washington souvenirs, kids toys and unique treasures like "Washington Fish Batter in a Bottle" and "Kingston Deer Dung Chocolate Covered Raisins." For more treasure hunting, stop by Nancy's Green Garden and the adjacent Diva vintage boutique up the street.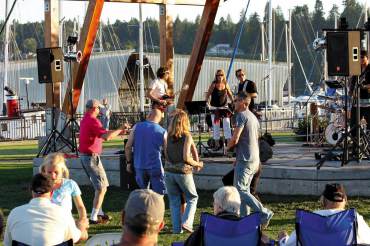 Other Fun Stops
Those who like the idea of lingering outside can grab a coffee or a quick sandwich at Cup & Muffin, which has an outdoor dining patio. If you like to try something unusual, stop in at Borrowed Bakery for a best-selling maple bacon scone (and make sure to walk out with a freshly baked loaf of bread too).
For treasure hunters, two fun stops along Highway 104 are Jen's Attic (next to Pizza Factory) and Mr. B's Bookery (in the IGA shopping complex). And before you hit the turnoff back to Poulsbo, take home some freshly roasted nuts or peanut butter from CB's Nuts — even the pickiest peanut butter connoisseurs will go nuts for this treat, made in-house from fresh-ground peanuts.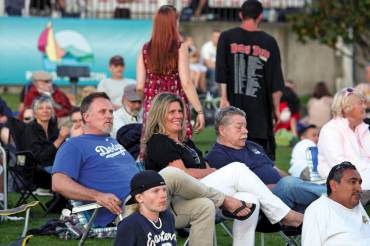 Not all the fun in Kingston revolves around dining and shopping. You can build in some adult play time at Savage Vine, a wine shop and tasting room surrounded by gorgeous gardens and waterfalls, thanks to its unique location, at Savage Plants Nursery. Or try your luck at The Point Casino, which is moving this summer into a brand new building, (on the same property) complete with a sport and cigar bar that will feature a cabaret.
Where Kingston lacks in major tourist attractions, it makes up for it in small-town charm. The Firehouse Theatre is one example — the intimate, two-screen theater is a little like a trip back to a time when going to the movies was a very personal experience.
Kingston's central location to several North Kitsap destinations — including the Point No Point lighthouse, Port Gamble and Suquamish — are a bonus. Whether you make it a day or an entire weekend, you'll enjoy the friendly people and the slower pace.