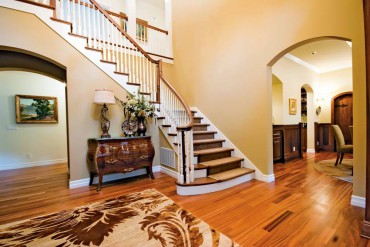 When a couple of empty-nesters trade the urban asphalt of Southern California for a leafy-green piece of Bainbridge Island, culture shock is guaranteed. Their first job, therefore, is to buy an umbrella, a pair of Birkenstocks and learn the meaning of "frog rock." Their second job is to locate an architect and a decorator who speak the Northwest vernacular of natural materials, organic colors and low-key glamour.
One pair of transplants found the answer in a fellow husband and wife team, island-based architect Derek Reijnen and interior designer Joan Reijnen. The homeowners, who had never before hired out for a house built from the ground up, sought professionals experienced in turning dreams into foundations and furniture, walls and window coverings.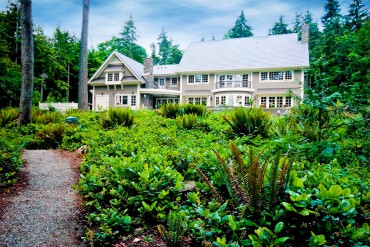 "Our previous home was a Northeast Cape Cod style," explains the wife. "That's what we thought we wanted here, too. But then we realized we'd like a home more appropriate to this part of the country. We were very lucky to find the Reijnens; the chemistry was so good."
Seduced by Scenery
As often happens on Bainbridge Island, it all started with the lot. While not waterfront, the land appears to be so, as the adjoining shore-front property drops away entirely out of sight. The setting, with scenes of Seattle, two ferry runs and Blakely Rock — all viewed through Tolkienesque woodland — was too good for the California expatriates to pass up.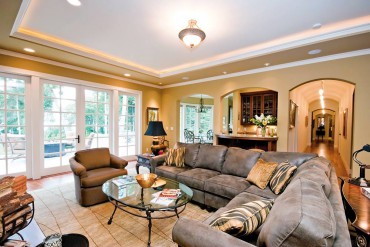 "We were looking to buy a house but we fell in love with this lot," the husband recalls. "We had no idea what we were getting into."
What they were getting into was more than a year of almost daily decisions and revisions. At the commencement of the project, they were still living in California, a big complication. So, to stay in the loop, the couple devised an elegant solution: a webcam mounted in a tree.
"We were able to watch the land-clearing and construction," the husband said. "In December, the framers put a big sign in front of the camera that said 'Merry Christmas!'"
Decisions and Revisions
Visits to the island were frequent and became whirlwinds of paint chips, fabric samples and shopping trips to Winslow, Silverdale, Bremerton and Seattle.
"There were times when Joan (Reijnen) and I would be out at the shops all day, and when we came back, my husband would say, 'We have 10 decisions to make right now,'" the wife said. "The design process can be extremely overwhelming for a nonprofessional; there's so much out there."
Tough choices were required from day one as the homeowners conferred with the Reijnen Co. on the floor plan. The design that emerged was clean-lined, traditional but not fussy or "fuddy-duddy." Special touches included tray ceilings, arched thresholds and 10-foot ceilings on the main floor. In the kitchen and baths, tile work reigns supreme in features like the laser-cut mosaic of volcanic stone and tumbled marble above the kitchen range.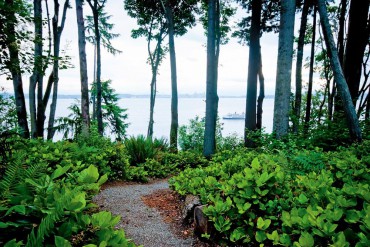 The resulting hands-on approach gave the flexibility for 11th hour changes. View room windows were extended floor to ceiling and two rooms were united into one grand family room — last minute modifications that opened the entire common area to the view. The dining room ceiling evolved as well, soaring into a coffered cathedral that redirects light from an upper floor dormer.
The dining room also holds the husband's pride and joy, a wine room with cedar shelving constructed by the man himself in his garage workshop. Rows and rows of precious bottles are coddled behind a fortified door that would do a castle proud. A climate regulation system consists of a state-of-the-art liquid probe inserted into one wine-filled bottle, automatically maintaining the temperature of the entire "cellar" at 55 degrees.
Northwest Harmony
When it came to materials, the couple kept an equally open mind. Originally adamant against wood flooring owing to a disappointing past experience, the owners were eventually won over to the idea of Brazilian tatajuba, a durable, renewable, high-luster material used in boat construction. Complementing this handsome hardwood, all of the cabinetry and woodwork was crafted of burnished mahogany.
One request was nonnegotiable: that everything inside and out stand up to Northwest weather. This mandate was brought about by a record 26 days of rainfall during construction, a deluge that the new arrivals shrugged off as an initiation to life by the Puget Sound.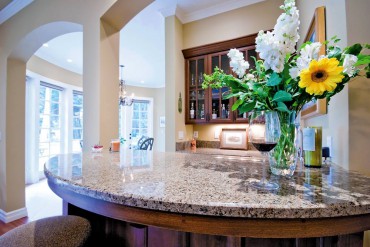 As Joan Reijnen worked the interior, a calming simplicity of easy luxury, textural contrast and tonal harmony took shape. Northwest neutrals from café latte to earthy-browns filled amply scaled spaces. Any room threatening to take itself too seriously was treated to a bit of levity — a pair of giraffes here, a spider web chair there. The furnishings were meticulously planned, but the floor coverings were nothing less than pure serendipity.
"One day Joan and I were on our way to the Seattle Design Center when we decided to stop at a business we'd passed before," the wife said. "It's called Design by Ferdod, and the window has the most beautiful rugs. We ended up getting four custom-made rugs there. First we chose the design, then the colors and materials — combinations of silk, wool, hemp and nettle. The weaving was done at the family factory in Nepal."
Simply Irresistible
Much — but not all — of the furniture was purchased new; some of the family's existing pieces were reupholstered and used to furnish the library and bedrooms. In the foyer, the crowning stroke is achieved by the owners' antique bombé chest (pronounced bombay). Of Italian provenance, this low, wooden cabinet — in classic bombé fashion — balloons sinuously as if the sides were pushed out in a small, internal explosion.
The couple's island enclave has proven irresistible to friends and family from out of state. Fortunately, the home is designed for entertaining; for one, the second floor bedrooms are neatly divided into a master wing and a guest wing with kitchenette.
Without a doubt, however, the biggest fans here are the owners themselves, who are treated to views of ferryboats by day, city lights by night. In this iconically Northwest home, every possible accommodation to the view has been made — even the master-shower surround is glass.
"One of the great joys of life," the wife said," is standing in the shower, soaking up the view."