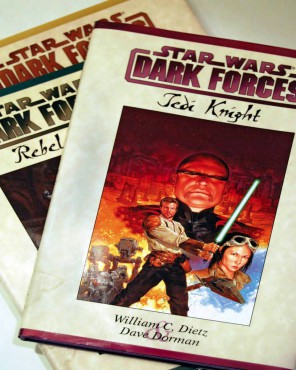 The uniformed Transportation Security Administration officer at SeaTac airport stared at the thin, bald man standing in front of him and held up the passport he'd just been given, his eyes darting back and forth between the tiny photo and the man. After several tense seconds, he stared hard at the man and said, "Are you 'the' William C. Dietz, the writer? Man, I've read dozens of your books."
Bill Dietz relates this story with a shrug and a smile and says, "It was the only time I've ever been recognized in public."
For a writer who has 35 novels in print and several more on the way, each with his photo on its back cover, it is surprising. But it's only one of the many surprising things about this best-selling writer.
Dietz and his wife, Marjorie, live in a charming, smallish West Sound home overlooking the waters of Puget Sound. It's a cozy aerie high on a bluff from which tales of war and love in the distant reaches of the galaxy come to life.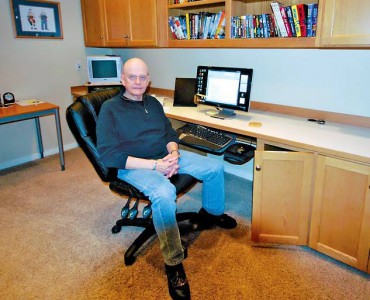 From the home's main floor, there's a sweeping, panoramic view of the Olympic Peninsula, across the waters of Case Inlet. It's easy to imagine how on clear, moonless nights, when the sky comes alive with the glow of billions of stars, Dietz's thoughts would turn to adventures in space.
Dietz grew up in Seattle and attended the University of Washington. He was a television director and a college instructor prior to living in South Africa. He later worked as public relations and marketing director for an international phone company.
Dietz began writing novels in the 1980s and eventually retired from the corporate world, settling into a full-time career as a writer in 2002.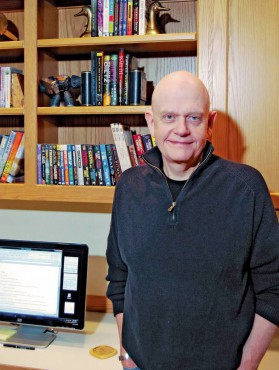 For many people, writing is a glamorous profession but Dietz sees it another way. "I'm a small businessman and I'm my own brand," he says. "I produce the product and I work seven days a week at my job."
Bill and Marjorie work as a team. She's the first to read his early drafts long before the editors at his various publishers do. She asks questions and makes notes that help Bill to flesh out the stories.
"But," she chimes in, "I don't like science fiction all that much. In fact, when Bill wants to go see a new science fiction movie, I usually don't go so he ends up asking our daughter Allison to go with him. She's finishing her degree in microbiology at the UW and is usually up for it."
Dietz writes what's called "military" science fiction. It's an area that is among the earliest found in science fiction writing. It's found in the stories of the 19th century French writer Jules Verne or America's own Edgar Rice Burroughs, who wrote both the "John Carter of Mars" stories and his more famous Tarzan books.
Dietz is comfortable with fiction because of his own military background in the Navy and the Marines, where he served as a medic. Military service is a family tradition: Their daughter Jessica is a lieutenant in the Navy and recently returned from a stint in Iraq.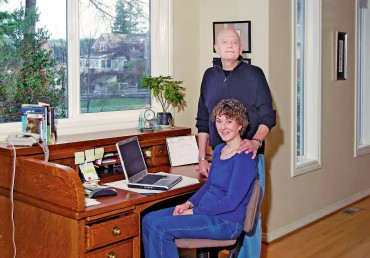 Dietz's prodigious output is divided into several character and story groups. There is the Sam McCade series about a galactic bounty hunter, the Legion of the Damned series about a human commander of a company of cyborgs, and the Star Wars "Dark Forces-Kyle Katam," a trilogy based on the Star Wars Dark Forces games, to name just the larger series. "Dietz's expertise in matters of mayhem is second to none," wrote The Oregonian newspaper.
All these warp-speed space adventures are born out of Dietz's imagination as he sits in the quiet woods of the Key Peninsula.
The couple tore down an old cabin on their property and worked with a local contractor to build a charming, small home on the narrow lot. The house has three levels with the living room, dining room, kitchen and garage on the street level, a finished attic and a daylight basement with a utility room, small exercise area and Dietz's office. There's a stairway to the beach.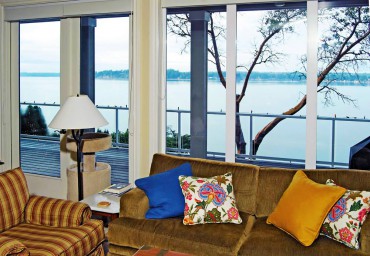 "We wanted a cozy place where I could write," Dietz says. "The kids were gone and we just wanted to make it comfortable for us. But the most interesting element of the house, I'd say, is the view."
It's a view that Yoda, their Persian "rescue" cat, loves and she spends hours staring at it from her perch in the living room. When Marjorie relates the story of how they got Yoda, it almost sounds like something out of a science fiction story.
"As a kitten, she had been attacked by fleas. Hundreds of them and they almost drained her of all her blood," she says. "She was given to a vet we know who had to give her a large transfusion of blood to pull her through. She survived but she was very small when we got her."
Yoda is an indoor cat that fits the Dietz lifestyle. Dietz works long hours writing these science fiction adventures. He had, for example, been on the board of the Key Peninsula News, but although he cared strongly about the paper and wrote gratis for it, he "wrote three novels last year, which left no time for anything else."
He writes in what he jokingly refers to as his "man-cave," a sparsely decorated room in the daylight basement. It's a simple, unadorned space with a few built-in bookshelves that are divided between his works and several shelves of his "to read" books.
He's written a novel based on the Halo Xbox 360 video game and several other game-based books, including the popular Resistance and Star Craft II games.
Over time, he's come to enjoy the for-hire work (like the game-based books) because of the challenge of creating stories based on the parameters of someone else's universe.
"They send me story outlines and previous books or movies that describe the specifics of their worlds and their characters. My job is to create stories for their world," Dietz says.
But Dietz doesn't just write, he's an avid reader. Pointing at the shelves over his computer, he says, "I've got two years' backlog of books I want to read. Hopefully I'll take a few on my next vacation."
While writing, Dietz lives almost like a hermit, hardly venturing out. Unlike many science fiction writers who travel to fan conventions like Comic-Con to promote their books and meet their readers, he avoids these venues and the crowds because they take him away from his writing. Which is also why he hasn't ventured into the social media universe and doesn't use sites like Facebook or Twitter.
On the shelf next to Dietz's collection of his own books is a plastic box containing an "action figure" based on an alien soldier from the novel he wrote for the "Resistance" series based on a PlayStation 3 video game.
"I love this little guy," he says. "He's a total monster with his six eyes, shark-like teeth and very bad attitude."
Then he adds, "But you know, really great science fiction isn't about monstrous aliens and faraway galaxies. For all the strange worlds and aliens, really great science fiction is about us. About being human and what that means."