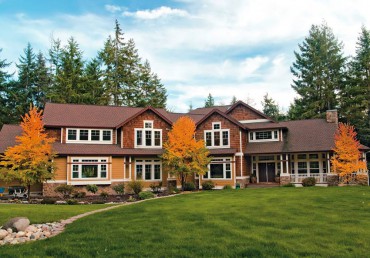 Some houses are best observed in motion. Take, for instance, the home of Sean and Shelley Murphy in Gig Harbor.
Sean, a dentist, and Shelley, a former English and Spanish teacher, have four children ranging in age from 5 to 12, so a certain amount of frenetic activity is expected on a daily basis. Then there is Shelley Murphy's love of entertaining, which she attributes, at least in part, to her mother's influence.
It also leads her to make a confession.
"I have a problem with throwing parties. Let me introduce you to my party closet," she says as she swings open the door to a spacious downstairs closet — originally meant to be an en suite bathroom — entirely devoted to shelves of neatly stacked party supplies. "I love invitations. I love having the right glass for the right beverage. I just love to entertain."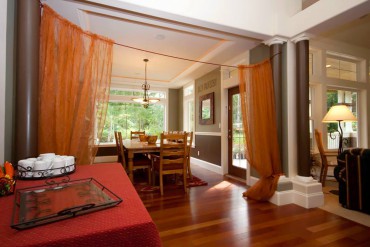 Murphy is creative with her parties: There was, for instance, the food-fight birthday party she threw for her (then) 8-year-old son, or the tortilla-making class she held for her daughter's birthday one year. It's no accident that the common denominator is food. "I'm a food pusher, I think," she says with a smile. "It feels like a lost art a lot of times."
In a house where this much celebrating goes on, you would expect the kitchen to be spectacular, and it is, with plenty of room — 150 square feet — to accommodate family and friends. "My all-time record has been 42 people in this kitchen," Murphy says.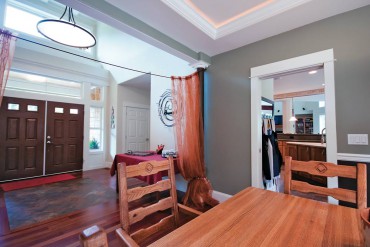 Since the Murphys both like to cook (they've taken classes together and envisioned the kitchen functioning as "a classroom for our kids," according to Shelley) there are some design elements worth noting.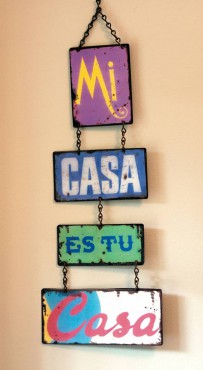 In the back of the electric, glass-topped range there is a tall mirror, so the cook can see anyone else who happens to be in the kitchen (and vice versa), especially convenient when there is a cooking demonstration in process.
There is ample counter space, including a spacious butcher-block center island with a Kohler trench sink that Murphy says is a great place to ice drinks for parties as well as use as a conversation piece. "It's not what you would expect," she says. "It's just fun."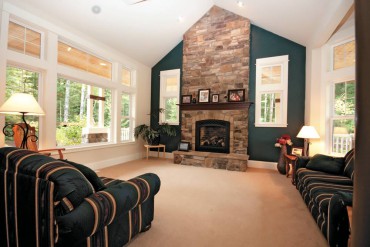 Over the sink is a four-foot-tall double window that slides open to an outdoor marble-topped serving bar, part of an outside kitchen and deck space that was not in the original house design, but which the couple added within the past year. The large windows also look out over an extensive patio area, complete with a fire pit (surrounded by six sitting stones, one for each member of the family).
The kitchen is open to the great room and the serving bar dividing the spaces comfortably accommodates six stools (or all four children carving pumpkins for Halloween, which happened last year). There is a casual dining table as well — in other words, plenty of places for lingering. French doors lead out to the back patio and the yard, which is, by any measure, a kids' paradise, complete with a play structure, sandbox, zip line and trampoline, not to mention a recently installed rolling expanse of lawn.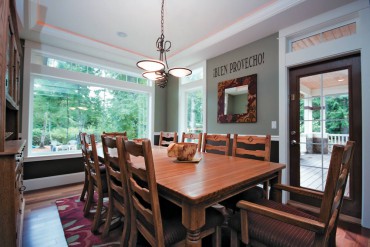 Four years ago, when the Murphys moved from their small rental home into their current 5,204-square-foot, Northwest Craftsman-style home on 10 acres, it took some adjustment. "When we first moved in, it felt really loud." Murphy says. "But we love how open it is."
The original design of the home came from Architects Northwest in Woodinville, but Sean's brother, also an architect, helped "tweak" the plans. And, in a fortuitous turn of events, the couple found Doug Clark, owner of Choice Construction in Gig Harbor, when Sean's Chevy Tahoe got stuck on the edge of the driveway during a snowstorm. Clark and his son Adam came over with their own truck and pulled the Tahoe to safety, then shook hands and disappeared.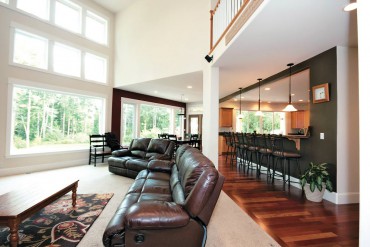 "That's why we were inclined to build with him," Shelley says. "There is a generosity of spirit with him." On top of that, she says, "he is someone who sees what could be."
Over the course of building the house, they all became friends. "The weekend we moved into this house, he moved us for three days with his pickup truck," she says.
According to Clark, it's not uncommon for him to end up being friends with his clients. It all depends on good communication.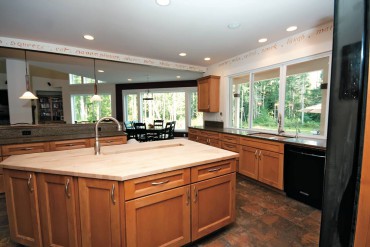 "I don't think there's any problem as long as you're candid with your information," Clark says of the sometimes fractious relationship between builder and homeowner. Some builders "try to minimize what the client knows about the process, but we try to give them information." The more they know, the more they can relax.
"To have fun, you have to be informed," Clark says. "It's an easy, easy formula. It's not complicated… Ideally, we want to feel comfortable enough with them to have dinner."
Or, in this case, to develop an ongoing friendship, which includes invitations to Murphy's parties, which brings us to a recent autumn evening.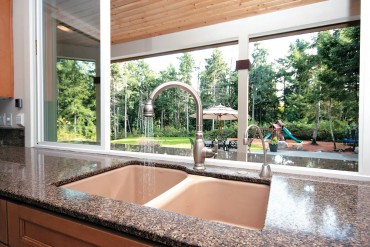 The Party
It's a Friday night at the Murphy home, and by 5 p.m. there is some serious party prep in the kitchen: Tomatoes are being chopped for fresh guacamole, margaritas are being mixed with fresh-squeezed key lime juice, and the sangria is getting finishing touches. Food begins arriving as well: chicken enchiladas, homemade refried beans and Mexican rice, the makings of fried beef tacos — the theme is south of the border, a common one for Murphy.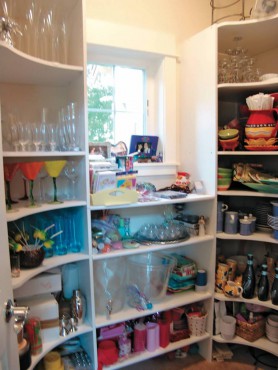 She first fell in love with Mexico following her graduation from college when, with a newly minted degree in English and the completion of a 15-credit intensive course in Spanish, she lived for six months with a family in Mexico. Her family travels there several times a year. Murphy flips easily between speaking Spanish and English throughout the evening.
The guest list includes several people connected to the home, including Clark and Joe Drew, his project manager, as well as Phil and Tabby Hoffman, owners of Phil's Yard Service, and Kristen Hicks, a color consultant who Murphy credits with being the only reason she has any color on her walls. Also in attendance are two other couples who've had homes built by Choice Construction.
Food is served buffet-style and as adults mingle, the kids head outside to the yard or, when darkness falls, inside to what Murphy calls the "crazy purple den" downstairs or one of the four kids' bedrooms upstairs. Quieter conversations are possible in the formal dining room just off the kitchen, a cozy space softly illuminated with rope lighting and separated by a pocket door, or the formal living room just inside the front entrance.
In either case, guests are not far from the kitchen, the perfect vantage point from which to appreciate how the home's design successfully enhances the busy lives of the family it embraces.
"This house fits us so well, even across the years we've been here," Murphy says. "This feels like an oasis to us. This feels like a forever home."