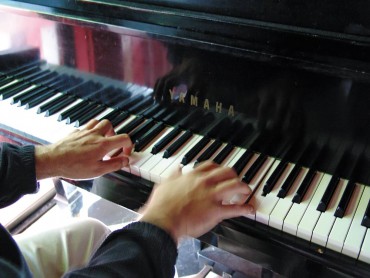 Many people around West Sound know Jon Rose as the face of Olympic Property Group. But there is another side to the OPG president that has nothing to do with his background as engineer or chief of Kitsap's largest landholder and development company — a side that he doesn't make a secret.
Jon Rose is a musician.
He's been one since childhood. But for the last year, he has taken his musical persona public, performing at some of Kitsap's clubs. Recently, the Bainbridge Island resident released two CDs of original music, "Friday Nights" and "Songs for Sunday Morning," and has another expected to release sometime this winter.
"The piano is another extension of me," he says.
He jokingly calls it his "mistress." "We're very close," he says.
The sounds of "Friday Nights" and "Songs for Sunday Morning" provoke two different moods, and Rose meant them as a set. "Friday Nights," designed for getting the groove on for partying, uses beats from swing, funk, and blues. "Sunday Morning" is intended for post-party recovery, so to speak, and Rose mixes in a collection of instrumental ballads and rhythm & blues. The original arrangements have a New Age feel to them and will take the listener through a wave of responses, from a reflective meditation to a head-bopping buoyancy. Rose uses several layers for the music that often sounds like it involves an entire small band.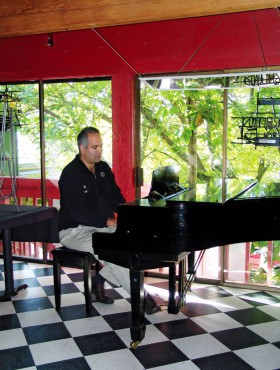 "Music is about feeling something," Rose says. "I can pick up a constellation of feelings while listening to the song later… I can tell what mood I was in that day."
Rose, who calls himself more of a "liberal arts guy" than an engineer, got into music the way many kids do: His parents made him. At age 8, he started formal piano lessons, consuming the usual classical fare like Beethoven and Bach.
Then, in fourth grade, he had a breakthrough. His clarinet teacher, Mr. Murphy, taught him he could improvise, make his own music on the spot. Rose wrote a song for a small group of budding musicians, and the teacher was so "psyched," he asked them to perform it in front of the entire school.
"Mr. Murphy made me feel so good, when the song was over, that clapping sound did me in," he says.
Rose says the realization he could improvise and not follow someone else's music made a profound impact on him, especially as he applied it to life, which he sees as a script in itself — college, career, marriage, kids etc is the path expected by most traditional American families.
"For one area of my life, I could write my own music and not play music or live the way someone else scripted for me," he says. "The lesson that you don't have to follow a script changed me fundamentally." It's a lesson he's taken beyond his music and into his career: Rose says his work at Olympic Property Group is very much like writing his own, unique script.
Using a state-of-the-art electronic Yamaha keyboard at his home studio, Rose creates music any chance he gets — which, with a demanding job and three children ranging in age from 12 to 16, is not as often as he'd like. For him, the piano is a communication device, and he clarifies one thing: He's not a pianist, he's a piano player. He says he doesn't read notes, but can pick up a rhythm just from listening to it.
Rose's music has been influenced by musicians such as the rhythm and blues pioneer Charles Brown and the legendary Ray Charles. But inspiration also comes from daily experiences that make an impression on him. (He jokingly says he has a collection of songs capturing "parenting frustrations.")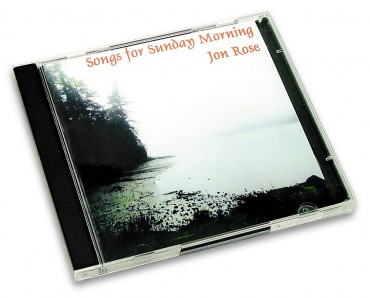 Rose has recorded songs for some time as gifts for family and friends "without taking it seriously." Eventually, he knew he wouldn't be satisfied if he didn't share his music with a larger audience. It takes a lot of fine-tuning before he feels he's ready to share a song with others, and he keeps several songs in various stages of completion on his iPod — so he can contemplate them while on the go. A two-minute song, in fact, may have hours and hours of recordings.
His next project, "Satin Skies," will feature a more "grown-up sound," a fusion of rock 'n roll, jazz and rock that are the result of exploring new musical areas. Rose says it's part of his personality, looking at a new dimension.
"Every person is complicated and has different sides," he says. "To be human is to feel a hundred different ways. There is not one music that can capture how a person feels."
Unlike the music he writes for the recordings, the improvised pieces Rose plays when performing at a club are "songs that will never be played again." The songs have a beginning, middle and end, just like a story, as well as a basic core progression, but beyond that, it's the skill and on-the-spot inspiration that make the song complete. "It's a mixture of freedom and structure that makes the most satisfying experience," Rose says.
Having discovered Kitsap's emerging music scene about a year ago, and having overcome the initial feeling of being "rusty" at playing in public, Rose got hooked. "If I was retired and independently wealthy, I'd spend a great deal doing performances and theater but they take too much time to do, even one show, and there is no space in my life to do that," he says. "Open mics give me that opportunity to perform."
While Roes continues to explore his many moods and sides, he says one side of him is completely clear: He can't see ever quitting his music. "I'll never stop. It doesn't matter if it goes commercial," he says. "It's like people who paint — if they never sell anything, they still have to paint."