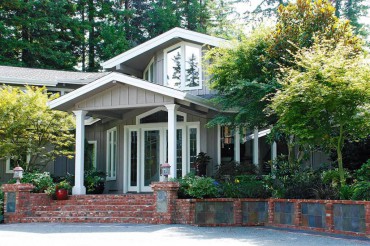 This is the house that Hope built.
It perches on a hillside overlooking Henderson Bay in Gig Harbor, set back from the road by six carefully manicured acres, with sweeping views that encompass all the way from Steilacoom to the south, past McNeil Island and the Longbranch Peninsula to the north, with Mt. Rainier floating on the horizon. It is both showpiece and sanctuary, fundraising venue and private oasis. Above all, it is a house built with a vision.
The vision belongs to owner Hope Moore, who took the two-bedroom bungalow that previously existed on the site and transformed it, preserving the parts she liked while raising something entirely new, entirely her own.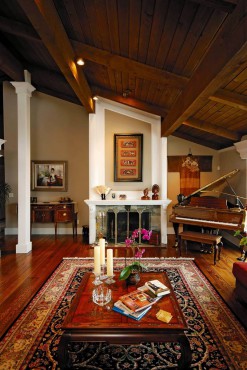 It was 1998, and Moore and her family were looking to relocate to Washington, most recently from Tokyo, where they'd lived for five years. Her husband had a job in Olympia, but a spontaneous conversation with a stranger on an airplane directed the family to Gig Harbor to look around.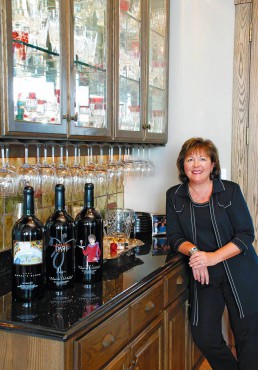 "So we got off at city center and dropped down the hill and I saw the harbor and I said, 'I'm done,'" Moore says.
The couple purchased the property overlooking the water and set about remodeling the existing house, adding sheetrock to the all-cedar walls and changing cabinetry and some of the flooring. But the architectural elements of the house Moore loved, she kept — the wood ceiling with the open beams and the wide-plank oak floors with walnut pegs.
When that was done, she turned her considerable energy toward an ambitious expansion of the house. Before that happened, life intervened.
Her father died from brain cancer. And her 23-year marriage ended. Moore undertook the expansion project solo. Far from being a burden, it turned into a blessing.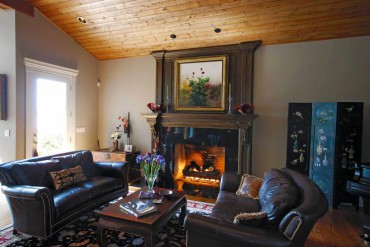 "I woke up every morning and there was a whole houseful of people. They were here for 18 months, from start to finish," she says. "And I'd take my little chair over there and my cup of coffee and I'd make coffee for everybody else and we'd sit there and discuss whatever needed to be discussed and I'd sit in the room and contemplate, so by the time they were midway through doing the trim, I already had the room, the furniture figured out, stuff like that."
Moore began with her own ideas about what she wanted from her new home: a c-shape to follow the contour of the land, with spaces suitable for both entertaining and raising her son.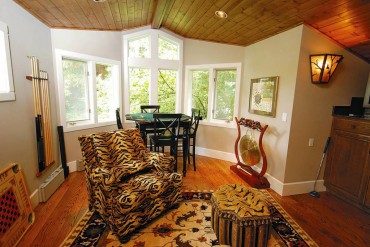 "I wanted to create a place where my son and his friends would want to come as opposed to always going somewhere else. I wanted everybody to come here," she says. "And they did, for years, when they were younger."
To make her vision for the house come to life — "to make it stand up and stay up," she says — she hired Gig Harbor architect Jeanne Gagliano of Ratcliffe Gagliano Architecture. "I knew in my head what I wanted the house to look like when I talked to the architect. She was so great to work with because she listened and designed exactly my vision," she says.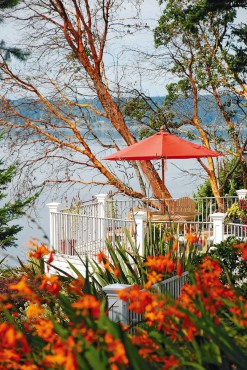 The house grew to 7,800 square feet with the addition of a nearly 1,200-square-foot "party room" complete with a full kitchen hidden behind tall cabinet doors and a wine cellar, guest quarters, and a second-story game room.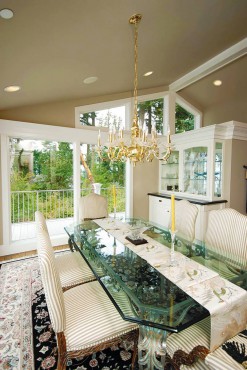 To work on the house, Moore hired mostly local companies and contractors: Stephen's Stone and Tile for the stone and granite work, Systems Northwest for the electrical, and Randy Riley of Wollochet Woodworks for the cabinetry, all of Gig Harbor.
Throughout the home, Moore's appreciation of Asian art and culture is on display, most dramatically in the numerous kimonos that adorn the walls. She traces the beginning of her fascination with Asian culture to a childhood gift from her great uncle, who owned a restaurant in Brooklyn, N.Y. "He came home one time with a whole bag of those little paper umbrellas, and somehow someone gave me a little Chinese doll, and that was it," Moore recalls. "I've always loved Asian food, I've always loved Asian art…I just find the people to be very gentle. There's something calming about Asian art, to me anyway. It's elegant without being overdone."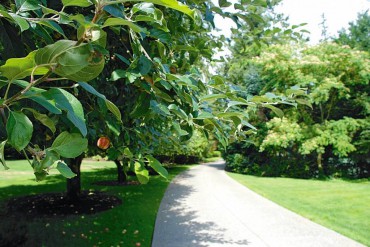 She discovered many of her pieces during her years in Tokyo, including a sizable collection of Kokeshi dolls. Each of the dolls represents a different season, she says, "and each one I bought in a different place, so when I look at them, they remind me of all the places I explored with my family."
Moore, in fact, claims an emotional connection with every one of her art pieces. "I don't think there's a single thing in my house I bought just to put there," she says. "Every single thing has meaning — every candlestick holder, every fan, every porcelain, everything. It's almost like revisiting a journey we took every time I look around the house."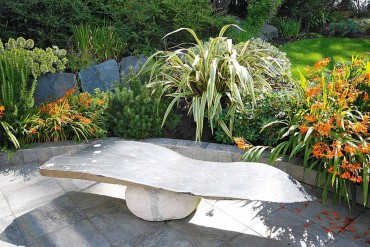 Not that she's one to dwell in the past. These days, her life is full guiding the growth of her foundation and making plans for her budding wine enterprise (see accompanying article). She doesn't have much time to look back, but she appreciates what building the house did for her at the time.
"It was a rebuilding process, not only for this house but for me personally," she says. "It was like everything was being rebuilt at that point… so everything was positive, everything was building up as opposed to tearing down."
The result surprised even her.
"I was forced to create a life for myself and, in the end, what I created was something that way surpassed whatever I could have imagined I could do," she says.
Building a life alongside a house
For Hope Moore, the turn of the millennium could have been a time to dwell on her losses. Her father had died from brain cancer, her 23-year-marriage was ending, and her beloved cousin and best friend, Andrea Chick, was losing her battle with cancer.
It was during this time she found herself visiting her father's grave in New York. Nearby was the grave of her brother, who'd died seven years earlier. As she stood looking at her father's headstone, a thought occurred to her: The name and the dates on the headstone, her father had no control over. It was what was represented by the dash between the dates — "a flat line" — that he, and everyone else, could choose to be remembered by.
She walked over to her grandmother's grave and, as was her custom whenever she was there, began talking to her. "That's when I said, 'I'm going to make sure my dash counts for something and that people are going to remember what it was that was important to me,'" Moore recalls saying.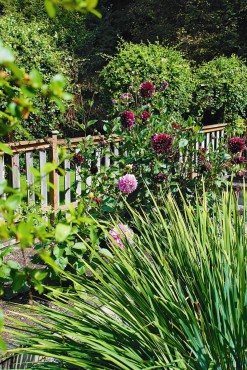 The phrase took shape, the idea took hold and wouldn't let go. Soon she was telling her son to "make the dash count today" on his way out the door to school. A friend encouraged her to patent the phrase before Moore even knew what she was going to do with it.
Today, the Make the DASH Count Foundation is a rapidly growing nonprofit organization with the expressed aim of developing the next generation of philanthropic leaders while helping at-risk youth. It does this through several youth boards (three in operation, two in formation) comprised entirely of high school students. The boards function as a board of directors would, processing all grant requests that come their way, reading tax returns and financial statements, and going out into their communities to identify needs. It is an education as well as a chance to do some good: The grant monies are awarded to organizations serving at-risk youth.
Moore, as well as guiding the foundation, is now embarked upon yet another enterprise. Long a connoisseur of wine and a fan of the wine industry, she jumped at the chance to start her own winery near Paterson, outside of Prosser, in Eastern Washington. There, she will produce wine under the label Heaven's Cave Cellars, using grapes from the adjacent 243-acre Destiny Ridge Vineyards in the Horse Heaven Hills. Under construction is an 8,000-square-foot dwelling she calls "The Cave at Destiny Ridge," part residence, part winery, part entertaining and fundraising venue.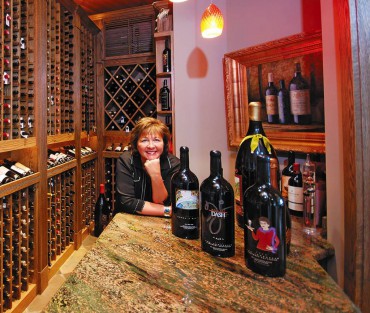 She recently hired Ray McKee, formerly of Covey Run, as her lead winemaker. The profits from her Heaven's Cave label will go directly to the Make the DASH Count Foundation.
In 2003, she began her wine enterprise by partnering with Chuck Reininger of Reininger Winery to produce her inaugural vintage Merlot, bottled under the Make the DASH Count label. Since then, she's partnered with several more of the state's top vintners to produce DASH label wines, with profits going to the foundation. She describes the DASH Wine Project as "exposing the soul of Washington's wine industry."
Recently Moore hosted a Winemaker's Dinner as part of the Auction of Washington Wines, an annual fundraiser benefiting Children's Hospital and Regional Medical Center in Seattle. Twenty-four guests were treated to a five-course dinner prepared by Bobby Moore of the Barking Frog in Woodinville. Featured wines came from Alexandria Nicole Cellars, Hedges Family Estates and Moore.
The marriage of winemaking and philanthropy are, as Moore sees it, a natural fit. "Winemaking is about being passionate. I'm lucky because everybody who's involved in the winery is passionate about not just the wine industry but about where all our profits are going. They're passionate about the Make the Dash Count Foundation, the kids, the message, so it's doubly exciting," she says.
Her enthusiasm for her new venture is obvious. "I don't even think of it as work," she says. "Work to me is cleaning out the cupboards or taking out the trash. But doing something 24/7 that you love doing is not work. It's just living."